Johannes Popitz
(1884 - 1945)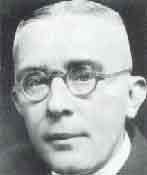 Johannes Popitz was the famous financial expert of the Weimer Republic in the 1920s and went on to become Prussian Minister of Finance after 1933.

Like many conspirators against Hitler, he initially welcomed the new order. But after the persecution of the Jews began, he offered his resignation. Hitler denied his request. Popitz subsequently remained in the government while quietly drafting decrees to be implemented by the anticipated post-coup government.

Popitz's moment of fame in the context of the conspiracy revolves around his scheme to lure none other than SS Chief Heinrich Himmler into plotting a coup d'etat. Popitz's argument was that if the Nazi regime could not be overthrown but perhaps could be weakened to the breaking point if Himmler could be persuaded to seize power against Nazi rivals to "protect the fuehrer." Popitz then believed the conspirators could take advantage of an SS coup by launching a counter-coup under army auspices.

Few if any other conspirators took Popitz's scenario seriously. Many considered it far too risky to undertake since they believed Himmler was more likely to exploit the idea to uncover the real conspiracy and emerge with even more power. Nevertheless, Popitz saw his plan through. As many feared, Himmler never acted on his advice but instead had Popitz imprisoned and executed after the July 20 uprising.
---
Sources: Joric Center