Helmuth von Moltke
(1907 - 1945)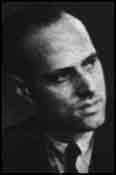 Helmuth von Moltke was born in Kreisau, Germany in 1907. He became an international lawyer and had many friends in Britain and the United States.

Moltke was opposed to Adolf Hitler and his government and in 1933 began making contacts with the resistance in Nazi Germany.

In 1939, Moltke became a legal adviser to Abwehr where he worked closely with Wilhelm Canaris and Hans Oster. He was detained by the Gestapo in January 1944 after it was discovered that he was warning conspirators that they were about to be arrested. After the July Plot, Moltke was charged with treason and was executed at Ploetzensee Prison on January 23, 1945.
---
Sources: Spartacus Educational