Hans Freiherr von Boineberg-Lengsfeld
(1889 - 1980)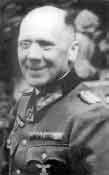 Hans Freiherr von Boineberg-Lengsfeld was born on June 9, 1889, in Eisenach. He was recruited into the conspiracy against Hitler by General Karl-Heinrich von Stuelpnagel.

He helped Stuelpnagel and Colonel Caesar von Hofacker develop an operational plan to seize control of Paris on X-Day (the anticipated date of the coup d'etat).

On July 20, 1944, Boineberg led the 1st Garrison Army Regiment in a lightning strike against all SS, SD, and Gestapo bases throughout the Paris metropolitan area. Within one hour, the entire SS, SD, and Gestapo contingent in Paris was in army custody, including senior SS police commanders Carl Oberg and Helmuth Knochen. But within hours of Stuelpnagel's brilliant coup, Boineberg is compelled to release all SS officials following Hitler's radio broadcast, the collapse of Stauffenberg's coup in Berlin, and Kluge's refusal to back Stuelpnagel.

Owing to Stuelpnagel and Hofacker's resourceful cover-up of the Paris-based German conspiracy, Boineberg escaped the Gestapo's suspicion and survived the war. He was imprisoned after the war from may 8, 1945, until June 30, 1946.

He died November 20, 1980, in Felsberg-Altenburg, Hessen.
---
Sources: Joric Center