Hans-Bernd von Haeften
(1905 - 1944)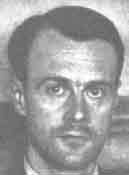 Hans Bernd von Haeften is the nephew of Field Marshal Walter von Brauchitsch and brother of Lt. Werner von Haeften, who is Colonel von Stauffenberg's adjutant on July 20th. Hans Bernd Haeften studied as an exchange student at Oxford before 1933. He served as a junior diplomat under Ambassador von Papen in Vienna and during World War II in Berlin.

In 1933, he joined the Confessing Church. Later, he joined the Foreign Office and served in Copenhagen, Vienna, Bucharest.

In 1940: Haeften became Head of the Foreign Office's Cultural Department. but he refused to join the Nazi Party.

Haeften was a devoted conspirator who worked closely with former ambassador Ulrich von Hassel and Adam von Trott. On July 20, 1944, he was on hand in Berlin, along with Hassel and Trott, ready to seize control of the foreign ministry.

Haeften is among the many unfortunates who endured the wrath of Nazi judge Roland Freisler at the People's Court. He nevertheless put up a heroic defense for his actions and for the cause of the German Resistance, telling the court that Hitler was the great perpretator of evil in history. He was hanged on August 15, 1944 in Plotzensee prison.
---
Sources: Joric Center