Kurt von Hammerstein-Equord
(1878 - 1943)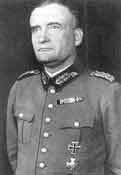 Kurt Hammerstein-Equord was born in Hinrichshagen, Germany, on September 26, 1878. He joined the German Army and was attached to the General Staff during the First World War.

A close friend of Kurt von Schleicher, Hammerstein-Equord was appointed Chief of the General Staff of the Reichswehr in 1930. He was extremely hostile to the Nazi Party and warned Paul von Hindenburg about the dangers of appointing Adolf Hitler as chancellor. After his warning was ignored, Hammerstein tried to use the army to block Hitler's rise to power, but was prevented from doing so by Hindenberg.

Chancellor von Bruening called Hammerstein-Equord "the only man who could remove Hitler - a man without nerves." He also earned the nickname, "The Red General," for fraternizing with the trade unions.

Hammerstein-Equord's opposition to Hitler was well-known and, in February 1934, he was dismissed from office. During the Second World War he was involved in several plots to overthrow Hitler. In 1939, he tried repeatedly to lure Hitler into visiting a fortified base under his command along the Siegfried Line of the western front. He confided to retired former army chief of staff and leading conspirator Colonel-General Ludwig Beck that "a fatal accident will occur" when the fuehrer visits his base. But Hitler never accepted Hammerstein-Equord's invitation.

Later, Hammerstein-Equord was relieved of command by Hitler for his "negative attitude towards national socialism."

He died of cancer in Berlin on April 25, 1943.
---