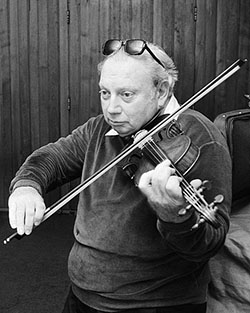 Virtuoso violinist Isaac Stern was born in Kreminiesz, Russia on July 21, 1920. When just a year old, his family emigrated to the United States and settled in San Francisco. Stern took up piano at age six and violin at eight, and within three years was a soloist with the San Francisco Symphony.

Stern's memorable Carnegie Hall debut was made in 1943, accompanied by pianist Alexander Zakin. Years later, the storied hall, which opened May 5, 1891, was scheduled to be demolished. In 1960, thanks largely to Stern's efforts, historic Carnegie Hall was preserved. For more than three decades he served as president of the Carnegie Hall Corporation, during which time he helped launch the careers of many famous musicians.

Isaac Stern appeared in concerts throughout the world, playing his 1740 Guarneri violin rather than the more famous Stradivarius. Antonio Stradivari made about 1,100 violins during his lifetime, in the 17th and early 18th centuries, of which about 550 survive. But the instrument preferred by Stern is one of just 150 violins made by Giuseppe Guarneri del Gesu during the same period. Strads are described as sounding sweet and golden, while Guarneriuses are more dusky or earthy and sensuous.

Stern was the unofficial "United States Musical Ambassador" and travelled around the world. One place he refused to perform, however, was Germany, citing his memories of the Nazi era.

A movie about Stern's trip to China, "From Mao to Mozart," won an Academy Award. Stern found time to play a role in the Broadway show "Tonight We Sing" in 1952; he also inaugurated the Mann Auditorium in Tel Aviv (1957) and founded the Jerusalem Music Centre in 1973. Stern led master classes at the Jerusalem Music Center, and trained many of Israel's finest musicians. In addition, Stern has served as the president of the American-Israel Cultural Foundation, and was appointed in 1965 as a member of the National Council on Arts.

During a performance with the Jerusalem Symphony at the Jerusalem Theater during the 1991 Gulf War, Stern's performance was interrupted by a missile attack. He continued to play, unfazed, while audience members struggled to put on their gas masks and ensure nobody was injured.

Isaac Stern is the featured solo violinist on the soundtrack for the 1971 classic film Fiddler on the Roof, and the actor's violin playing in the film is dubbed over with Stern's.

Through the years Stern won six Grammy awards, the National Medal of Arts, the Presidential Medal of Freedom, and was honored at the Kennedy Center Honors in 1984.

Stern died September 23, 2001, at the age of 81.
---
Sources: Green, David. "This day in Jewish history: Isaac Stern, violinist who wouldn't play in Germany, is born," Haaretz, (July 21, 2015)
Jewish-American Hall of Fame - Jewish Museum in Cyberspace