Jacob Javits
(1904 - 1986)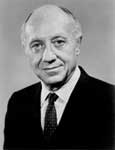 Jacob Koppel Javits was born in New York City on May 18, 1904. He attended the public schools, worked as a traveling salesman, and attended night classes at Columbia University. He graduated from the New York University Law School in 1926 and was admitted to the bar in 1927. Javits practiced law in New York City and also became a lecturer and author of articles on political and economic problems.
During the Second World War, Javits served with the Chemical Warfare Service (1941-1944) and with the overseas service in the European and Pacific Theaters. He was discharged as a lieutenant colonel in 1945 and resumed the practice of law.
Javits was elected as a Republican to the Eightieth and to the three succeeding Congresses and served from January 3, 1947, until his resignation December 31, 1954. He had been renominated in 1954 to the Eighty-fourth Congress, but withdrew; serving instead as attorney general of New York (1954-1957). He was elected as a Republican to the United States Senate in 1956 for the term commencing January 3, 1957, but did not assume his duties until January 9, 1957. Javits was reelected in 1962, 1968, and again in 1974, and served from January 9, 1957, to January 3, 1981. In 1980, he lost his seat and resumed the practice of law; serving also as an adjunct professor of public affairs at Columbia University's School of International Affairs.
Javits died in West Palm Beach, Florida, on March 7, 1986.
---
Sources: Biographical Directory of the United States Congress. Photo U.S. Senate Historical Office.