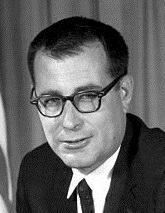 Harold Brown is an American Jewish civil servant who served as Secretary of Defense during the Camp David Accords, among other posts.
Brown was born on September 19, 1927 to Gertrude Cohen and A.H. Brown in New York, New York.
After earning his PhD in physics at Columbia University, Brown began his career as a consultant to several federal scientific groups. He was senior science adviser in the 1958-59 Conference on the Discontinuance of Nuclear Tests. From 1961-65, Brown worked as defense research and engineering director under Robert McNamara, and was Secretary of the Air Force from 1965 until 1969. He was a delegate to the Strategic Arms Limitation Talks in Helsinki, Vienna, and Geneva, from 1969 to 1977. He led the California Institute of Technology in Pasadena, California from 1969-77.
President Jimmy Carder nominated Dr. Brown to be Secretary of Defense in January 1977; the Senate confirmed him the same day, and he took the oath of office the following day. Brown served until 1981.
Among his many awards, Dr. Brown was awarded the Presidential Medal of Freedom in 1981 and the Enrico Fermi Award by the Department of Energy in 1993. He has written several books on foreign policy including The Strategic Defense Initiative: Shield of Snare?
Dr. Brown chaired the Foreign Policy Institute of Johns Hopkins University Paul H. Nitze School of Advanced International Studies in the early 1980s and was a distinguished professor there. He was partner at Warburg, Pincus & Co. and remains on the board of several organizations including a major regulating body. He is a trustee emeritus of the RAND Corporation.
In 1992, Brown joined the Center for Strategic & International Studies in Washington, D.C. as a counselor.
---
Sources: Wikipedia; Center for Strategic & International Studies; U.S. Department of Energy.
This biography was written with the research assistance of Eli Nirenberg.