Edgar Bronfman
(1929 - 2013)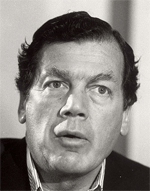 Edgar Miles Bronfman was a Jewish Canadian-American entreprenuer and philanthropist.
Bronfman (born June 20, 1929; died December 21, 2013) was born in Montreal, Canada, the son of Samuel Bronfman who was the founder of Distillers Corporation Limited which had just purchased Seagram Company, the largest distiller in the world. Though the Bronfman family kept a kosher home, Edgar and his younger brother, Charles, learned at private Anglophile schools where they attended chapel and ate pork.
In 1951, Bronfman received his B.A. from McGill University and after graduation immediately joined the family business. Edgar moved to New York, became a United States citizen and in 1957, he took over as head of Seagram's American division. In 1969, Brofman took over chairmanship of the media company MGM, though in 1971, following his father's death, Edgar took over as president, treasurer and director of Seagrams.
In 1981, Bronfman was elected president of the World Jewish Congress (WJC) and, together with his deputy Israel Singer, Bronfman helped make the WJC the preeminent international Jewish organization. During the 1980s and 1990s Bronfman became internationally recognized through his hard work and dedication to preserving Judaism throughout the world. His major campaigns included freeing Soviet Jewry and compensating victims of the Holocaust, especially from the Swiss banks.
In 1996, he published his autobiography, The Making of a Jew. In 1999, President Bill Clinton awarded Bronfman the Presidential Medal of Freedom. In May 2007, Bronfman stepped down from his post at the WJC.
As a philanthropist, Bronfman helped create and fund many efforts that help to strengthen Jewish identity among young people. He gave large amounts to Hillel, the foundation for Jewish campus life, and MyJewishLearning, a website devoted to Jewish education.

Bronfman was married five times and has seven children. He died on December 21, 2013, at his home in New York. He was 84 years old.
---
Sources: American Jewish Historical Society, American Jewish Desk Reference pg. 212; JTA (December 21, 2013); Wikipedia