Herbert Henry Lehman
(1878 - 1963)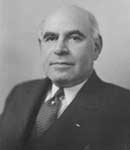 Herbert Henry Lehman served in World War I, volunteering as a textile procurement specialist with the Navy Department, where he developed a close friendship with Franklin Delano Roosevelt. In September, 1917, he was commissioned a captain in the Army and left the service two years later with the rank of full colonel.
Lehman was born on March 28, 1878, in New York City, the son of Barbara and Mayer Lehman, who were German Reform Jews. He attended Sachs Collegiate Institute in New York City and graduated from Williams College, Williamstown, Mass., in 1899. After graduating from college, he was employed by the J. Spencer Turner Co. textile manufacturers. Iin 1908, he joined Lehman Brothers, an investment banking house that had been transformed from a cotton brokerage firm by his brother, Arthur. In 1910, Herbert Lehman married Edith Louise Altschul, the daughter of the head of the New York branch of Lazard Freres, a respected Paris-based banking house.
Lehman's oldest son, Peter, was killed in World War II after flying 57 combat missions in Europe. Prior to serving in the U.S. Air Force, he was on active duty with the Canadian Air Force because the United States was not in the war and he felt very strongly about defeating Hitler. Peter Lehman received the U.S. Air Force Medal with three clusters and the Distinguished Flying Cross was awarded to him posthumously.
Lehman's daughter and other son also served overseas in the armed forces. His son, Captain John Lehman, served with the 20th Armored Force, and his daughter, Hilda Lehman de Vadetzky, served with the Women's Army Corps in Algiers.
Herbert Lehman became active in politics in 1920 and supported Alfred E. Smith. When Smith won the Democratic Party nomination for president in 1928, Lehman became chairman of the finance committee of the Democratic National Committee. It was in that year that he was elected lieutenant governor of New York on a ticket headed by Franklin Delano Roosevelt.
Lehman became Governor of New York in 1932, the year that Roosevelt became a candidate for president. Lehman served four terms.
In 1940. his brother, Irving, was elected chief judge of the New York Court of Appeals, the first time in the history of New York that brothers headed the executive and judicial branches of government.
Lehman became the Director of Foreign Relief and Rehabilitation Operations in the State Department, Washington, D.C. in 1943. He later became Director General of the United Nations Relief and Rehabilitation Administration and served from 1943 until 1946.
Herbert Lehman ran twice for the U.S. Senate, and winning the second time against, In 1950, he was elected to a full term in the Senate.
In 1946, he was an unsuccessful candidate for election to the United States Senate, losing to Irving M. Ives. Two years later, he became a member of Public Advisory Board of the Economic Cooperation Administration. In 1949, Lehman ran a successful campagn for the Senate, this time in a special election against John Foster Dulles to fill the vacancy caused by the resignation of Robert F. Wagner. Lehman served from November 9, 1949, until January 3, 1957.
Lehman was one of the earliest politicians to refute Senator Joseph R. McCarthy and his witch-hunts. For his service to the nation, he was awarded the Presidential Medal of Freedom.
He retired to New York City where he died on December 5, 1963.
---
Sources: Jewish Heroes and Heroines in America and Biographical Directory of the United States Congress. Photo U.S. Senate Historical Office.