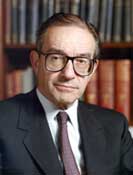 Alan Greenspan was born on March 6, 1926, in New York City. He graduated from New York University with a B.Sc in Economics in 1948, and a M.A. in Economics in 1950. From 1948 to 1953, he worked at The Conference Board in New York City, as an economic analyst. From 1955 to 1987, he served as Chairman and President of Townsend-Greenspan & Co., Inc. In 1974, President Ford appointed Greenspan to chair the Council of Economic Advisors; he remained at this position until 1977. From 1981 to 1983, he chaired the National Commission on Social Security Reform.
Greenspan, a devoted follower of Ayn Rand, supports the concepts of free-market economics and opposes excessive government involvement in economic affairs. He continues to advocate laissez-faire capitalism and the gold standard.
On June 2, 1987, Greenspan was first appointed Chairman of the Board of Governors of the Federal Reserve by President Reagan. He continued to be reappointed for consecutive four-year intervals until his retirement on January 31, 2006. Greenspan was lauded for his handling of the Black Monday stock market crash that occurred very shortly after he first became chairman, as well as for his stewardship of the Internet-driven, "dot-com" economic boom of the 1990s. However, this expansion culminated in a stock market bubble burst in March 2000 followed by a recession beginning in late 2000 and continuing through 2002.
From 2001 until his retirement, he was increasingly criticized for some statements seen as overstepping the Fed's traditional purview of monetary policy, and viewed by others as overly supportive of the policies of President George W. Bush, as well as for policies seen as leading to a housing bubble. Greenspan was nonetheless still generally considered during that time to be the leading authority on American domestic economic and monetary policy, and his active influence continues to this day
In November 2005, President George W. Bush honored Greenspan with the Presidential Medal of Freedom, the highest civilian award in the United States.
Following his retirement as Fed chairman, Greenspan accepted an honorary (unpaid) position at HM Treasury in the United Kingdom. Greenspan now works as a private advisor making speeches and providing consulting for firms through his company, Greenspan Associates LLC. He has written his memoir titled The Age of Turbulence: Adventures in a New World.
Alan Greenspan has been married twice. His first marriage was to Joan Mitchell in 1952. The marriage ended in divorce one year later in 1953. In 1984, Greenspan began dating journalist Andrea Mitchell. Greenspan was 58 at the time, and the also once-divorced Mitchell was 20 years his junior, at age 38. They married in 1997.
---
Sources: American Jewish Historical Society, Wikipedia.