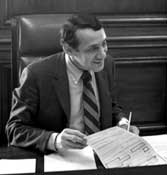 American politician and gay rights activist Harvey Bernard Milk was born on May 22, 1930, in Woodmere, New York and raised on Long Island.  Though Milk was a secular Jew, his grandfather, Lithuanian immigrant Morris Milk, co-founded the Sons of Israel Synagogue in the heavily Jewish Long Island town.  Harvey Milk chose to shun religion as he had strong feelings about the role of organized religious in the oppression of homosexuals.
Milk moved to San Francisco in 1972 and opened the camera store Castro Camera in the Castro District, a neighborhood that was experiencing a mass influx of gay men and lesbians.  Between 1972 and 1976, Milk unsuccessfully ran for office in California three times. During these campaigns, Milk dubbed himself the "Mayor of Castro" street and his outrageous antics earned him media attention and votes, although not enough to be elected. He took advantage of his growing popularity at the time to lead the gay political movement in battles against anti-gay initiatives.
In November 1976, voters in San Francisco reorganized elections in order to choose supervisors from neighborhoods instead of voting for them in city-wide ballots.  Milk was elected to the San Francisco Board of Supervisors from District 5 in 1977 and made history as the first openly gay man to hold office in a major American city.
Milk began his tenure by sponsoring a civil rights bill that outlawed discrimination based on sexual orientation.  He also led the fight to defeat Proposition 6, commonly known as the Briggs Initiative, a proposed law that called for the mandatory firing of gay and lesbian teachers and other public school employees who supported gay rights.
On November 27, 1978, Dan White, another city supervisor who had recently resigned and wanted his job back, assassinated Harvey Milk and Mayor George Moscone at San Francisco City Hall.  Both Milk's election and the events following his assassination demonstrated the liberalization of the population and political conflicts between the city government and a conservative police force. Milk's memorial service was held at Congregation Sha'ar Zahav and led by the congregation's openly gay rabbi, Allen Bennett.
Milk was included in the "Time 100 Heroes and Icons of the 20th Century" and The Advocate ranked him third in the "40 Heroes" of the 20th Century issue.  His life and political career were also the inspiration for the 2008 film Milk¸ directed by Gus Van Sant and starring Sean Penn and Josh Brolin.
In August 2009, Harvey Milk was posthumously awarded the Presidential Medal of Freedom by President Barack Obama for his contribution to the gay civil rights movement.
---