Joshua Lederberg
(1925 - 2008)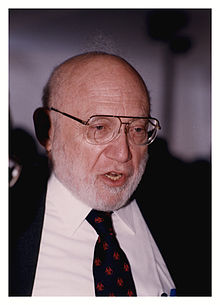 Joshua Lederberg was a Jewish American and Nobel Laureate molecular geneticist.
Born in 1925 in Montclair, New Jersey, to Esther Goldenbaum Schulman and Rabbi Zvi Hirsch Lederberg, Joshua Lederberg grew up in New York City. He graduated from Stuyvesant High School at age 15 and started studying zoology at Columbia University.
To fulfill his obligatory military service, he was a hospital corpsman in a clinical pathology lab at St. Albans Naval Hospital, in Queens. He checked American soldiers for malaria during World War II. After finishing his college degree in 1944, he married Esther Miriam Zimmer in 1946, and received his PhD from Yale in 1947. He was assistant professor of genetics at the University of Wisconsin-Madison, where Esther Lederberg earned her PhD in 1950.
The couple was quite the scientific pair, and even worked together in the same lab at times. They both made significant contributions to the fields microbiology and genetics, in their own right and together. In 1956, the Society of Illinois Bacteriologists simultaneously awarded Joshua and Esther Lederberg the Pasteur Medal for outstanding contributions to microbiology and genetics. The following year, Joshua started the Department of Medical Genetics at Wisconsin.
In 1958, Lederberg received the Nobel Prize in Medicine with Edward Tatum, for landmark work in microbial genetics. His co-discovery that bacteria exchange genetic materials established for the first time that such microorganisms can reproduce sexually.He then moved to Stanford to establish and chair their genetics department. With colleagues, he studied viral antibodies, and was very concerned about how biology would impact space exploration, given the Sputnik launch in 1957.
He worked with Carl Sagan to advocate for "exobiology" that helped augment biology's role at NASA. Exobiology, literally meaning "outside of biology," is a branch of biology concerned with searching for life outside of earth and the effects of extraterrestrial environments on living organisms.
In the 1960s, he and Edward Feigenbaum pioneered an artificial intelligence (AI) project at Stanford's computer science department called DENDRAL. They collaborated with colleagues to develop a system that, in the early 60s alone, spans half of AI research history.
Lederberg was president of Rockefeller University in New York City from 1978 until 1990, when he became professor emeritus there in molecular genetics and informatics.
Throughout his career, he actively served as a scientific advisor to the U.S. government. His roles include his membership in the Presidential Science Advisory Committee starting in 1950, the U.S. Defense Science Board, and he chaired Jimmy Carter's Presidential Cancer Panel.
Among his many awards are the 1989 National Medal of Science, 2002 Benjamin Franklin Medal for Distinguished Achievement in the Sciences, and the 2006 Presidential Medal of Freedom.
Lederberg died of pneumonia on February 2, 2008.
In 2012, NASA named a crater discovered on Mars "Lederberg" in his honor.
---
Source: Wikipedia, Patricia Sullivan, "Joshua Lederberg; Pioneer of Molecular Biology, Washington Post. February 5, 2008, NASA.