Israel Defense Forces: History & Overview
The Israel Defense Forces (IDF) was founded shortly after the State of Israel was established in 1948. It ranks among the most battle-tested and highly-trained armed forces in the world.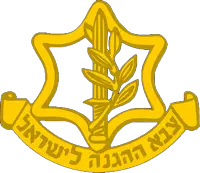 Logo of the IDF
The IDF's security objectives are to defend the existence, territorial integrity and sovereignty of the State of Israel; deter all of Israel's enemies; and, curb all forms of terrorism which threaten daily life.
Most soldiers in the IDF are Jewish, but the number of Christian recruits has been steadily climbing since 2012, when concentrated efforts to encourage their enlistment began. The number is still only in the hundreds. In 2019, one soldier was appointed a lieutenant-colonel, making him the first Christian to achieve that rank.
In October 2014, the IDF topped Business Insider Magazine's list of most powerful militaries in the Middle East, and also the list of the top air force's in the entire world. A close security relationship with the United States as well as a booming defense industry gave Israel an edge over the other countries on the list. Israel has one of the most well-tested and battle ready armies in the world (they have fought in four major engagements since 2006), and can mobilize quickly due to the relatively compact size of the country. The Israeli air force was ranked first in the entire world due to their space assets, advanced fighter jets, high-tech armed drones, and nuclear weapons. Chris Harmer, a senior naval analyst at the Institute for the Study of War was quoted in the Business Insider article stating that "Pilot to pilot, airframe to airframe, the Israeli air force is the best in the world."
IDF Doctrine
Society & Service
Terms of Service
Foreign Volunteers
IDF Doctrine
To ensure its success, the IDF's doctrine at the strategic level is defensive, while its tactics are offensive. Given the country's lack of territorial depth, the IDF must take initiative when deemed necessary and, if attacked, to quickly transfer the battleground to the enemy's land. Though it has always been outnumbered by its enemies, the IDF maintains a qualitative advantage by deploying advanced weapons systems, many of which are developed and manufactured in Israel for its specific needs. The IDF's main resource, however, is the high caliber of its soldiers.
In preparing for defense, the IDF deploys a small standing army (made up of conscripts and career personnel) with early warning capability, and a regular air force and navy. The majority of its forces are reservists, who are called up regularly for training and service and who, in time of war or crisis, are quickly mobilized into their units from all parts of the country.
The IDF's three service branches (ground forces, air force and navy) function under a unified command, headed by the chief-of-staff, with the rank of lieutenant-general, who is responsible to the Minister of Defense. The chief-of-staff is appointed by the government, on recommendation of the prime minister and minister of defense, for a three-year term, which is usually extended for an additional year.
Except when combat duty is involved, men and women soldiers of all ranks serve side by side as technicians, communications and intelligence specialists, combat instructors, cartographers, administrative and ordnance personnel, computer operators, doctors, lawyers and the like. The IDF is responsive to the cultural and social needs of its soldiers, providing recreational and educational activities, as well as personal support services. Recruits with incomplete educational backgrounds are given opportunities to upgrade their level of education, and career officers are encouraged to study at the IDF's expense during their service. The integration of new immigrant soldiers is facilitated through special Hebrew language instruction and other programs. Active in nation-building enterprises since its inception, the IDF also provides remedial and supplementary education to civilian populations and contributes to the absorption of newcomers among the population at large. In times of national crisis or emergency, the IDF responds immediately with appropriate action and assigns trained personnel to fill essential jobs or carry out special tasks.
Society & Service
Service in the Israel Defense Forces is a measure of involvement in the country's life. Most men and single women are inducted into the IDF at age 18, women for two years and men for three, followed by service in the reserves, men up to age 51 and single women to age 24. The IDF announced in November 2014 that starting in July 2015, male mandatory service in the IDF will be cut by 4 months, with male soldiers now serving a total of 32 months. In addition to this, the mandatory service length for female soldiers is to be extended at the same time, in an effort to promote equality. During the same meeting in which these new service requirements were approved, discussions were also held in reference to raising the salaries of enlisted soldiers.
As of 2023, 33% of draft-age men do not enlist, half of whom are Haredim, who are granted deferments while pursuing Torah studies (those who do serve mainly fulfill religious functions), which effectively results in their never serving. Out of respect for their community's religious commitments, Orthodox women may be exempted (45% are), although many choose to perform 1­2 months of national service in the civilian sector.
When the government first decided to allow religious exemptions, it was viewed as a compromise to win Orthodox support for the state. However, over the years, the number granted exemptions has ballooned from a few thousand to tens of thousands. Many Israelis object to the exemptions, which they see as unfair to the majority of people who serve and sacrifice for the country. The debate has been ongoing for years, with the Orthodox religious parties fighting against proposed laws to draft members of their communities. When, for the first time, an Israeli government was formed without any of the religious parties in 2021, there was an expectation that the law would be changed to force the ultraorthodox to bear their share of the security burden. The government fell too quickly; however, and was replaced by a new one with the two major religious parties, which threatened to bring down the coalition if the draft was imposed on them. 
In essence, the society and army are one, as a broad spectrum of the population serves periodically over many years, with those in and out of uniform virtually interchangeable. Since soldiers often hold ranks not necessarily corresponding with their status in civilian life, the IDF has become a highly effective equalizer in society and contributes greatly to integrating individuals from all walks of life. The IDF also helps new immigrants during their period of military service to acclimate to Israeli life in a framework wherein each person is undergoing the same process.
Over the years, the IDF has assumed a variety of national-social functions for the society at large; providing special services for new immigrants; upgrading educational levels of adults who were denied basic education in their countries of origin; supplying teachers to development towns; assisting in disadvantaged areas and responding to emergency situations in the civilian sector.
Christian individuals living in Israel also serve in the IDF and are actively recruited. Prime Minister Benjamin Netanyahu spoke at an IDF Christian Recruitment forum in December 2014 and said that "We are brothers, we are partners – Christians and Jews and Druze and Muslims who defend the State of Israel."
Terms of Service
Compulsory Service: All eligible men and women are drafted at age 18. Men serve for three years, women for 21 months. Deferments may be granted to qualified students at institutions of higher education. New immigrants may be deferred or serve for shorter periods of time, depending on their age and personal status on entering the country.
Reserve Duty: Upon completion of compulsory service each soldier is assigned to a reserve unit. Men up age 51 serve 39 days year period time which can be extended in times emergency. Recent policy has been reduce the burden whenever possible and reservists who have served combat UNITS may now discharged at 45.
Career Military Service: Veterans of compulsory service meeting current IDF needs may sign up as career officers or NCOs. The career service constitutes the command and administrative backbone of the IDF. Graduates of officers' or pilots' schools or special military technical schools are required to sign on for periods of career service.
Foreign Volunteers
Volunteers have come from around the world to fight for Israel since the War of Independence. Today, the IDF features soldiers from more than 70 countries, with over 1/4 of these recruits coming from the United States. These soldiers are known as lone soldiers, and are placed in the same category as Israeli recruits who do not have a support network (orphans), and Israelis whose parents are not in Israel year-round. The first group of Chinese Jewish IDF recruits, hailing from Kaifeng, China, joined the IDF in 2014.
According to the most recent numbers, there are approximately 3,484 active soldiers in the IDF from around the world who have made aliyah. In 2016, for the second year in a row, the most foreign IDF recruits came from France.
The IDF announced in August 2017, that for the first time they had volunteers from Honduras and Thailand attending their summer training session. During the IDF's 2017 summer recruitment period, beginning on July 9 and ending on August 17, 10% of the new recruits were born outside of Israel.
---
Sources: Israeli Ministry of Foreign Affairs;
"IDF to cut male soldiers' service time next year," Times of Israel, (November 11, 2014);
Noah Shpigel, "Netanyahu Lauds Christians Serving in Israeli Army," Haaretz, (December 15, 2014);
Alona Ferber, "Israeli Army Cites Rise in Number of Overseas Volunteers Joining Its Ranks," Haaretz, (April 22, 2015);
Michael Freund, "From Kaifeng to the Kotel: Chinese Jews in Jerusalem," Jerusalem Post, (August 8, 2015);
Jeremy Sharon, "French citizens comprise largest number of foreign IDF volunteers in 2016," Jerusalem Post, (July 27, 2016);
Anna Aronheim, US Youth Lead the Charge in Volunteering for the IDF, Jerusalem Post, (August 7, 2017);
Adam Eliyahu Berkowitz, "Onward Christian Soldier: Life as a Non-Jew in the IDF," Breaking Israel News, (January 8, 2019).