Israel Defense Forces: Iron Dome Missile Defense System
The Iron Dome missile defense system, designed and developed by Israel and jointly funded through the United States, is a response to the threats Israel faces from short and medium-range rockets and mortar shells fired by Palestinian terrorists in Gaza. The system has the capability to identify and destroy such projectiles before they land in Israeli territory and is considered one of the most effective anti-missile systems in the world.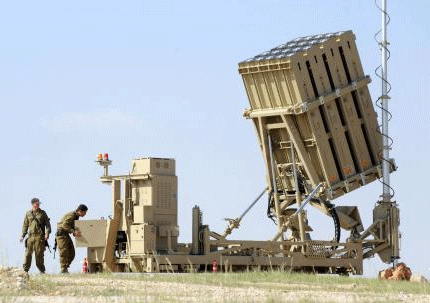 IDF Soldiers man an Iron Dome battery
Iron Dome is comprised of three key components:
(1) the design and tracking radar, built by the Elta defense company;
(2) the battle management and weapon control system, designed by the mPrest Systems software company; and,
(3) the missile firing unit, manufactured by Rafael Advanced Defense Systems Ltd.
One of the most advanced features of Iron Dome is its capability to determine where an incoming rocket will land and to only intercept such projectiles that pose meaningful threats to populated civilian areas.
Iron Dome joins Israel's comprehensive missile defense network which includes the David's Sling system, intended to protect against mid-range missiles, and the Arrow Interceptor system, designed to provide defense against long-range ballistic missiles.
The decision to build the Iron Dome system was made by the Ministry of Defense in 2007, following a year in which Hezbollah fired thousands of missiles into northern Israel during the Second Lebanon War. Israel had also experienced rocket attacks on its southern communities from the Gaza Strip, mainly carried out by Hamas.
Between 2008 and 2010, the Iron Dome system underwent a number of comprehensive tests and was declared operational in March 2011. On April 7, 2011, the system successfully intercepted its first projectile, a rocket fired from Gaza towards Israel. Immediately afterwards, IAF aircraft targeted a rocket-launching terrorist cell. The following day, the system successfully intercepted 3 rockets fired from Gaza towards Israel.
During the middle of March 2012, when terrorists in Gaza went on a rocket offensive against southern Israel firing nearly 200 rockets in less than 72 hours, the Iron Dome system successfully shot down no fewer than 52 rockets aimed at Beersheva, Ashdod, and Ashkelon. Israel Ambassador to the United States, Michael Oren, thanked President Obama and American legislators for their allocation of funds to support the Iron Dome project.
In May 2012, President Obama directed US Defense Secretary Leon Panetta to allocate an additional $70 million to pay for more Iron Dome batteries and interceptor missiles in Israel. Israeli Defense Minister Ehud Barak had come to the States during the month to seek further resource allocation and thanked the administration for helping upkeep a system which has proven successful in saving lives and preventing an escalation in violence. The United States has now paid nearly $300 million for the Iron Dome system.
In November 2012, a wave of Hamas rocket attacks on Israel precipitated the IDF to embark on Operation Pillar of Defense in an effort to destroy the terror groups rocket launching capability. Over the course of the operation, Hamas launched more than 1,500 rockets towards Israel - including qassam, GRAD, and fajr rockets - and Israel used the Iron Dome to successfully intercept more than 420 incoming missiles. During Pillar of Defense, Iron Dome also intercepted missiles over the skies of Jaffa and Tel Aviv for the first time in Israeli history.
As of August 2013, Israel has six Iron Dome batteries deployed in the south and north of the country and plans for six additional batteries to come online within coming months.
In May 2014, the Israeli government agreed to spend more than half the funds allocated by the U.S. Congress for Iron Dome funding to be spent on contractors in the United States. The agreement stipulates that funds spent in the America will jump to 55% of the total allocations by 2015, a marked increase from 3% previously. To date, Congress has approved $703 million since 2011 for Israel to spend on Iron Dome.
On August 1, 2014, US lawmakers in Congress approved an additional $225 million in funding for the Iron Dome System. Although there were some attempts to block the legislation because the cost would pile into the national debt, it was eventually passed with a vote of 395-8. The United States continues to show it's support for Israel in the fight against Hamas, pledging to spend more money on the Iron Dome and protect Israel's citizens.
As a part of fiscal year 2015's $585 billion Defense Authorization Bill, the United States government authorized the allocation of $351 million for Israel's Iron Dome system. The funds are to be used to "procure additional Iron Dome interceptors," including ones that are produced within the United States. This authorization of funds represents an increase of $176 million from fiscal year 2014's allocation of $175 million for the same purpose.
Ending months of uncertainty, in December 2014 the United States Congress passed a spending bill that keept the government funded through September 2015. This bill authorized $1.1 trillion in spending, and includes the standard $3.1 billion annual US military aid to Israel and an additional $619 million designated for Israel's Iron Dome missile defense system. Israeli newspaper Globes reported that this aid package was one of the largest military aid packages that the US has ever given Israel. As a stipulation for this funding, it is included in the spending bill that 55% of the new components for the Iron Dome be manufactured within the United States by Raytheon. This bill also includes $268 million designated for Israel's other defense systems, Arrow and David's Sling.
Member states of the Gulf Cooperation Council (GCC), including Qatar, Bahrain and Saudi Arabia, expressed interest in purchasing an Iron Dome missile defense system for their own countries in October 2015. This deal would be facilitated by the United States and would help the Gulf countries deal with a "growing arsenal of Iranian missiles."
The first ever trial of an Iron Dome interceptor on U.S. soil was conducted on April 20, 2016. The Tamir interceptor, fired by the Iron Dome system, successfully struck and destroyed it's drone target during a test conducted by Israel-based Rafael Systems, and U.S. defense contractor Raytheon.
Israel successfully tested a new maritime missile interception system in early May 2016. Using an altered Iron Dome missile battery, the Tamir Adir system demonstrated it's ability to strike airborne targets with accuracy from a moving platform. Developed over several years, the new system will help the Israeli military protect strategic maritime assets such as oil rigs, which Hamas has tried to target with rockets in the past. The Israeli military declared the maritime missile interceptor system ready for use in November 2017 after 18 months of collaboration between the Israeli Air Force, the Israeli Navy, and local industry. The system is integrated with the Adir surveilance and guidance system on the ship INS Lahav.
The U.S. government's spending bill passed in March 2018 included a record-high $705 million in funding earmarked for Israel's missile defense systems.
---
Sources: IDF;
"Barak confirms: 'Iron Dome' to be deployed within days" Jerusalem Post, (March 25, 2011);
Israel Defense Forces;
" Israeli ambassador thanks US for aiding Iron Dome development" YnetNews,(March 11, 2012);
YouTube;
Mutch Ginsburg, "IDF deploys sixth Iron Dome battery," Times of Israel, (August 18, 2013);
Dana Bash and Tom Cohen, "Congress approves more money for Israel's Iron Dome," CNN, (August 3, 2014);
"House Spending Bill Earmarks $3.7 Billion in Military Aid for Israel, With Special Emphasis on Anti-Missile Systems," Algemeiner, (December 12 2014);
"Gulf States set to buy Iron Dome system," SkyNews (October 13, 2015);
Yaakov Lapin, "US Army tests Iron Dome interceptor missile against drones," The Jerusalem Post, (April 20, 2016);
Raoul Wootliff, "Israel successfully tests shipborne Iron Dome Missile interceptor," Times of Israel, (May 18, 2016);
Barbara Opall-Rome, Israel declares operational capability for sea-based Iron Dome, Defense News, (November 27, 2017);
Israel thanks US for 'record-breaking' missile defense aid, ABC News, (March 26, 2018).
Photo courtesy of the IDF Spokesperson.