Israel Defense Forces: Nitzan Combat
Intelligence Collection Battalion
The IDF's Nitzan Combat Intelligence Collection Battalion was founded in 2000, and is tasked with collecting intelligence in combat situations and on individual combatants/terrorists.  The battalion operates out of the IDF's GOC Army Headquarters, along with the Infantry Corps, Armor Corps, Artillery Corps, and Combat Engineering Corps.  Nitzan is the IDF's biggest battalion, boasting over 1,000 soldiers working around the country.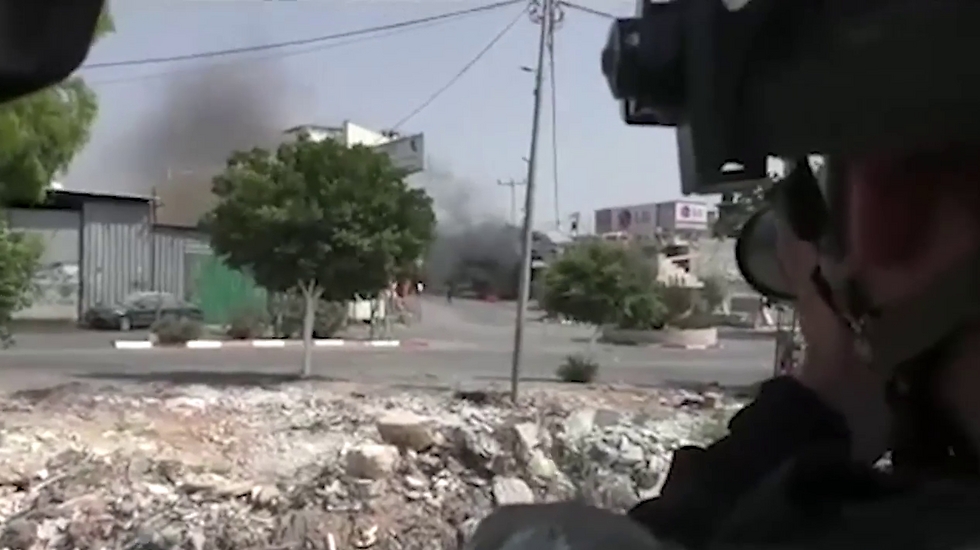 A member of the Nitzan Unit takes photos
from a safe distance
In 1993 the IDF's Nitzan Commando Unit was created, providing field intelligence on targets in real-time.  The unit was eventually absorbed into the Artillery Corps, and served a pivotal role during the later years of the 1985-2000 South Lebanon conflict.   After a helicopter crash killed two members of the unit in February 1997, the unit's existence was revealed to the public.  In April 2000 the Nitzan Commando Unit was reformed as the Nitzan Field Intelligence Corps, and was renamed the Nitzan Combat Intelligence Collection Battalion in 2008.  
Major Nadav Abargil, a Commander in the Nitzan Battalion, stated in 2014 that the battalion had been involved in every incident that has made the news involving an operation in Judea and Samaria.
The battalion assisted Israeli security services in the identification of 650 Palestinian rioters during the 2017 Temple Mount crisis, of which they were able to arrest 200.  Armed with cameras and riot protection gear, members of the Nitzan Combat Intelligence Battalion snapped photographs of Palestinian rioters throwing rocks and other items from a safe vantage point.  
---
Sources: Yoav Zitun.  Combat intelligence collection battalion documents Palestinian rioters, YNet News, (August 26, 2017);
Yaakov Lappin.  Every counter-terrorism raid you've heard about includes us, Jerusalem Post, (April 4, 2014);
Photo Courtesy of the IDF Spokesman's Office;
Wikipedia.