Berg Family Flees From Nazis to Kenya
Gisela Berg (now Jill Pauly) is the daughter of Joseph and Klara (Meyer) Berg. She was born May 1, 1933 and grew up in the small farming community of Lechenich, Germany (near Cologne), where her father earned his living as a cattle dealer. The Berg family had lived in that area since the 1600s. Gisela has one older sibling, Inge (b. 1929, now Inge Katzenstein).
Gisela Berg stands in front of her farmhouse near Limuru, Kenya), holding a cage of parakeets.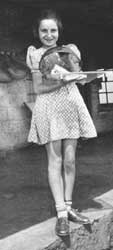 After the Kristallnacht pogrom of November 9-10, 1938, the family hid in Cologne. The following week, Gisela's father, along with his brother, George, and cousin, Ernest, fled to Holland to escape arrest. However, they were imprisoned upon their arrival for illegal entry. Klara's brother, Herman Meyer, who had been living in Holland, contacted the head of the Jewish community in Rotterdam and hired an attorney to secure their permission to remain in The Netherlands.
After this experience, the family decided to look for another country of refuge. A cousin named Rosel (Marx) Berg had a close relative who had previously immigrated to England, where he had become a successful businessman. Rosel called him daily from Cologne, asking him to help the family get out of Germany. He, in turn, asked his younger brother, Herman Strauss who worked for a prestigious law firm in Kenya, to help secure visas for the Berg family.
Herman Meyer paid the mandatory 50 pounds per person for entry papers to Kenya. After nine months in an internment camp, Joseph, Ernest and George were finally released so that they could leave for Kenya. They were the first members of the Berg family to arrive and rented a large house in Nairobi. That June they were joined by more than a dozen members of the extended family, including Klara, Gisela, Inge, Clara and Marcus Berg (Josef's parents), and Bertha Meyer (Klara's mother). This group sailed from Genoa, Italy to Mombasa, Kenya on board the SS Usambara. In all, seventeen family members fled Nazi Germany for Kenya, the youngest of whom, Egon (the son of Karl and Rosel Berg), was only eighteen months old.
After war broke out in September 1939, the British government arrested all adult male foreign nationals, including Joseph Berg and his brothers. They were released a week later on condition that they work on the farms of British citizens conscripted for war service. Throughout the war, the Bergs had the status of enemy aliens and could leave their homes only with the permission of a police commissioner.
In the fall of 1939, the Bergs purchased a 375-acre farm in Limuru and an additional 125 acres in Maguga. The large family lived in two farmhouses about a mile apart. Each day Joseph commuted to the Maguga farm, stopping to perform his mandatory farm work on a third farm midway between his own. After the German invasion of The Netherlands in May 1940, the Dutch branch of the family, including Herman Meyer, Adolf and Erna Baum and their daughter Hannah, also fled to Kenya aboard the last ship out of the country. Another member was added to the family group with the birth of Philip Berg (the son of Ernest and Else Berg) in 1942. Gisela and her family remained in Kenya for eight years, immigrating to the United States in 1947.
Source: U.S. Holocuast Memorial Museum
Photos USHMM. Top Klara, Inge and Gisela Berg.