Harry Houdini
(1874 - 1926)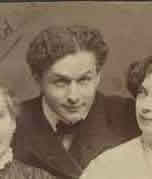 Harry Houdini was born Ehrich Weiss on March 24, 1874 in Budapest, Hungary. His family emigrated to the United States while he was an infant, and his father became the first rabbi in Appleton, Wisconsin. They later moved to Milwaukee, and eventually settled in New York. Young Ehrich's life was transformed after he learned his first trick (the vanishing quarter). At the age of 17, he changed his name to Harry Houdini and began performing in medicine shows, circuses, theaters, etc.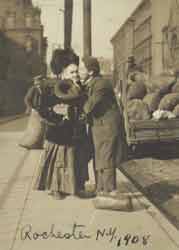 When 100,000 people watched "The King of Handcuffs" wriggle free while hanging from a building in 1916, a newspaper reported that this was "the biggest crowd ever assembled in Washington at one place except for the inauguration of the President." One of Houdini's most spectacular illusions was the "Vanishing Elephant," in which the pachyderm lumbered on to the stage and walked straight into a large cabinet. Almost simultaneously the cabinet's walls would be pulled back and the elephant had disappeared. Houdini said "Even the elephant does not know how it is done."
Four years after the Wright Brothers flew the first practical airplane, Houdini bought a French plane and made his first flight. And just 5 months later, on March 16, 1910, he became the first person to make a successful flight in Australia!
Houdini was also a motion picture star, making his first appearance in 1918 in a serial "The Mastery Mystery." Soon he set up the Houdini Picture Corporation where he wrote and starred in "The Man from Beyond" and "Haldane of the Secret Service." On October 31, 1975 Houdini's pioneering accomplishments earned him a star on Hollywood Boulevard.
Houdini was lounging in his dressing room at the Princess Theater in Montreal on October 22, 1926 when a student from McGill University asked if it was true that Houdini could sustain punches to his midsection without injury. The visitor struck him immediately, not realizing that Houdini had to brace himself. Even though Houdini had stomach pain, he boarded the train for his next appearance in Detroit. Collapsing after the final curtain, Houdini was taken to the hospital where his ruptured appendix was removed. But it was too late, and he passed away on October 31 -- Halloween. At his funeral, Rabbi Bernard Drachman called Houdini "one of the truly great men of the age."
Source: Jewish-American Hall of Fame - Jewish Museum in Cyberspace.
Photos: Top: "My Two Sweethearts," [Houdini with his wife and mother], Gelatin silver print, ca. 1907, McManus-Young Collection, Rare Book and Special Collections Division, Library of Congress. In text: Harry Houdini with his mother Cecilia Steiner Weiss (d. 1913), Rochester, New York, Gelatin silver print, ca. 1907, McManus-Young Collection, Rare Book and Special Collections Division, Library of Congress
---