Harold Pinter
(1930 - 2008)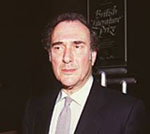 Harold Pinter was born on October 10, 1930, in Hackney, East London to father Jack Pinter and Frances Moskowitz. In his early life before World War II, he experienced many instances of anti-Semitism in London, which had a deep impact on his writing and his theatrical works. When the war began, he was evacuated from London for three years, and upon his return a few years later he was accepted at the Royal Academy of Dramatic Art. He began publishing his first poems in 1950. In 1951, he earned an acting position with a famous Shakespearean repertory company. Pinter was awarded the Nobel Prize for Literature in 2005. According to the Swedish Academy:
"Harold Pinter is generally seen as the foremost representative of British drama in the second half of the 20th century. That he occupies a position as a modern classic is illustrated by his name entering the language as an adjective used to describe a particular atmosphere and environment in drama: 'Pinteresque.'"
Joshua Cohen of Forward states, "Pinter is too much of a Modern to define himself as a Jew," and that he "has downplayed his Judaism many times in conversation, and has consciously ignored it in his characterizations." However, his Jewish heritage and his past experiences with anti-Semitism have given his work "a style that sets it apart from most English-language contemporaries, and certainly from the stultifying ranks of recent British dramatists."
Pinter was a vocal critic of Israeli government policies toward the Palestinians and a signatory of the mission statement of Jews for Justice for Palestine in 2005.
Despite frail health after being diagnosed with esophageal cancer in December 2001, Pinter continued to act on stage and screen the following years. He died from liver cancer on December 24, 2008 and was buried at Kensal Green Cemetery in North West London.
Here is a complete listing of Pinter's written works:
This bibliography includes published works only. Many of the works have been translated into French and German.
Works in English
Plays (year of writing; year of publication; year of first performance)
The Room (1957). – in The Birthday Party, and Other Plays. – London : Methuen, 1960. – (Bristol, 1957)

The Birthday Party (1957). – in The Birthday Party, and Other Plays. – London : Methuen, 1960. – (Arts Theatre, Cambridge, 28 April 1958)

The Dumb Waiter (1957). – in The Birthday Party, and Other Plays. – London : Methuen, 1960. – (Kleines Haus, Frankfurt, February 1959)

A Slight Ache (1958). – in A Slight Ache and Other Plays. – London : Methuen, 1961. – (Broadcast 1959)

The Hothouse (1958). – in The Hothouse. – London : Eyre Methuen, 1980. – (Hampstead Theatre, London, 24 April 1980)

The Caretaker (1959). – in The Caretaker. – London : Methuen, 1960. – (Arts Theatre, London, 27 April 1960)

A Night Out (1959). – in Slight Ache and Other Plays. – London : Methuen, 1961. – (Broadcast on the BBC Third Programme, 1 March 1960)

Night School (1960). – in Tea Party and Other Plays. – London : Methuen, 1967. – (Broadcast on Associated Rediffusion Television, 21 July 1960)

The Dwarfs (1960). – in Slight Ache and Other Plays. – London : Methuen, 1961. – (Broadcast 1960; New Arts Theatre, London, 18 September 1963)

The Collection (1961). – in The Collection. – London : French, 1963 (1962?) ; in The Collection, and The Lover. – London : Methuen, 1963. – (Televised 1961)

The Lover (1962). – in The Collection, and The Lover. – London : Methuen, 1963. – (Televised 1961)

Tea Party (1964). – in Tea Party and Other Plays. – London : Methuen, 1967. – (Eastside Playhouse, New York, October 1968)

The Homecoming (1964). – in The Homecoming. – London : Methuen, 1965. – (Aldwych Theatre, London, 3 June 1965)

The Basement (1966). – in Tea Party and Other Plays. – London : Methuen, 1967. – (Televised 1967)

Landscape (1967). – in Landscape. – London : Pendragon Press, 1968 ; in Landscape, and Silence. – London : Methuen, 1969. – (Broadcast 1968)

Silence (1968). – in Landscape, and Silence. – London : Methuen, 1969. – (Aldwych Theatre, London, 2 July 1969)

Old Times (1970). – in Old Times. – London : Methuen, 1971. – (Aldwych Theatre, London, 1 June 1971)

Monologue (1972). – in Monologue. – London : Covent Garden Press, 1973. – (Televised on the BBC Television, 13 April 1973)

No Man's Land (1974). – in No Man's Land. – London : Methuen, 1975. – (Old Vic, London 23 April, 1975)

Betrayal (1978). – in Betrayal. – London : Eyre Methuen, 1978. – (National Theatre, London, November 1978)

Family Voices (1980). – in Family Voices. – London : Next Editions, 1981. – (Broadcast on Radio 3, 22 January 1981)

Other Places (1982). – in Other Places : Three Plays. – London : Methuen, 1982. – (Cottesloe Theatre, London, October 1982)

A Kind of Alaska (1982). – in A Kind of Alaska. – London : French, 1982 ; in Other Places : Three Plays. – London : Methuen, 1982. – (Cottesloe Theatre, London, October 1982)

Victoria Station (1982). – in Victoria Station. – London : French, 1982 ; in Other Places : Three Plays. – London : Methuen, 1982. – (Cottesloe Theatre, London, October 1982)

One for the Road (1984). – in One for the Road. – London : Methuen, 1984. – (Lyric Theatre Studio, Hammersmith, March 1984)

Mountain Language (1988). – in Mountain Language. – London : French, 1988 ; in Mountain Language. – London : Faber, 1988. – (National Theatre, London, 20 October 1988)

The New World Order (1991). – in Granta (no 37), Autumn 1991. – (Royal Court Theatre Upstairs, London, 19 July 1991)

Party Time (1991). – in Party Time. – London : Faber, 1991. – (Almeida Theatre, London, 31 October 1991)

Moonlight (1993). – in Moonlight. – London : Faber, 1993. – (Almeida Theatre, London, 7 September 1993)

Ashes to Ashes (1996). – in Ashes to Ashes. – London : Faber, 1996. – (Royal Court at the Ambassadors Theatre, London, 12 September 1996)

Celebration (1999). – in Celebration. – London : Faber, 2000. – (Almeida Theatre, London, 16 March 2000)

Remembrance of Things Past (2000). – in Remembrance of Things Past. – London : Faber, 2000. – ( Cottesloe Theatre, London, 23 November, 2000)
Additional
The Proust Screenplay : À la recherche du temps perdu / by Harold Pinter, with the collaboration of Joseph Losey and Barbara Bray. – New York : Grove Press, 1977

Poems and Prose 1949 –1977. – London : Methuen, 1978

The Dwarfs : a novel. – London : Faber, 1990

Various Voices : Poetry, Prose, Politics, 1948 –1998. – London : Faber, 1998

Collected Screenplays. 1. – London : Faber, 2000. – Content : The Servant, The Pumpkin Eater, The Quiller Memorandum, The Accident, The Last Tycoon, Langrishe Go Down

Collected Screenplays. 2. – London : Faber, 2000. – Content : The Go-Between ; The Proust Screenplay ; Victory ; Turtle Diary ; Reunion

Collected Screenplays. 3. – London : Faber, 2000. – Content : The French Lieutenant's Woman ; The Heat of the Day ; The Comfort of Strangers ; The Trial ; The Dreaming Child

The Disappeared and Other Poems. – London : Enitharmon, 2002

Press Conference. – London : Faber, 2002

War : [Eight Poems and One Speech]. – London : Faber, 2003

Literature (a selection)

Hayman, Ronald, Harold Pinter. – London : Heinemann, 1968

Esslin, Martin, The Peopled Wound : the Plays of Harold Pinter – London : Methuen, 1970

Hollis, James Russell, Harold Pinter : the Poetics of Silence. – Carbondale, Ill. : Southern Ill. U.P., 1970

Hinchliffe, Arnold P., Harold Pinter. – Boston : Twayne, 1981

Dukore, Bernard Frank, Harold Pinter. – London : Macmillan, 1982

Harold Pinter : You Never Heard Such Silence / edited by Alan Bold. – London : Vision, 1985

Harold Pinter : Critical Approaches / edited by Steven H. Gale. – Rutherford : Fairleigh Dickinson Univ. Press, 1986 Harold Pinter / edited and with an introduction by Harold Bloom. – New York : Chelsea House Publishers, 1987

The Pinter Review : Annual Essays / edited by Francis Gillen and Steven H. Gale. – Tampa, Fla : University of Tampa, 1987 –

Merritt, Susan Hollis, Pinter in Play : Critical Strategies and the Plays of Harold Pinter. – Durham : Duke University Press, 1990

Esslin, Martin, Pinter the Playwright. – London : Methuen, 1992

Gussow, Mel, Conversations With Pinter. – New York : Limelight Editions, 1994

Knowles, Ronald, Understanding Harold Pinter. – Columbia, S.C. : University of South Carolina Press, 1995

Regal, Martin S., Harold Pinter : a Question of Timing. – London : Macmillan, 1995

Billington, Michael, The Life and Work of Harold Pinter. – London : Faber, 1996

Jalote, Shri Ranjan, The Plays of Harold Pinter : a Study in Neurotic Anxiety. – New Delhi : Harman, 1996

Peacock, D. Keith, Harold Pinter and the New British Theatre. – Westport, Conn. : Greenwood Press, 1997

Harold Pinter : a Celebration / introduced by Richard Eyre. – London : Faber, 2000

Prentice, Penelope, The Pinter Ethic : the Erotic Aesthetic. – New York : Garland, 2000

Pinter at 70 : a Caseboook / edited by Lois Gordon. – New York : Routledge, 2001

Gale, Steven H., Sharp Cut : Harold Pinter's Screenplays and the Artistic Process. – Lexington : University Press of Kentucky, cop. 2003

The Art of Crime : the Plays and Films of Harold Pinter and David Mamet / edited by Leslie Kane. – New York : Routledge, 2004

Smith, Ian, Pinter in the Theatre. – London : Nick Hern, 2005. – New York : Routledge, 2004

Baker, William, & Ross, John C., Harold Pinter : a Bibliographical History. – London : The British Library ; New Castle, DE : Oak Knoll Press, 2005

Batty, Mark, About Pinter : the Playwright and the Work. – London : Faber, 2005
---
Sources: Nobelprize.org; Joshua Cohen, "Harold Pinter, Son of a Tailor and Weaver of the Absurd, Awarded a Nobel," Forward, (October 21, 2005); Harold Pinter