The Starry Sky & the Still Small Voice: Albert Einstein
(1879 - 1955)
Born in Ulm, Germany, Einstein grew up in Munich. As a boy, he already showed great interest in and talent for mathematics and physics. His family moved to Italy, and young Albert, unhappy with the authoritarian discipline of the German schools, went on to study at the Swiss Federal Institute of Technology in Zurich. Of the four graduates in 1900, he was the only one who was not given a position at the Institute; instead, he became a Swiss citizen and took a job at the Swiss patent office in Berne.

In 1905, Einstein was granted a doctorate by the University of Zurich. His thesis, Eine neue Bestimmung der Molekuldimensionen (A New Determination of Molecular Dimensions), Berne, 1905, was his first independently published work (five papers had previously been published in Annalen der Physik). The Library's copy of Einstein's twenty-one-page doctoral dissertation was received on January 18, 1907, as a "Smithsonian Deposit." In "Subtle is the Lord . . . " The Science and Life of Albert Einstein (New York, 1982), Abraham Pais, of Rockefeller University, writes:

It is not sufficiently realized that Einstein's thesis is one of his most fundamental papers ... It had more widespread application than any other paper Einstein ever wrote. of the eleven scientific articles published by any author before 1912, and cited most frequently between 1961 and 1975, four are by Einstein. Among these four, the thesis ... ranks first.
Albert Einstein (1879-1955).
"Declaration of Intention" to become a U.S. citizen, January 15, 1936.
Typescript document and passport photograph.
Courtesy of National Archives and Records Administration Northeast Region, New York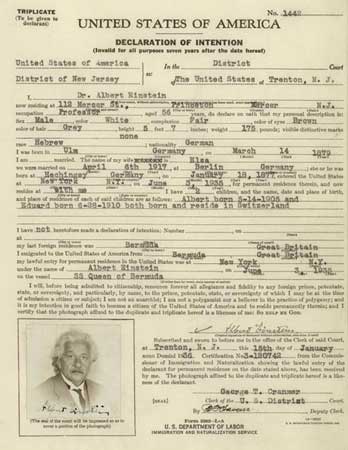 In 1921, Einstein accompanied Chaim Weizmann on a tour of the United States to raise funds for the proposed Hebrew University in Jerusalem. Among other honors, Einstein was received at the White House by President Harding, The Library has a photograph taken at the Farewell Dinner of the American Palestine Campaign. On it are Professor and Mrs. Einstein, financier Felix Warburg, Zionist leaders Robert Szold, Morris Rothenberg, and Rabbi Stephen S. Wise, as well as Jefferson Seligman of the banking family. The Prints and Photographs Division also contains a print of a pen and ink drawing of Einstein by Robert Kastor on which is inscribed in Einsteins own hand in German:

Nature has so wonderful a harmony that at times, one can draw conclusions from distant facts about not yet observed phenomena, and do so with such certainty, that he can look forward without fear to comparing these conclusions with observed reality.

When Hitler came to power in 1933, Einstein resigned his position in the Royal Prussian Academy of Sciences. On October 17 of that year the Einsteins arrived in the United States and settled in Princeton, where Einstein had accepted a professorship at the Institute for Advanced Studies. Five years later, July 13, 1938, he wrote to Dr. Herbert Putnam, Librarian of Congress:

My good friend, Professor E. Lowe, informs me that you would like to have one of my manuscripts for the Library of Congress. I am sending you herewith a specially prepared copy of my newest theory which I consider particularly worthy.

Einstein, a Jew fleeing Nazi terror, finding refuge in the United States, expresses his gratitude to this haven which became his home through a gift to the Library of Congress. The enclosed manuscript was "Einheitliche Feldtheorie" (Unified Field Theory), inscribed and dated in Einstein's hand 6 VII (July 6), 1938. Einstein began his pursuit of a unified field theory in 1919 and continued it to the last years of his life.

Five years later, in 1943, his new country now at war with the one he fled, Einstein aided the War Bond campaign by presenting through it another manuscript to the Library of Congress. (A Kansas City life insurance company was awarded the honor of being the official donor for its $6.5 million purchase of bonds.) He described his manuscript in an accompanying note:

The following pages are a copy of my first paper concerning the theory of relativity. I made this copy in November 1943. The original manuscript no longer exists having been discarded by me after its publication. The publication bore the title Zur Electrodynamic Bewegter Körper.

A. Einstein, 21 XI, 1943

Displayed at left is the first page of a holograph copy of "Zur Elektrodynamik bewegter Korper," which Einstein described as his first paper concerning the theory of relativity. He had discarded the original manuscript after it had been published in Annalen der Physic in 1905. In November 1943, Einstein rewrote this paper so that it might be presented to the Library of Congress to help promote the sale of U.S. War Bonds (Albert Einstein. "Zur Elektrodynamik bewegter Korper," November 1943, Manuscript Division).

The Library proudly exhibits its new treasure, noting that it was first published in the Annalen der Physic, Leipzig, 1905, and that it was:

Written by Einstein at the age of twenty-six, while he was living at Berne, Switzerland, the theory, though not immediately recognized as such, represents the first step toward one of the greatest intellectual triumphs of modern times.

In March 1955, a month before he died, Einstein wrote to Kurt Blumenfeld, "I thank you belatedly for having made me conscious of my Jewish soul." This consciousness had come forty-five years earlier when Blumenfeld directed him to Zionism. Although never a member of a Zionist organization, in 1924 Einstein did become a member of a Berlin synagogue to declare his Jewish identity and he served the cause of Zionism throughout his adult life. He visited Palestine, served on the Board of the Hebrew University, and willed his papers to it. In 1946, Einstein appeared before the Anglo-American Committee of inquiry on Palestine and made a strong plea for a Jewish homeland.


Al Aumuller.
America Gains a Famous Citizen (Albert Einstein),
October 1, 1940.
Gelatin silver print.
New York World-Telegram & Sun Collection.
Prints and Photographs Division

When Israel's first president, Chaim Weizmann, died, Israeli Prime Minister David Ben Gurion invited Einstein to stand as a candidate for the office, but Einstein declined because, he said, though he was deeply touched by the offer, he was not suited for the position. During his final illness, Einstein took with him to the hospital the draft of a statement he was preparing for a television appearance celebrating the State of Israel's seventh anniversary, but he did not live either to complete or deliver it.

---

Sources:Abraham J. Karp, From the Ends of the Earth: Judaic Treasures of the Library of Congress, (DC: Library of Congress, 1991). Portrait photo: Robert Kastor. January 21, 1922, Pen and ink on paper. Prints and Photographs Division, Library of Congress