Yisrael Amir
(1903 - 2002)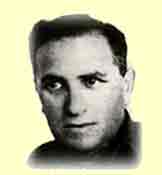 Two days after Israel proclaimed its independence in May 1948, Prime Minister David ben-Gurion appointed Yisrael Amir as the first commander of the newly created Israeli Air Force. With Israel facing a huge Arab attack from Lebanon, Syria, Iraq, Transjordan, and Egypt, Amir hurried off to Europe to acquire fighter planes to aid Israel's tiny force, which was only eight planes strong. He bought 25 decommissioned German Messerschmitt 109 fighters from Czechoslovakia, and four B-17 Flying Fortress bombers from Florida. When the planes finally arrived in Israel in late May, they went off on the air force's first fighting mission at a place now known as Gesher Ad Halom (Until Here).
Amir, a Russian immigrant who moved to Mandatory Palestine in 1923, was also responsible for developing the air force's intelligence and constructing new airfields. After his arrival to Israel, he became a farmer and joined the Haganah, the precursor to the Israel Defense Forces. He was later made a field commander in Jerusalem in 1946, and before Israel declared its independence, Amir left for Europe in February 1948 to train thousands of young Holocaust survivors and refugees to fight on behalf of the Jewish homeland.
Though he only served as the Air Force commander for two months in 1948, Amir remained in the Defense Ministry until 1969. After his retirement from the Air Force, he helped govern Israel's Magen David Adom (MDA). His innovations in military and air force intelligence laid the first foundations of what was to become the most powerful and skilled air force in the Middle East.
Amir died on November 1, 2002 at age 99. Several high military officials paid tribute upon hearing news of death, including former IDF chief of staff Moshe Ya'alon and current chief Dan Halutz. The IDF stated after his death that his deeds of heroism, which guided the small air force to victory in 1948, "will remain etched on our hearts."
---
Sources: Lawrence Joffe, "Israel Amir," The Guardian, (December 13, 2002); "First commander of Israel Air Force dies at 99," Ha'aretz, (November 3, 2002); Photo courtesy of the IDF