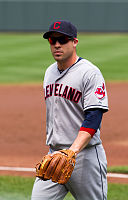 Jason Michael Kipnis is an American baseball player who plays second base for the Cleveland Indians. He attended Glenbrook North High School in the suburbs of Chicago, where he earned three letters playing baseball for the Glenbrook North Spartans. He attended the University of Kentucky, but transferred to Arizona State University after two years. In college, Kipnis was an All American and the 2009 Pacific-10 Conference Player of the Year for the Sun Devils.
The Indians selected Kipnis in the second round of the 2009 Major League Baseball Draft. In 2010, he was named the Indians' Minor League Player of the Year, and a Baseball America Minor League All Star. Prior to the 2011 season, Baseball Prospectus ranked him as the top Indians prospect and the 28th-highest prospect in baseball. At mid-season, Baseball America rated him as baseball's 31st-best prospect. He was called up from the minor leagues on July 22, 2011. In 2012, he became the starting second baseman for the Indians.
Kipnis is a practicing Roman Catholic, though he self-identifies as Jewish due to his father's Jewish ancestry.
---
Source: Wikipedia.