Kenneth Holtzman
(1945 - )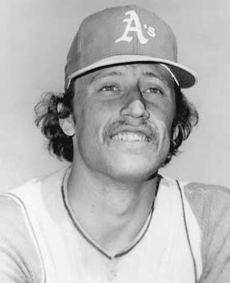 Kenneth Dale Holtzman is a former Jewish professional baseball player. He is still the winningest Jewish pitcher in MLB history.
Holtzman was born on November 3, 1945, in St. Louis. As a child, Holtzman would alternate eating Friday nights at the kosher homes of both sets of grandparents, who all immigrated to the United States from Russia.
A star at University City High School, where he was selected the Most Valuable Player on the state championship team in 1962, Holtzman later attended the University of Illinois, graduating in 1967 with a B.A. in business administration.
While still in college, Holtzman signed with the Chicago Cubs for a $70,000 bonus and made his major league debut at age 19 on September 4, 1965 - promptly giving up a home run on his first pitch. Being a Jewish lefthander who was known for both the velocity of his fastball and his ability to control it, Holtzman was being called "another Sandy Koufax" as soon as he arrived in the big leagues. Five days after his debut he watched as Koufax, of the Los Angeles Dodgers, pitch a perfect game. Afterward Holtzman asked for his autograph.
The two greatest Jewish pitchers in history faced each other for the one and only time in their careers on September 25, 1966, the day after both had attended synagogue services for Yom Kippur. Holtzman was finishing his first full season in the majors while Koufax was winding down his final season. Holtzman outdueled Koufax, throwing a no-hitter for eight innings and winning 2–1.
Holtzman spent much of the 1967 season in the National Guard, pitching occasionally on the weekend and recording a 9–0 record in the 12 games in which he appeared. He pitched a no-hitter against Atlanta on August 19, 1969, and pitched another no-hitter on June 3, 1971, against Cincinnati. After the 1971 season, Holtzman was traded to the Oakland Athletics and helped the team to three straight championships.
When the second game of the 1973 American League Championship Series game against Baltimore fell on Yom Kippur, Holtzman -scheduled to pitch - did not play. That morning, a limousine took him to the Baltimore Hebrew Congregation, where he was escorted to the synagogue's front row and was seated next to Jerry Hoffberger, owner of the Orioles.
Before the 1976 season, Holtzman was traded to the Baltimore Orioles and, on June 15, 1976, the Orioles shipped him to the New York Yankees. On June 10, 1978, after two mostly unsuccessful seasons in New York, Holtzman was sent back to the Chicago Cubs where he would retire the following season.
Holtzman won four World Series, was twice named to the American League All Star team (1972, 1973), and threw 2,867 innings with a 3.49 career earned run average, 1,601 strikeouts, 31 shutouts, and pitched at least 215 innings in nine of his 15 seasons. Holtzman's final regular-season record of 174–150 gives him more wins than any other Jewish pitcher in history.
---
Sources: International Jewish Sports Hall of Fame. 
Encyclopaedia Judaica. © 2008 The Gale Group. All Rights Reserved.
Photo courtesy of International Jewish Hall of Fame.