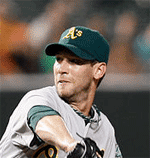 Craig Breslow is a Jewish American professional baseball player, currently a pitcher for the Boston Red Sox.
Breslow (born August 8, 1980) was born to Jewish parents, Abe and Anne, in Connecticut and became the captain of the baseball team when he attended Yale University in the Ivy Leagues. In 2002, he was named a Jewish Sports Review College Baseball First Team All-American, along with future major leaguers Sam Fuld and Adam Greenberg. Breslow graduated in 2002 with a B.A. in molecular biophysics and biochemistry.
The Milwaukee Brewers drafted Breslow in the 26th round of the 2003 amateur players draft and he decided to defer his acceptance into New York University School of Medicine in order to pursue his dreams of playing in the major leagues. He debuted in the majors in 2005 with the San Diego Padres and has since moved to the Boston Red Sox (2006), Cleveland Indians (2008), Minnesota Twins (2008-2009), Oakland Athletics (2009-2011), Arizona Diamondbacks (2012) and back to the Red Sox (2013-Present). In 2009, the Wall Street Journal named Breslow the "Smartest Professional Athlete."
When Breslow joined the Red Sox in 2006, he solidifed the team as that years Jewish hub of baseball with three Jewish players - Breslow, Kevin Youkilis and Gabe Kapler. When back with the Red Sox in 2013, Breslow once again made Boston three Jewish players strong, joining Ryan Lavarnway and Ryan Kalish.
Breslow is proud of his Jewish heritage. "Being Jewish is more difficult in baseball," he once noted, "but I try to do what I can in terms of paying attention to holidays." He has expressed this pride by saying he has fasted on Yom Kippur even while playing.
---
Sources: Wikipedia; Moment Magazine (Sept/Oct 2011); Baseball Reference; JTA (October 22, 2013).
Photo Credit: Keith Allison