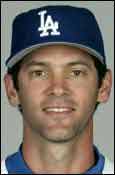 Shawn Green is a Jewish American former professional baseball player.
Green (born November 10, 1972) was born in Des Plaines, Illinois, and attended high school in California where he was selected to the 1991 first team USA Today All-USA high school baseball team. Green accepted a baseball scholarship to attend Stanford University, but eventually signed with the Toronto Blue Jays after they selected him 16th overall in the 1991 amateur draft.
From 1992 through the majority of the 1993 season, Green played in the Toronto minor league system, making his major leagu debut as a September call-up. At his debut on September 28, he was the second-youngest player in the major leagues.
1995 was Green's full rookie season and by 1998 he had secured an everyday spot in the Toronto lineup. In 1999, he became only the fourth player to ever hit a home run into the fifth deck of Toronto's stadium, measured an estimated distance of 449 feet. That same year he was selected to the All Star Game and performed in the annual Home Run Derby. In November 1999, the Blue Jays traded Green to the Los Angeles Dodgers.
Green played for the Dodgers from 2000 through 2004, earning an All Star game selection in 2002. That year he also hit four home runs in one game, becoming only the 14th player in major league history to accomplish the feat.
In September 2001, Shawn announced that he would not play on Yom Kippur, because he considered himself "a role model in sports for Jewish kids." Green felt that being Jewish, "is something different, and I understand that, throughout my career, it'll be something that differentiates me from other players - always separates me."
From 2005 to 2006, Green played for the Arizona Diamondbacks and for the New York Mets from 2006 to 2007. Green retired after the 2007 season having played 15 year in the Major Leagues.
From May through September 2012, Green played and coached for Team Israel in the qualifying rounds of the World Baseball Classic.
Green is married to Lindsay Bear and has two daughters.
---
Sources: Jews in Sports; ESPN; Wikipedia; Photo Courtesy of Sports Illustrated