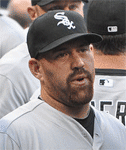 Kevin Youkilis is a Jewish American baseball player.
Youkilis (born March 15, 1979) was born to a family of Jewish, Romanian, and Greek ancestry in suburban Cincinanti. He played baseball for the University of Cincinnati where he was a two-time All-America selection. In 2001, Youkilis was selected in the eighth round of the Major League Baseball amateur draft by the Boston Red Sox.
From 2001 to 2004, Youkilis played in the minor leagues for a number of teams within the Red Sox baseball system.  On May 15, 2004, he was finally called up to the major leagues and that day he became just the seventh player in Red Sox history to hit a home run in his first big league game. He was later named AL Rookie of the Month for May, eventhough he only played for half the month.
On August 8, 2005, Youkilis took the field in the 9th inning along with Adam Stern and Gabe Kapler, setting a "record" for the most Jewish players on the field at one time in American League history and the most in Major League Baseball history since four Jewish players took the field for the New York Giants in 1941.  In 2009, Youkilis beat out Shawn Green and Ryan Braun in online voting to be awarded "Best Jewish Baseball Player of the Decade" by the organization Jewish Major Leaguers.
On June 25, 2012, after playing for more than eight years with the Red Sox, Youkilis was traded by Boston to the Chicago White Sox. During the 2012 offseason, Youkilis signed as a free agent with the New York Yankees, however he only saw limited action during the 2013 season due to numerous injuries.
Youkilis is a three time All-Star (2008, 2009, & 2011), won the World Series with the Red Sox twice (2004 & 2007), won a Gold Glove at firstbase in 2007, and was awarded the Hank Aaron Trophy for best offensive player in the league in 2008.
In August 2012, Youkilis announced his intentions to play for Team Israel in the qualifying round for the 2013 World Baseball Classic. As per WBC rules, diaspora Jews are eligible to play for Israel and already former major leaguers Brad Ausmus, Shawn Green, and Gabe Kapler has committed to coaching and playing for Team Israel.
In December 2013, it was announced that Youkilis would be playing in Japan the following season.
"I'm proud of being Jewish," says Youkilis. "It's in my roots. It's my heritage ... If I can make a Jewish kid proud of playing baseball and give him more confidence, I'm very proud of that."
---
Sources: The Jewish Week.
JTA. 
Wikipedia.
Baseball Reference.
Baseball Almanac.