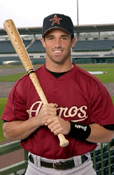 Brad Ausmus is a Jewish American former professional baseball player.
Ausms (born April 14, 1969) was born in New Haven, Connecticut to a Jewish mother, Linda, and a Protestant father, Harry. Though not raised religious, Ausmus is on record as having occasionally celebrated Jewish holidays and is prideful of his Jewish heritage.
In 1987, Ausmus was drafted in the 47th round by the New York Yankees and he played in the Yankees' minor league system while also attending Dartmouth College. Due to NCAA restrictions, he was not allowed to also play for the Dartmouth baseball team, but he instead served as a coach and a bullpen catcher. He graduated in 1991 with a degree in government
Ausmus spent five seasons in the Yankees' farm system before being selected in the expansion draft of 1992 by the Colorado Rockies. In 1993, he was traded by Colorado to the San Diego Padres.
In July 1993, Ausmus made his major league debut with the Padres. In 1996, the Padres traded him to the Detroit Tigers who traded him less than six months later to the Houston Astros. After one season with the Astros, he was traded back to the Tigers and in December 2000 the Tigers traded him again to the Astros.
From 2001 to 2008, Ausmus finally settled into a solid role with the Astros. In 2009, Ausmus signed as a free agent with the Los Angeles Dodgers but later announced his retirement in October 2010.
From May through September 2012, Ausmus managed Team Israel in the World Baseball Classic qualifying rounds. The team eventually lost in the qualifying finals.
In November 2013, Ausmus was announced as the new manager of the Detroit Tigers, succeeding Jim Leyland.
Though Ausmus was not drafted until the 47th round of the 1987 draft, he played in MLB longer than any of the 1,150 players drafted ahead of him did. In 2004, he was inducted into the National Jewish Sports Hall of Fame.
---
Sources: Wikipedia; ESPN; Photo: Rosh Hashanah Hotties