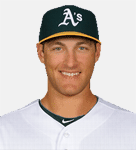 Nathan Samuel "Nate" Freiman is an American Jewish professional baseball player currently on the Oakland Athletics.
Freiman (born December 31, 1986) was born in Washington, D.C. to Len and Marjorie Freiman. He grew up in Wellesley, Massachusetts, and pitched and played catcher for the Wellesley High School baseball team throughout high school. As the best player in Massachusetts during his junior and senior years, Freiman was voted Most Valuable Player of the Bay State Conference both years; won the Division II Baseball Player of the Year Award both years; and won the state's Gatorade Player of the Year in his senior year. Additionally, the sports magazine Baseball America rated him among the top 50 high school prospects in the U.S.
Freiman graduated from Duke University in Durham, North Carolina in 2009 with a degree in history and mathematics. He played for Duke's Blue Devils baseball team as its first baseman and catcher.
During his junior year in college, the Texas Rangers drafted him but Freiman chose to remain at Duke. In 2009 the San Diego Padres drafted him in the 8th round of that year's Major League Baseball Draft. He signed for $40,000.
In September 2012, Freiman played for the Israeli national baseball team in the World Baseball Classic.
In December 2012, the Houston Astros drafted Freiman for $50,000; then in March 2013, the Oakland Athletics, of Major League Baseball, chose Freiman to join their roster.
Freiman is married to Amanda Blumenherst, a golfer. The pair was Duke's Athletic Coast Conference Senior Male and Female Athletes of the Year in 2009, respectively.
---
Sources: Wikipedia