Simcha Nornberg
(1918-2000)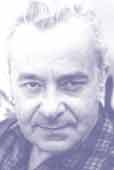 Simcha Nornberg was a Jewish Polish-born artist.
He was born on July 18, 1918, in Nowe Brzesko, a small Jewish town near Crakow, to Hadassa and Nathan, into a poor religious family. He received a traditional education in Heder and Talmud Torah.
Nornberg graduated in 1937 from HaGymnasia HaIvrit in Crakow, where he started painting. He also began his study of law at the Jagiellonian University, playing a leading role in Zionist movements. At the beginning of WWII, he moved to the eastern part of Poland, which was controlled by the Soviet Union, and organized the Zionist youth in Lvov. In 1940, Nornberg was declared an "enemy of the people" and sentenced to prison with hard labor in Soviet camps, where he refused to work on Yom Kippur. His paintings, done for the wife of the prison-camp commander, saved his life. Most of his family had remained in the German-controlled part of Poland and perished in the Holocaust. His older sister, Genia Weinstein, was saved by Oscar Schindler and lives today in New Haven.
Self Portrait (1993)
In 1945, Nornberg wrote, acted and directed a play that was staged at the local theater in Ursk in the Ural mountains. A young Jewish woman, named Bella Gelassen, who acted the role of his wife in the play, became his real life wife before the end of the year.
Nornberg returned to Poland in 1946, where he engaged in Zionist politics and educational activity. He founded the first Hebrew school in Katowitz and was active in aiding Jewish survivors to immigrate to Eretz Israel. He took up painting again, depicting mainly scenery of the small Jewish towns and villages that had been destroyed during the war. His Zionist activities endangered his life and he was forced to flee Poland. After a short stay in Paris, he and his family immigrated to Israel in 1948.
During the years 1949-1952, Nornberg was active in Israeli politics and public life and became a member of the World Jewish Congress leadership between 1952-1955. He edited the Hebrew monthlies BaDerech and Mabat.
In 1955, Nornberg set up a private law firm in Tel Aviv. The year 1972 marked a turning point in his life when he abondoned law and dedicated himself fully to art.
The images that Nornberg carried within him for so long gushed forth in his desire to compensate himself for "lost time." The contrasts that characterize his entire oeuvre are manifested in a real rift between two worlds: the world of his childhood and youth cut short so cruelly by World War II, and the "new world," a modern world of cultural and political rebirth in Israel. Nornberg's work affirms life, but cannot ignore an entire world turned topsy-turvy by the war. The passing time honed and intensified the artist's need to give testimony, to battle forgetfulness, to leave footprints behind and revive the ashes of the past world whose music continued to be heard in his soul many years after it fell silent.
Nornberg passed away on January 8, 2000. He and his wife Bella, who passed away later that year, are burried at the Old Cemetery on Trumpeldor Street in Tel Aviv.
A permanent exhibition of Nornberg's work is exhibited in the art gallery named after he and his wife at Bar-Ilan University in Israel and at the Teatr NN Museum in Lublin, Poland. A documentary television film: "My Shtetl - The place Where I Was Born" was made about Nornberg's paintings by Nathan Gross, one of Israel's pioneering filmakers.
---
Sources: Simcha Nornberg - Malen um zu leben, Aachen: Shaker, 1997. Ksiega ascemy i radosci zycia / Simcha Nornberg ; ze wstepem Jana P. Hudzika - The book of asceticism and joy of life / Simcha Nornberg ; with an introduction by Jan P. Hudzik, Lublin 1999.