Samuel Hirszenberg
(1865 - 1908)
Samuel Hirszenberg was a Polish Jewish realist painter.
Hirszenberg (born February 22, 1865; died September 15, 1908) was born in the Polish town of Lodz and chose to be an artist early in his life.
At the age of 15 he began his studies at the Academy of Fine Arts in Kraków, where he was heavily influenced by the realistic painting of Jan Matejko. After two years of training in Kraków, he continued his studies from 1885-1889 at the Royal Academy of Arts in Munich.
In 1891, Hirszenberg returned to Poland and in 1893 settled back in Lodz. His paintings reflected much imagery of his youth and symbolism of the Jewish genre. Noteworthy are the three most famous pictures of this period: Wandering Jew (1899), Exile (1904) and Black Flag (1905). For more than four years he occupied himself with the large painting "The Eternal Jew" before he showed it in 1900 in the Paris Salon.
In 1907, Hirszenberg emigrated to Palestine and became a lecturer at the Bezalel Academy of Arts and Design in Jerusalem. After a short and intense creative period, he died in 1908 in Jerusalem.
| | |
| --- | --- |
| | |
| "The Exiled" | "Yeshiva - School" |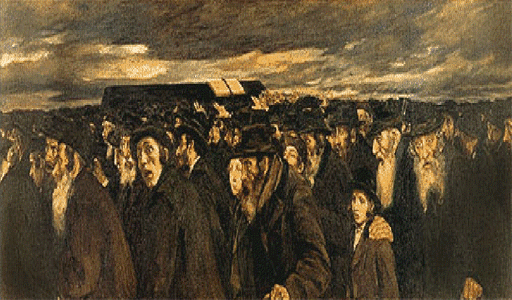 "Black Flag 1905 - Pograms Against the Jews"
---
Sources: Wikipedia