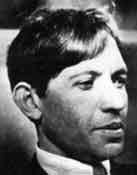 An expressionist painter constantly dissatisfied with his talent, Chaim Soutine portrayed his own violent emotions in his work using vivid colors and distorted images. His artistic style mixed his Jewish heritage with Fauvism and Cubism.

Chaim Soutine was born in Russia near Minsk, Belarus, to an observant Jewish family. He rebelled against his traditional background, enrolling in classes at the Academy of Fine Arts in Vilnus, Lithuania. Thanks to the generosity of a local art patron Soutine went to Paris in 1913 when he was 17. He enrolled at the Ecole des Beaux-Arts and worked under Fernand Cormon.

During his years as a young painter from 1919-1822, he visited the town of Ceret in the Pyrennes mountains. While living here Soutine started painting landscapes with wild apocalyptic themes. In Paris he began painting portraits of figures, his favorite being valets and maids, with a more expressive style. He socialized with great painters such as Marc Chagall, Jules Pascin, and Amedeo Mogdialiani. He shared a room with Mogdialini and was severely saddened by his death in 1920.

Soutine was prone to violent rages and bouts of depression and had attempted suicide. He often destroyed his own creations. His bizarre works went with stranger behaviors; once, he kept an animal carcass in his apartment for his painting Carcass of Beef. Despite his rages and eccentricities, he managed to sell many of his works to a well-known American collector by the name of Dr. Alfred Barnes who helped Soutine's work find an appreciative audience in the United States.

Soutine's best exhibition of his paintings was in Paris 1937. Shortly after the display of his works in Paris, France fell under the hands of the Nazis. Soutine fled for his life, often sleeping in forests in the rain. Two weeks before the French liberation on August 8, 1944, he died due to complications from surgery on a stomach ulcer.
---
Sources: Acquavella Galleries, Artcult, Wikipedia