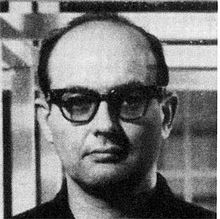 Solomon "Sol" LeWitt was a Jewish American post-modernist sculptor.
Sol LeWitt has been the subject of hundreds of solo exhibitions in museums and galleries worldwide since 1965. His prolific two and three-dimensional work ranges from Wall Drawings, over 1,100 of which have been executed, to photographs and hundreds of works on paper and extends to structures in the form of towers, pyramids, geometric forms, and progressions. These works range in size from maquettes to monumental outdoor pieces.
Sol LeWitt's frequent use of open, modular structures originate from the cube, a form that has influenced the artist's thinking since he first became an artist. Sol LeWitt: Structures includes early Wall Structures and three Serial Projects from the 1960s; four Incomplete Open Cubes from the 1970s; numerous painted white wood pieces from the 1980s: Hexagon, Form Derived from a Cube, Structure with Three Towers, among others as well as Maquettes for Concrete Block Structures from the late 1990s.
After receiving a B.F.A. from Syracuse University in 1949, Sol LeWitt traveled to Europe where he was exposed to Old Master painting. Shortly thereafter, he served in the Korean War, first in California, then Japan, and finally Korea. Sol LeWitt moved to New York City in the 1950s and pursued his interest in design at Seventeen magazine, where he did paste-ups, mechanicals, and photostats. Later, for a year, he was a graphic designer in the office of architect I.M. Pei. Around that time, LeWitt also discovered the photography of Eadweard Muybridge, whose late 1800s studies in sequence and locomotion were an early influence. These experiences, combined with an entry-level job he took in 1960 at The Museum of Modern Art, would influence LeWitt an artist.
At the MoMA, LeWitt's co-workers included fellow artists Robert Ryman, Dan Flavin, and Robert Mangold. Curator Dorothy C. Miller's now famous 1960 "Sixteen Americans" exhibition with work by Jasper Johns, Robert Rauschenberg, and Frank Stella created a swell of excitement and discussion among the community of artists with whom LeWitt associated. Interviewed in 1993 about those years Lewitt remarked, "I decided I would make color or form recede and proceed in a three-dimensional way." The Museum of Modern Art, New York gave Sol LeWitt his first retrospective in 1978-79. The exhibition traveled to various American venues. Other major exhibitions since include Sol LeWitt Drawings 1958-1992, which was organized Haags Gemeentemuseum, The Netherlands in 1992 which traveled over the next three years to museums in the United Kingdom, Germany, Switzerland, France, Spain, and The United States; and in 1996, The Museum of Modern Art, New York mounted a traveling survey exhibition: Sol LeWitt Prints: 1970-1995. In recent years the artist has been the subject of exhibitions at P.S. 1 Contemporary Center, Long Island City (Concrete Blocks); The Addison Gallery of American Art Phillips Academy, Andover (Twenty-Five Years of Wall Drawings, 1968-1993); and Wadsworth Atheneum Museum of Art, Hartford (Incomplete Cubes), which traveled to three art museums in The United States. Sol LeWitt's most recent retrospective was organized by the San Francisco Museum of Art in 2000. The exhibition traveled to the Museum of Contemporary Art, Chicago, and Whitney Museum of American Art, New York.
---
Sources: Wikipedia