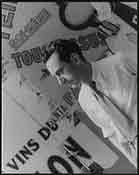 Man Ray, was born Emmanuel Radnitzky on August 27, 1890, in Philadelphia, Pennsylvania. Ray was raised in Brooklyn and in 1908, graduated from Boy's High School. In 1911, the Radnitzky family chose to change their surname to Ray, to avoid anti-Semitism and discrimination.
In 1915, Ray presented his first collection of paintings and drawings. However, it was not until 1918, that he produced his first significant photograph exhibit. Along with friend, Marcel Duchamp, Ray formed the American branch of the Dada movement, which began in Europe as a rejection of traditional art. He then founded the group of modern artists called "Others."
In July 1921, Ray went to live in Paris, France. During the next few decades in France, Ray transformed the art of photography. In 1925, his work was presented in the first Surrealist exhibition at the Gallerie Pierre in Paris. It was during this time, that Ray invented the photographic technique of solarization, in which the image recorded on a negative is wholly or partially reversed in tone.
Ray would later return to the United States in 1940, one step ahead of the Nazis, settling in Los Angeles, California. Nevertheless, in 1951 he would again return to France, where he would remain until his death. Ray died on November 18, 1976.
---
Sources: "Man Ray (1890 - 1976)." American Jewish Historical Society, American Jewish Desk Reference, (NY: Random House, 1999) pg. 332-3, Biography of Man Ray: Biography Resource Center, Gale Group, Picture by the Library of Congress