The Status of Arabs in Israel
by Mitchell Bard
Introduction
Politics
Gaps Between Jews and Arabs
Willful Separation
Employment
Education
Health and Welfare
Crime
Government Funding Increases
Jerusalem
More Volunteers for IDF
Bedouin
Satisfaction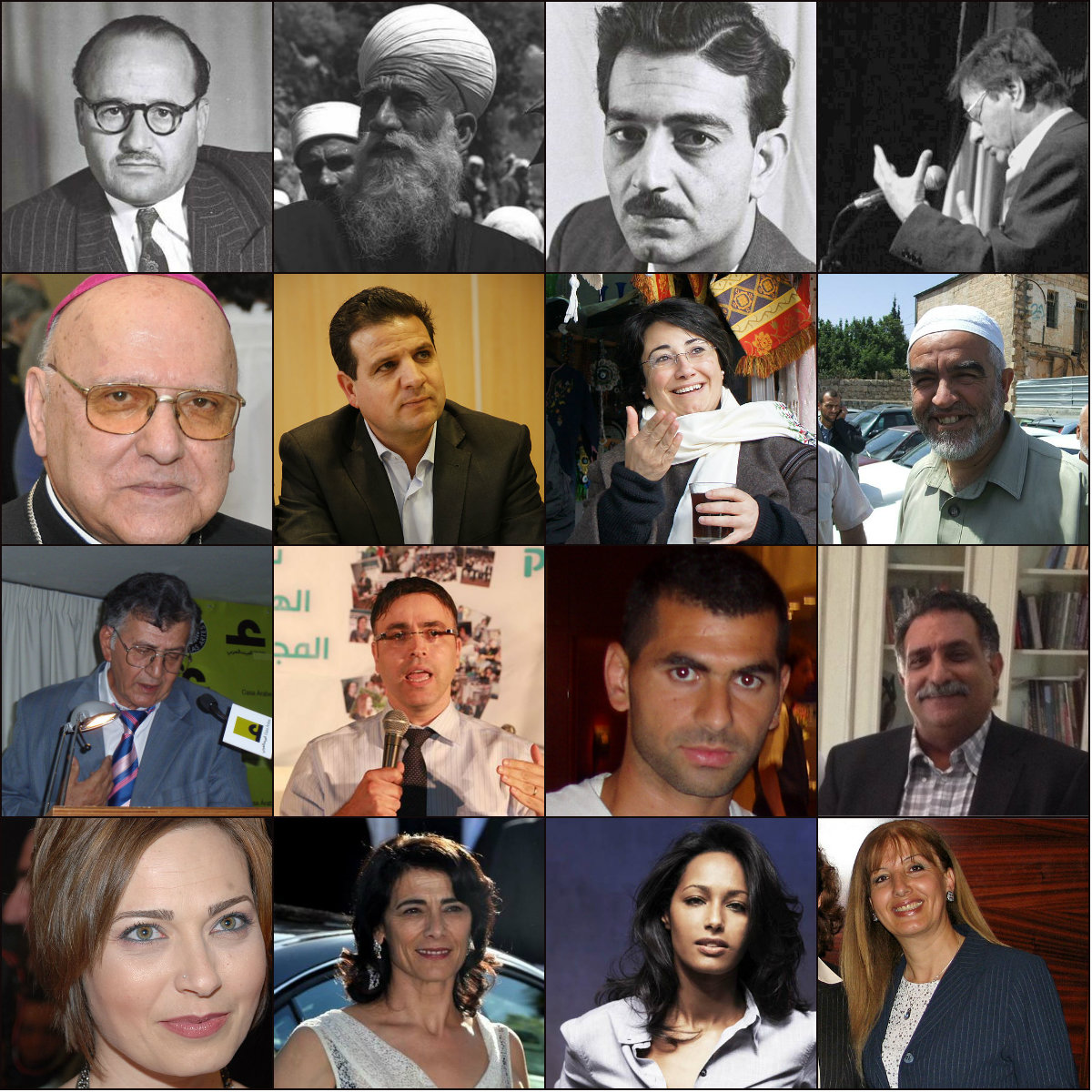 Introduction
Roughly 21% of Israel's more than nine million citizens are Arabs. The vast majority of the Israeli Arabs - approximately 83% - are Muslims, 9% are Druze, and 8% are Christian.  Some  52% of the Arab citizens live in northern Israel, 20% in the "Triangle" region in the center of the country, 18% in the Negev, and 8% in the mixed cities (Acre, Haifa, Jaffa, Ramla, Lod, Nof Hagalil and Maalot-Tarshiha), 1% in the Jerusalem Corridor (including West Jerusalem) and 2% in the rest of the country.
Arabs in Israel have equal voting rights; it is one of the few places in the Middle East where Arab women may vote.
Arabic, like Hebrew, was an official language in Israel until 2018. That year the Knesset adopted the Nation-State Law, which downgraded the status of the Arabic language from an official state language to one holding a more ambiguous special status.
The sole legal distinction between Jewish and Arab citizens of Israel is that the latter are not required to serve in the Israeli army. This was to spare Arab citizens the need to bear arms against their brethren. Nevertheless, many Arabs have volunteered for military duty – more than 1,000 in 2020 – and the Druze and Circassian communities are subject to the draft. 
Some economic and social gaps between Israeli Jews and Arabs result from the latter not serving in the military. Veterans qualify for many benefits and jobs not available to non-veterans. Moreover, the army aids in the socialization process. On the other hand, Arabs have an advantage in obtaining some jobs when Israelis are in the military. In addition, industries like construction and trucking have come to be dominated by Israeli Arabs.
In 2020, the Jewish People Policy Institute (JPPI) reported "a dramatic rise in the share of Arab Israelis who define their primary identity as 'Israeli,' and a concomitant sharp decline in the share who self-identify as 'Palestinian.'" In 2019, only 35.9% defined themselves as Israeli Arabs compared to 47.1% as Palestinians in Israel and 14.8% as just Palestinians (see also Palestinian Public Opinion Polls).
In 2021, tensions between Israeli Jews and Arabs grew significantly with an outbreak of Arab violence in some mixed cities during the Guardian of the Walls operation in Gaza. For the first time, Arabs and Jews in Haifa, Acre, Jaffa, Ramla, and Lod attacked each other.
Politics
Arabs are proportionately represented in the Knesset and head all their municipalities, schools, and religious courts.
The national election of 2021 was notable for a radical change in Israeli politics, with the Ra'am Party becoming the first Arab party to join a governing coalition. Without it, it is unlikely that Naftali Bennett could have formed a government, and Benjamin Netanyahu might have remained prime minister. It could have brought down the government at any time if it was dissatisfied with its direction. The party was willing to support Bennett in exchange for addressing the problem of violence in the Arab sector and increasing the budgets for education, construction, and healthcare. Ultimately, the government collapsed for other reasons.
Arabs hold ten seats in the 24th Knesset, four of which are held by Ra'am. The other parties have been critical of Ra'am for joining the government and accuse it of collaboration, and its ability to maintain its popularity will depend on its ability to fulfill its promise to deliver benefits to the Arab community.
Arab turnout in the 2021 election was 45% compared with 67% overall, a significant decline from 2020 when the difference was 72%-65%.
Previously, in the 1950s, one Arab parliamentarian, essentially operating as an Arab franchise of Israel's ruling socialist party, Mapai, entered the coalition. In the 1990s, when the government of Yitzhak Rabin was in danger of collapsing, the Arab parties prevented a vote of no confidence.
Israeli Arabs have also held various government posts. In 2022, a Muslim judge was appointed to the Supreme Court for the first time (he is not the first Israeli Arab to serve). Some  9% of all judges are Israeli Arabs; 4% are Arab women.
The first Israeli Arab diplomat was Ali Yahya; a Muslim appointed to be ambassador to Finland in 1995. In 2022, an Israeli Arab member of parliament was appointed consul-general to Shanghai. 
Gaps Between Jews and Arabs
The Israel Central Bureau of Statistics monitors the gaps between Arabs and Jews by 62 objective and subjective indicators that cover 11 areas of life: Employment, personal safety, health, housing and infrastructures, education, personal and social welfare, environment, civic involvement, material standard of living, leisure, and use of Information and Communication Technology. In 2019, the situation of Jews was better than that of Arabs for 50 of the 62 indicators; in three, they were equal, and in nine, the Arabs' condition was better.
Examples of the differences between Israeli Jews and Arabs include:
43% of Arabs, compared to 65% of Jews, are employed and earn 57% of what the Jews earn.
83% of Arabs versus 92% of Jews are satisfied with their work.
51% of Arabs versus 65% of Jews with their economic situation.
23% of Arabs versus 45% of Jews qualify for admission to institutions of higher education, and 37% versus 59% have post-secondary or college education.
15% of Arabs versus 33% of Jews hold academic degrees.
52% of non-Orthodox Jewish women and 35% of Jewish men in the 30-34 age bracket hold an academic degree, compared to 25% of Arab women and 11% of Arab men.
Arabs live three years less than Jews (men – 78.1 versus 81.7, women – 81.9 versus 85.1), and their infant mortality per 1,000 births is 5.3 versus 2.2 among Jews.
3.9 Arabs per 100,000 are murdered, compared to 0.6 for Jews.
General trust in people among Arabs is 13% versus 46% among Jews; trust in government is 28% versus 44%
Belief in the ability to influence government policy is 6% among Arabs versus 17% for Jews. Satisfaction with parks and green areas in the region of residence is 16.3% for Arabs compared to 69% for Jews.
81.1% of Arabs and 88% of Jews use the Internet.
The share of Arabs in professions and management (24%) is half of the Jews' share (42%).
The Arab poverty rate (45%) is three times the Jewish rate (13%)
Arabs are less vulnerable to cancer (224 versus 250 women per 100,000), their cost of housing services is lower (14.2 versus 23% of income), and their trust in health institutes is higher (81.2 versus 70%).
Willful Separation
According to sociologist Sammy Smooha, Israel's policy toward the Arab minority is based on two principles:
Israel's policy toward the Arab minority is based on two principles. One is "integration without assimilation." Integration consists of the extension of civil rights to the Arabs, the acquisition of the basic patterns of Israeli culture by the Arabs, and their incorporation into public institutions. The Arabs become, through "Israelisation," bilingual and bicultural, accustomed to life in Israeli society and attached to the state. To prevent assimilation, Arabs are accorded separate schools, and their life in separate communities is maintained. State authorities neither plan nor approve new mixed villages, towns, and neighborhoods. Arabs living next door to Jews are few. Israel does not have civil marriage. Interfaith marriages are rare and not normative. The "integration without assimilation" policy is an accepted goal by the Arab non-assimilable minority and the Jewish non-assimilating majority.
The other policy principle is "not granting national collective rights to Arabs." The integration principle bestows on Arabs individual civil rights such as the right to personal safety, to a fair trial, and to vote, as well as ethnic collective rights like state support for the retention of religion, language, culture, and identity. At the same time, Israel denies the Arabs any national collective right. It does not recognize them as a national minority and part of the Palestinian people.
While there is no institutional segregation, Jews and Arabs have chosen to live separately in all but a handful of cities. Israelis recognize that Arab villages have historically received less funding than Jewish areas, which has affected the quality of Arab schools, infrastructure, and social services. Arabs are also underrepresented in higher education and most industries.
Israeli Arabs integrate in workplaces, shops and public spaces yet have surprisingly little contact with Israeli Jews. Most young people study at different elementary and secondary schools and may not come into contact with one another until college; by then, many preconceived opinions have been formed. This lack of interaction exacerbates tensions between the two communities.
In 2019, a survey by the Israel Democracy Institute found that 81% of Jews and 96% of Arab Israelis said they would accept the other as a work colleague; 64% of Jews and 85% of Arabs said they would accept the other as a friend.
In 2021, after the 10-day war in Gaza – Operation Guardian of the Walls – a survey by the aChord Center, a nonprofit organization that specializes in the social psychology of intergroup relations, found that 60% of Jews felt a high degree of anger and/or fear toward Arabs. More than half said they feared boarding a bus with Arabs, and large minorities were also fearful when hearing Arabic spoken in public or encountering an Arab salesperson while shopping. Only 45% of Israeli Arabs felt anger toward Jews, 39% said they felt fear, and 37% felt fear about working with Jews.
Israeli Arabs also face their own conflicts as Palestinians in a Jewish state. While identifying with the Palestinian people and disputing Israel's identification as a Jewish state, they see their future tied to Israel. They have adopted Hebrew as a second language and Israeli culture as an extra layer in their lives. At the same time, they strive to attain a higher degree of participation in national life, greater integration into the economy, and more benefits for their own towns and villages. Although Israeli Arabs have occasionally been involved in terrorist activities, they have generally behaved as loyal citizens. During Israel's wars, none engaged in acts of sabotage or disloyalty. In some instances, Arabs volunteered to take over civilian functions for reservists.
Employment
There are twenty employment centers established around Israel to help the Arab, Druze and Circassian minorities find employment and receive assistance. According to the Israeli Ministry of the Economy statistics for 2015, 8,000 new Arab, Druze, and Circassian participants sought help or assistance from these employment centers. These centers have helped 13,600 members of Israeli minority groups find employment and have provided assistance for more than 24,000 individuals. Approximately 68% of candidates who have come into the employment centers since they were established in 2012 have found jobs.
In 2020, following the outbreak of the pandemic in March, employment rates for Arab men dropped sharply to a low of 69%. Employment rates for Arab women have increased from 26% in 2012 to 41% in 2021. However, in Bedouin society, as of 2021, only about a quarter of women are in the labor market. Among all Arabs aged 18-24, 32% do not study or work.
The cadet course of the Israeli Foreign Ministry accepted their first Arab-Muslim woman in March 2017.  Uthmani was nominated to be the spokesperson for the Israeli Embassy in Turkey and has previously served as part of an Israeli delegation to the United Nations. Muslim men have served as Israeli ambassadors, but never a Muslim woman. In 2020, the Foreign Ministry appointed Ishmael Khaldi as Israel's first Bedouin ambassador. He will represent the country in Eritrea.
Arab men are employed primarily in unskilled, poorly paid jobs. Almost one-half of Arab men are skilled workers in industries such as construction, manufacturing, and agriculture, compared with 19% of Jewish men.
A high percentage of Arab women are professionals, mainly in the fields of health and education. Others are employed in sales and services. In 2014, only one-third of Arab women worked outside the home. In 2022, the rate of participation in the workforce had increased to 42%.
Israel's public health system is a model for Jewish/Arab coworking and collaboration. As of May 2017, 42% of all nursing students in Israel were Arabs, 38% of pharmacists in Israel were Arab, and 38% of medical students at the Technion in Haifa were Arab as well. Roughly one-fifth of Israel's doctors, one-fourth of the nurses, and almost half of the pharmacists are Arabs. Israeli Arabs look to jobs in the healthcare industry because it allows them to find work outside of the normal confines of Arab society in Israel. 
Israel's Arab community accounts for only about 2% of tech workers. In 2021, the government launched a five-year, $100 million plan "to help the Arab community develop skills to work in science and technology." According to Minister for Innovation, Science and Technology Orit Farkash-Hacohen, the "Impact" plan "will include educational programs, vocational training, and technology incubators for entrepreneurs and startups." She said, "We plan to establish technology and science centers for Arabs, an incubator hub with seed funding for promising minority entrepreneurs, and two new research-and-development centers, one of them for the Bedouin community."
In 2000, Arab employees constituted 5% of civil service employees. A decade later, in 2010, this figure had risen to 8%, and by 2020 it reached 13%.
Smooha noted that the OECD has warned the gross national product of Israel might decline "if Arab participation (mostly Muslim women) in the economy does not rise significantly."
Education
At the time of Israel's founding, only one Arab high school was operating; today, there are hundreds of Arab schools. Most Arabs attend these schools. In the 2020–2021 school year, the number of Arab students reached 437,000 (not including kindergartens), some 24% of the total school population in Israel.
According to Smooha, "Arab schools suffer from crowded classes and inadequate teaching and curriculums. Arab schoolchildren learn Arabic, Hebrew and English, but often graduate mastering none, and as a result they experience difficulty in studying at a Hebrew-speaking university (there is no Arab university) and in entering senior positions in the state bureaucracy and private economy."
"The situation is particularly severe in the Negev," according to a report by the Israel Democracy Institute, "where there is an acute shortage of schools and classrooms in Bedouin localities, and particularly in unrecognized Bedouin villages. In all the unrecognized villages, which are home to around 70,000 residents, there are only 10 elementary schools, and not a single secondary school."
The proportion of Arab high school pupils obtaining bagrut (matriculation) certificates has risen from 48% in the 2009/10 academic year to 64% in 2018/19.
In 2012, the government initiated a program to make higher education more accessible to the Arab public. A study released in January 2018 by the Council for Higher Education found that the total number of Arab-Israeli students pursuing all forms of higher education in Israel rose by 79% from 2010 to 2017.
The number of Arabs studying for first degrees in Israeli universities and colleges doubled from 10% in 2010 to 20% in 2023, while the number studying for second degrees increased from 7% to 15% from 2010 to 2020. The proportion of Arabs studying for a Ph.D. rose from 4% in 2010 to 7% in 2020. In 2018, 40% of these students were in the fields of engineering and natural sciences and 40% in the social sciences. Most study at the University of Haifa.
The number of Israeli-Arab students in master's degree programs has risen even more dramatically – by 90% – between 2008 and 2018.
The rate (and number) of women Arab graduate students has increased from 43.8% in the 2009-2010 school year to 64.5% in the 2020-2021 school year. 
In 2010, only 13% of Arab women aged 30-34 held academic degrees. By 2023, that figure had nearly doubled to 25%. The 29-31 age group did better, with 27% having degrees. Women comprise 69% of all Arab undergraduates. Overall, 25% of Arab women have degrees. More Arab women study education, languages, and para-medical professions than Jewish women of the same age bracket. The opposite is true in the fields of exact sciences, engineering, and law.
The percentage of men 30-34 with degrees increased from 9% to 11% since 2013. Fewer Arab men obtain degrees because they enroll in training courses such as engineering, electricity, and construction. 
The gap between Jewish and Arab enrollment overall is the greatest at private colleges, where tuition is the most expensive. Only 12% of all Arab-Israeli students are enrolled in a private university, compared to 15% of all Jewish students.
The number of Israeli-Arab teachers in Israel's state schools increased by 40% between 2013 and 2016, as reported by Israel's Education Ministry in August 2016. According to the Ministry, 420 Arab-Israelis taught in Israel's state schools in 2013, compared to 588 during the 2016 school year. The school subjects that experienced the largest jump were English, math, and science, which all experienced a 76% increase in the number of Arab-Israeli teachers. The number of Israeli-Arab Arabic language instructors also increased by 40% during this time span.
The five-year program for East Jerusalem announced in 2023 included funding for education to encourage more Palestinians to study the Israeli curriculum with the goal of increasing the proportion from 24% to 45%.
Health and Welfare
The overall fertility rate among Arab women is 2.98 (as of 2019) live births per woman, with significant differences among different geographical regions. The fertility rate for women in the Bedouin community in the Negev (5.26) is almost twice as high as that for Arab women in Northern Israel (2.36 in the Northern District, 2.61 in the Haifa district) and in the Triangle (2.69). The highest fertility rate was measured among Muslim women (3.16), followed by Druze women (2.02) and Christian women (1.76). In the past, the overall fertility rate among Arab women was almost twice as high as that among Jewish women but has steadily declined over the past two decades, and the gap has largely disappeared. Today the fertility rate among Jewish women (3.09) is similar to that among Muslim women.
Over the last two decades, infant mortality rates among Arab citizens have declined steadily, but they are still twice as high as in Jewish society: 5.3 compared to 2.2 per 1,000 live births in 2019. In Negev Bedouin localities, the average infant mortality rate is twice as high (9.6) as the average rate in Arab localities in the North (4.1) and in the Triangle (4.2).
Life expectancy has increased by three years in the last two decades, similar to the increase among Jews. However, Life expectancy for Arab men and or women is the same as the life expectancy for Jewish men and women 20 years ago.
The Yad Sarah volunteer organization launched a car safety program to address the disparity in death and injuries to Arab and Bedouin children stemming from auto accidents. As part of the program, Yad Sarah has loaned more than 200 car seats to Arab and Bedouin citizens of Israel. They have also provided educational materials and sessions on how to safely install the seats and other means of keeping children safe when riding in a vehicle.
Crime
Though Arabs constitute about 21% of Israel's population, Arab murder of other Arabs accounts for some 70% of all homicides in Israel and has been on the rise. To address the problem, some 800 Muslim officers were recruited by the Israeli Police from 2017-2022. In 2021, the Bennett-Lapid government launched "Operation Safe Route" to increase trust in the police. Arrests and weapons seizures were increased, and 80 murders were thwarted by police. Nevertheless, 112 Israeli Arabs were Killed in 2022. 
Daniel Gordis noted, "Tribal and family feuds and score-settling account for many of these murders. Some are also killings of women by their own family, in numerous cases for "family honor"—sex outside of marriage, etc."
Haaretz reported that only 23% of murders with Arab victims were solved, compared to 71% of those in which Jews were murdered. Even when caught, few cases result in convictions, and, in some cases, the sentences are relatively lenient. A study by the  Israel Democracy Institute found that among the general population in Israel, 36% of the convicts in 2019 were Arab Israel; 35% of those convicted in the mixed cities, where they make up only 10% of the residents, were Arab Israelis. In the years 2014-2019, there was a significant increase in the rate of Arabs convicted in mixed cities, from 30% to 35%.  About half (51%) of the convicted minors in mixed cities were Arab, and about 40% of convicted minors in the whole country were Arab Israelis.
One reason for the discrepancy in cases solved is the lack of cooperation police receive. Rosenthal said, "'good citizens' fear the retaliation of organized gangs, which don't hesitate to take violent revenge on informers and their families." In addition, Arabs don't trust the police and have a "general distrust of the 'Jewish regime.'"
The Prime Minister's Office set up a task force to fight crime and violence in the Arab sector. One of the main issues it will address is illegal weapons in Arab communities which are believed to number in the tens of thousands. Some are stolen from Israelis, others smuggled in from Lebanon or the West Bank, and some are manufactured by Palestinians in the territories. The government also plans to increase the police presence in Arab neighborhoods.
Gordis observed that "as long as Israelis see massive waves of crime in the Arab sector, many Israelis will be more afraid of Israeli Arabs than they are of enemies across the border."
As part of the new commitment to crack down on crime, Israeli police arrested 65 Israeli Arabs on November 9, 2021, on suspicion of illegal arms dealing. "The goal was not to randomly acquire arms, but to reach the biggest traffickers of weapons," says police Commander Shimon Lavi. "This is the biggest operation in the history of the police in terms of the number of suspects arrested and weapons acquired."
The head of the Arab Joint List party, Ayman Odeh, said, "the operation last night is a reminder that the police can work for the Arab citizens without abusing anti-democratic authorities, just like it works for the Jewish ones. Our children deserve to live in an egalitarian, democratic society free of weapons."
In response to a wave of terror attacks by Palestinians in Jerusalem and Israeli Arabs, the Knesset voted on February 15, 2023, to strip Israeli citizens and permanent residents convicted of terror of their citizenship if they receive funding from the Palestinian Authority or an associated organization.
As violence escalated, MKs from the Arab Hadash-Ta'al party met with Prime Minister Netanyahu. Afterward, it was announced that Netanyahu would head a committee "whose tasks will encompass any area the government deals with Arab society." Netanyahu said, "We need to put politics to the side, get rid of divisions and work together to eradicate the criminal scourge."
Government Funding Increases
In April 2018, the Knesset Committee for Arab Affairs approved a $5.6 million two-year plan for the creation of technology parks within Arab towns in Israel to boost local employment opportunities and close income gaps between Jewish and Arab Israelis. An additional $1.4 million was earmarked to create access roads and transportation to and from these parks. This plan is an extension of a 2015 program for the economic development of the Arab Israeli sector and other minority communities from 2016 through 2020.
Israeli Arabs account for just 2.5% of employees in the high-tech sector. 'The plan is expected to create conditions for the creation of thousands of new jobs in the fields of development, software and services, and to contribute to narrowing the gap between supply and demand' for the employment of Arabs in the high-tech sphere, a statement issued by the Prime Minister's Office said.
High-tech firms are increasingly opening offices and plants in Arab towns. In Nazareth, the largest Arab city in Israel's Northern District, more than 950 high-tech employees — up from just 30 in 2008 — work in companies such as Amdocs, Microsoft, and Broadcom. Of these employees, 25% are Arab women.
The cabinet voted on October 25, 2020, to extend by a year "the 922 plan" adopted in 2015 to reduce inequalities between Arab and Jewish communities. The original plan, set to expire in December, allocated $2.96 billion; the extension will add another $500 million to the plan through the end of 2021. The intention is to fund a new five-year plan – 923 – in 2022.
"It must be understood that economic investment in Arab society contains enormous economic potential; in my opinion, it is a clear interest of the Israeli government," said Social Equality Minister Meirav Cohen after the vote.
Ofer Dagan, co-executive director of Sikkuy, which advocates for equality between Arabs and Jews, noted the plan had improved the integration of Arab women in the workforce, expanded public transportation in Arab villages, and increased public trust and collaboration between Arab municipalities and the government.
In October 2021, the government passed a new five-year $9 billion economic plan that will focus on developing employment, including raising the percentage of Arab women in the workforce, investing in technological innovation and high-tech, and developing health services and housing. A significant sum was also allocated to fighting crime and violence.
In January 2022, the Ministry of Science, Technology, and Innovation launched a five-year $70 million tech and innovation program aimed at "incorporating the Arab sector in the high-tech industry." The program will establish entrepreneurship centers throughout the country with operating grants of up to $630,000 per year. Their objective is to encourage entrepreneurship and local innovation, with an emphasis on geographically and socially peripheral communities. Additional grants of up to $314,000 per year to encourage employment and the establishment of offices of tech companies in their region. Additional funds will be provided to assist entrepreneurs in establishing tech accelerators. Another $283,000 from angel investor groups will help fund these ventures. The Innovation Authority has budgeted $2.04 million to support an incubator to encourage Arab entrepreneurship.
Israeli Minister of Science, Technology, and Innovation Orit Farkash-Hacohen noted: "Incorporating Israeli-Arabs into the high-tech industry is a first-rate social, economic, and strategic need. Despite an increase in the number of Arab female and male students in academia, only about 2% of high-tech employees hail from the Arab sector."
Dror Bin, CEO of the Israel Innovation Authority, commented: "This program is designed to encourage entrepreneurship among Arab society. Encouraging entrepreneurship is a very difficult task, as the number of startups founded by Arab entrepreneurs is very low compared to the general population. The reasons for this are varied and stem mainly from a lack of networking, physical distance from high tech hubs, preference for a secure position over the risks associated with entrepreneurship, and lack of access to investors."
Jerusalem
Roughly 360,000 Arabs live in Jerusalem, mostly in the eastern part of the city. 
In 2014, the government adopted a plan to address problems in the predominantly Arab parts of Jerusalem with a budget of more than $80 million. The goal was "to bring about a significant decline in violence by means of integrated activity to reduce gaps in infrastructure, employment, education and social welfare and by boosting enforcement and personal security."
In 2018, a new five-year plan was adopted with the goal of "reducing socioeconomic gaps in East Jerusalem." Nir Hasson says this was a "watershed." The plan provides funds for education, employment, transportation, planning and land registration, various services, and "improvement of the quality of life in general." He noted some of the improvements included the construction of new schools, a public park, a highway for the use of the Arab communities in the southern part of the city, and a master plan for the village of Isawiyah.
Hasson quotes Amnon Ramon, who said decisions to improve the situation were made for both political and economic reasons. "From the point of view of right-wing decision makers, the emphasis has been on the issue of applying sovereignty, governance, and supervision," Ramon said. "In their view, the State of Israel must be present on the ground in the realms of policing and Jewish settlement, but also in improving the quality of life of the residents of East Jerusalem in areas like transportation and the health maintenance organizations – they don't see this as a contradiction." Meanwhile, he added, "The treasury people emphasized the economic dimension: the need to integrate East Jerusalem into the economy of the city and the state, as it tries to do with Israel's Arab citizens."
Many problems remain, such as issues of citizenship, housing availability, and the final status of the area in peace talks, but Ramon said, "We don't know where it will lead, but still, a change is taking place before our eyes. Today, dozens of people involved in the Israeli establishment are dealing with ways to improve life in East Jerusalem."
In 2023, the government announced a five-year, $850 million program that continues the 2018 plan to develop East Jerusalem. The program includes investment in infrastructure, education, employment, welfare, the environment, and police infrastructure and personnel. It also includes a commitment to approve 2,000 new housing units for Palestinian residents.
Prime Minister Benjamin Netanyahu said the plan was "for the benefit of a united and strong Jerusalem."
More Volunteers for IDF
Israeli Arab troops during basic training (IDF Spokesperson's Unit)
In 2020, more than 1,000 Israeli Arabs volunteered to serve in the IDF as conscripts or reservists, most after the coronavirus crisis began in March. According to the Manpower Directorate, the number of conscripts from the Arab sector was more than twice that of previous years, and many had signed up for combat units. 
The number of those drafted to the Bedouin reconnaissance unit nearly doubled in two years, from 84 in 2018 to 171 in 2020. In 2017, only 45 people were drafted to the unit. In addition, the number of Muslims (mostly Bedouin) drafted increased from 436 in 2018 to 606 in 2020. More than half of those who have drafted went to combat roles. In addition, the number of Muslim soldiers who left their service early decreased by 7%. In 2019, the drop-out rate was 30%, compared to 23% in 2020.
During Operation Guardians of the Walls in May 2021, 20 Muslim soldiers asked to be released from the IDF. After conversations with IDF commanders,18 of them chose to continue their service, and the rest were released.
"As a result, we opened a recruitment bureau in the Galilee, where volunteers can study to improve their Hebrew. This branch will be able to recruit a total of up to 2,500 people a year," the Directorate said.
The IDF's "Ambassadors in Uniform" initiative – which offers opinion leaders in the Arab sector a short introductory term in the army – also doubled in 2020 with more than 100 conscripts.
Some of the new Arab conscripts were being assigned to the Home Front Command in their localities or villages because of their familiarity with the local population and its needs.
The IDF is also planning to offer technology studies in Druze villages and Arab high schools to help them integrate as technicians in the military and allow to acquire a profession for their civilian futures.
A surprising development that may be related to the improved relations between Israel and some Arab states was that about 700 people from Arab countries such as Lebanon and Syria expressed an interest in volunteering. "We could not believe the demand," the Manpower Directorate said, admitting the applications had to be rejected on security grounds.
In another advancement for the Israeli Arab community, Col. Awad Suleiman took command of Air Maintenance Unit 22 of the Israeli Air Force in August 2021. Brig. Gen. Shimon Tsentsiper, head of the Material Directorate, said Suleiman "burst through the glass ceiling and became the first officer from the Druze community to become an air-force colonel, thereby forming an example and an inspiration for so many that I am sure will follow him." In 2022, the IDF appointed the first female Muslim-Arab major in the country's history – Ella Waweya.
Bedouin
The Bedouins are a unique population. According to Smooha, "Numbering around 80,000, they live in 35 shanty villages, not recognized by the state, not connected to grids of water, electricity and sewage, and without municipal services. The state sees them as trespassers and rejects their demands for municipalisation and their large land claims. The lingering of their predicament is reflected in high crime, destitution, suffering and spread of polygyny (estimated as a third of families)." (See also The Bedouin in Israel.)
Satisfaction
Smooha summarizes the situation of most Israeli Arabs:
Arabs in Israel are citizens who avail themselves of democratic rights, welfare state benefits, access to a modern way of life, continuous social mobility, protection against Islamic fundamentalism, exemption from military service, and immunity from assimilation. When asked if they would move to a new Palestinian state, they unequivocally say no, and feel insulted and fury at the proposal made by some Jewish right-wing politicians that the Triangle (an Arab region along the
Green Line
) could be ceded to the state of Palestine. Most Arabs (57% in 2019) feel that Israel is a good place to live and prefer (56%) to live in Israel than in any other country in the world. Contrary to their political leaders and academic elite, they accept Israel as a Jewish (but not a Zionist) state while seeking civil equality for themselves and a sovereign state for the Palestinians.
See also Opinions of Israeli Jews and Israeli/Palestinian Arabs Toward Each Other.
---
Sources: Shoshanna Solomon, "Israel earmarks NIS 20 million for new tech parks in Arab towns," Times of Israel, (April 26, 2018).
Lior Dattel, "Number of Israeli Arab Ph.D. Candidates More Than Doubled in a Decade," Haaretz, (February 10, 2019).
Yossi Klein Halevi, "Israel's Arab Moment," The Atlantic, (April 30, 2020).
Lahav Harkov, "Foreign Ministry appoints Israel's first-ever Bedouin ambassador," Jerusalem Post, (July 5, 2020).
Aaron Boxerman, "Government extends multi-billion dollar plan for Arab municipalities," Times of Israel, (October 26, 2020).
Yoav Zitun, "IDF sees record number of Israeli Arab conscripts," Ynet, (January 3, 2021).
Aaron Boxerman, "History made as Arab Israeli Ra'am party joins Bennett-Lapid coalition," Times of Israel, (June 3, 2021).
Tal Lev Ram/Maariv, "Exclusive: IDF sees sharp increase in Muslim draft," Jerusalem Post, (July 18, 2021).
"First Druze colonel in Israeli Air Force takes command of maintenance unit," JNS, (August 11, 2021).
Orit Farkash-Hacohen, "Israel's Tech Boom Will Include Arabs," Wall Street Journal, (August 11, 2021).
"Yad Sarah develops two programs: Hospitality Center and car-safety initiative," JNS, (August 12, 2021).
Nir Hasson, "The Unexpected Reason Israel Is Improving Conditions for Jerusalem Palestinians," Haaretz, (September 9, 2021).
"Morning Brief," BICOM, (October 18, 2021).
Daniel Gordis, "'You're only here by mistake. Ben-Gurion should have thrown you all out,'" Inside with Daniel Gordis, (October 18, 2021).
Victor Rosenthal, "The Israeli Arab Murder Epidemic," Abu Yehuda, (October 3, 2021).
"Analysis of newly released data by IDI experts of conviction rates among residents of mixed, (Jewish and Arab) Israeli cities underscores the significance of the rise in crime rates in recent years," Press Release, Israel Democracy Institute, (October 24, 2021).
Josh Breiner, "Israel Police Arrests 65 Suspects in 'Biggest Ever' Weapons Bust in Arab Community," Haaretz, (November 9, 2021).
"Israeli police arrest 65 Arabs over illegal arms dealing," BBC News, (November 10, 2021).
Sammy Smooha, "Arab-Jewish Relations in Israel After the May 2021 Unrest: A Survey by Sammy Smooha," Fathom, (October 2021).
David Rosenberg, "'There Are Tensions Every Day': Jewish-Arab Relations, Five Months After Riots Rocked Israel," Haaretz, (October 20, 2021).
Meir Orbach, "Five-year $70 million tech and innovation program for Arab sector launched by Ministry of Science, Innovation Authority," CTECH, (January 26, 2022).
"In first for Arab woman, Meretz MK appointed Israeli Consul General in Shanghai," Times of Israel, (February 23, 2022).
Edith M. Lederer, "Israel rejects Palestinian accusations of 'apartheid,'" AP, (February 24, 2022).
Email from the Israel Democracy Institute, (March 7, 2022).
Dr. Nasreen Haddad Haj Yahya, Dr. Muhammed Khalaily and Dr. Arik Rudnitzky and Ben Fargeon, "Statistical Report on Arab Society in Israel: 2021," Israel Democracy Institute, (March 17, 2022).
Melanie Phillips, "Arab Israelis can represent hope or horror," The Times [London], (April 25, 2022).
Carrie Keller-Lynn, "Knesset passes law to strip Israeli citizenship from terror convicts paid by PA," Times of Israel, (February 15, 2023).
"Alarming spike in Israeli-Arab murders," BICOM, (June 9, 2023).
Idan Eretz, "Number of Arab women graduates doubles in a decade," Globes, (July 5, 2023).
Shira Kadari-Ovadia, "Number of Arab Israeli Women With Academic Degree Doubled Within Decade, New Report Shows," Haaretz, (July 6, 2023).
Nir Hasson and Tali Heruti-Sover, "Israeli Government Approves $850m Plan to Further Develop East Jerusalem," Haaretz, (August 20, 2023).
Photo: Collection by User jobas, CC BY-SA 4.0 via Wikimedia Commons. From top right to left: 
| | | | |
| --- | --- | --- | --- |
| Seif el-Din el-Zubi | Amin Tarif | Emile Habibi | Mahmoud Darwish |
| Michel Sabbah | Ayman Odeh | Haneen Zouabi | Raed Salah |
| Samih al-Qasim | Hossam Haick | Salim Tuama | Azmi Bishara |
| Mira Awad | Hiam Abbass | Rula Jebreal | Nadia Hilou |