Friedrich Fromm
(1888 - 1945)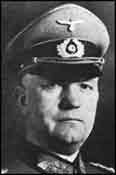 Friedrich Fromm was born in Berlin on October 8, 1888. He joined the German Army and by the end of the First World War had reached the rank of lieutenant.

Fromm remained in the army and worked under General Ludwig Beck, the chief of general staff. In 1937, he was made commander of the Replacement Army and during the Second World War was chief of armaments (1939-44).

An early supporter of Adolf Hitler, Fromm became disillusioned with his management of the war and, by 1942, Fromm favored a negotiated peace with the Soviet Union.

Fromm tolerated the conspiratorial activities of his immediate subordinates — General Friedrich Olbricht, Colonel Claus von Stauffenberg, and Colonel Albrecht von Mertz von Quiernheim — who were planning the July 1944 coup d'etat. He refused to commit himself to any attempt and was therefore distrusted by the conspirators.

On July 20, 1944, Fromm expressed outrage when confronted with news from Olbricht, and Mertz of Hitler's "assassination" and of their dispatch by telex for the Home Army to march on Berlin and secure the Government Quarter under the secret orders of the emergency contingency plan Operation Valkyrie.

After telephoning the Wolf's Lair and learning from Field Marshal Wilhelm Keitel that Hitler was only slightly injured in the assassination attempt, Fromm declared the conspirators under arrest. But he was immediately overpowered, disarmed, and confined to a room of the Bendlerstrasse headquarters under armed guard.

As the coup attempt fell apart close to midnight, officers loyal to the regime freed Fromm who then burst into Stauffenberg's office with an armed escort and proclaimed the conspirators in his presence (Stauffenberg, Olbricht, Mertz, Colonel- General Ludwig Beck, and Lt. Werner von Haeften) guilty of high treason. Undoubtedly anxious to conceal any revelations the conspirators may divulge regarding his foreknowledge and tacit approval of their planned coup, Fromm allowed Beck to take his own life, but has the others executed by firing squad shortly before half-past midnight. When Joseph Goebbels arrived on the scene he told Fromm: "You've been in a damned hurry to get your witnesses below ground."

Fromm's duplicitous action fails to save him. Within a fortnight he falls under Hitler's suspicion. On July 21, 1944, he was arrested by Heinrich Himmler and brought before the People's Court and charged with not reporting the conspiracy. Fromm was found guilty and executed on March 12, 1945.
---
Sources: Spartacus Educational.