Erwin Rommel
(1891 - 1944)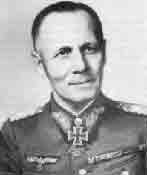 His sense of valor and chivalry were the stuff of King Arthur's knights, but it was his "boldness, use of surprise, readiness to accept risks" and above all his "intuitive sense of the battlefield" that made Rommel one of the greatest generals in military history. "Brilliantly successful in attack, and remarkably resourceful in defense," the "Desert Fox" raced his armies through France in 1940 and then repeatedly outwitted the British in North Africa. (Blumenson, 293).
Only a few months into World War I, Rommel won the Iron Cross Second Class for bravery in the field when he was injured in the leg after running out of ammunition and then attacked three French soldiers in the woods. But his first great strategic triumph is the disastrous defeat he helps inflict on the Italian Army at Caporetto in which he captures 150 Italian officers, 9,000 soldiers, and 81 guns. Captain Rommel is awarded the decoration pour le merite - a medal reserved only for senior generals. He is promoted to Major in 1933 and later to Colonel in 1937 while teaching at the War College.
Throughout the 1930s, Rommel develops a close working relationship with Hitler, whom he initially comes to admire for progressively thwarting the Versailles Treaty and restoring Germany's strength. He is seen more and more by Hitler side. He accompanies Hitler into the Sudetenland in October 1938 and then into Prague in March 1939. But Rommel is anything but a Nazi. In fact, early on he starts to harbor "serious reservations" about the Nazi regime. (Blumenson, 297).
During World War II
Like Germany's other legendary battle front commander of World War II, Field Marshal Heinz Guderian, Rommel is obsessed with mobility and insists on leading his troops at the front. The speed with which Rommel's force speaheads the 1940 German invasion of France causes it to be nicknamed the Ghost Division and himself as the knight of the Apocalypse. At one point, Rommel's army covers 150 miles in one day setting a world record. During the six week campaign, Rommel's force alone captures nearly 100,000 French prisoners and 450 enemy tanks losing in the process less than 42 tanks. He returns to Germany acclaimed by Hitler and the population and promoted to lieutenant general.
In North Africa, Rommel's "brilliant quick-thinking, opportunism, and leadership" on the battlefield outwits the "slow, ponderous, and remote" British chain of command despite logistical inferiority. (Blumenson, 303). In June 1942, Rommel defeats the British 8th Army at Tobruk destroying more than 260 tanks and bagging 30,000 prisoners of war. At 49, he attains the rank of Field Marshal - the youngest in the Wehrmacht. But as Germany's fortunes wane, Rommel repeatedly pleads Hitler for permission to evacuate his Afrika Korps from North Africa while there is still time and to use this force to beef up fortress Europe. In the face of Hitler's constant refusals, Rommel confides increasingly to his wife about his loss of faith in Hitler's sanity.
Prevented from evacuating the Afrika Korps, Rommel leads his army on a masterful 1,400 mile retreat while his arch-nemesis in the field, General Montgomery, is unable to pin him down. In his first encounter with U.S. forces that land in North Africa, Rommel inflicts losses of 6,000 men, 183 tanks, and 200 artillery pieces at a cost to his force of 1,000 men and only 20 tanks. But as the combined Anglo-American enemy grows ever more powerful in numbers and logistics while the supplies of the Afrika Korps dwindle, Rommel sees disaster fast approaching. Locked in a no-retreat posture, Hitler continues to ignore Rommel's pleas to save the 250,000-man Afrika Korps from annihilation. Following the inevitable disaster, Hitler sends Rommel to France to inspect the coastal defenses against the long-anticipated Anglo-American landing on the continent.
Throughout the first half of 1944, Rommel devotes himself full-time to improving the coastal defenses and reviving the morale of the Normandy garrisons. Following D-Day, both he and Field Marshal Gerd von Runstedt repeatedly try to impress upon Hitler that the battle for France will be lost unless the Wehrmacht withdraws to a stabler and shorter front line. In the face of Hitler's angry refusals to accept this strategic reality, Rommel is now convinced that Hitler harbors a death wish intends to drag Germany down with him. In late June both von Rundstedt and Rommel go to see Hitler only to be rebuffed yet again and return empty handed. Runstedt is sacked as Commander-in-Chief-West and replaced with the compliant Field Marshal Guenther von Kluge.
"His devotion to the profession of arms was in the best tradition of the gentleman. In a total war fought savagely and brutally, he inspired admiration for his treatment of prisoners. He was not tainted by Nazism....With his troops he enjoyed a deep rapport. He cared for them, and although he demanded their best and more, he never squandered them. Without pretension, modest, he tackled all his tasks with clarity, energy, and common sense." (Blumenson, 315)
The Conspiracy
Because virtually none of the military conspirators are in command of large armies, they desperately seek to win over a battlefront general who has an army at his disposal to lend the required pivotal support for the coup. But so far the top brass of the Wehrmacht — Brauchitsch, Halder, von Runstedt, Manstein, Guderian, Kluge — have either refused to lend their support or revealed a fence-sitting attitude. Rommel however has long harbored an increasingly rebellious attitude towards Hitler. If the most popular and admired battlefield commander of the war can be won over, the coup might definitely succeed. With this in mind, Colonel Claus von Stauffenberg (who has taken over from Colonel Henning von Tresckow as leader of the conspiracy in late 1943) gets General Karl-Heinrich von Stuelpnagel (the military governor for Paris and the leader of the conspirators based in France) to invite Rommel to Paris for secret talks aimed at recruiting the desert fox into the plot.
Rommel agrees with Stuelpnagel that Hitler has long since lost touch with reality and must be forced to concede or else be removed from power. But he declares himself morally opposed to assassination. He wants Hitler arrested and tried by a German court for his crimes. Rommel tells Stuelpnagel he will give Hitler one last chance by sending the fuehrer a "blitz" telegram outlining the war in the starkest possible terms and urging Hitler to take immediate action on the diplomatic front or cut Germany's losses and authorize the Werhmacht to evacuate France and fall back to Germany's borders. Rommel however is certain his warning will be ignored, in which case he declares himself prepared to support a coup. He also agrees that Guenther von Kluge may be more of a liability than an asset to the conspirators. He then gives Stuelpnagel his word of honor that even if Kluge refuses to stand up and be counted, he will act "openly and unconditionally" with the conspirators. (Lamb, 406).
On July 16, 1944, Rommel wrote his blitz message to Hitler and asked Kluge to have it delivered immediately. The next day RAF fighters strafed Rommel's motorcade along a French country road, killing his driver. Rommel's car spuns out of control and the field marshal was hurtled into a ditch with severe head injuries. Rommel can be of no help to the conspirators when Stauffenberg plants his bomb three days later at Hitler's headquarters. Kluge meanwhile fails to immediately forward Rommel's blitz telegram, sending it to Hitler two weeks later.
His Fate
Owing to his close association with the Paris-conspirators, it is only a matter of time before Rommel is implicated. Two different stories describe how this happened. According to the first, Luftwaffe Colonel Caesar von Hofacker (Stauffenberg's cousin) divulged Rommel's name under torture. According to a second story, General von Stuelpnagel, who had tried to commit suicide and had been revived and brought to a German field hospital, was heard crying out Rommel's name repeatedly in delirium.
On October 7, 1944, Rommel declines a summons from Hitler to come to Berlin. On October 14, two generals visit Rommel at his residence in Errlingen and hand him a cyanide capsule and a message from Hitler: commit suicide and be buried with honors, or stand trial for high treason and be hanged, which implied the loss of his family's livelihood. Rommel bid farewell to his wife and son and was driven off in an army car after swallowing the capsule. According to Blumenson, "those who saw his body noted the look of contempt on his face." (Blumenson, 314). Rommel was buried with full-military honors and given a hero's farewell.
Bibliography
Martin Blumenson, "Field Marshal Erwin Rommel," In Hitler's Generals. Edited by Corell Barnett. New York: Grove Weidenfeld, pp.293-316.
---
Sources: Joric Center