Franz Halder
(1884 - 1972)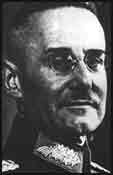 Franz Halder was born in Germany in 1884. He joined the German Army and during the First World War he was a member of the staff of the Crown Prince of Bavaria.
In 1938, Halder replaced General Ludwig Beck as Chief of General Staff. Halder organized the offensive against Poland but warned Adolf Hitler against the Invasion of France. Halder also helped plan the eventually abandoned Operation Sealion and Operation Barbarossa.
After the resignation of Walther von Brauchitsch, Halder took over as Commander in Chief of the German Army. He was replaced by General Kurt Zeitzler in September 1942 after a disagreement with Adolf Hitler.
Halder was arrested by the Gestapo in 1944 and accused of being involved in the July Plot. He was sent to Dachau Concentration Camp and was freed in 1945 by the U.S. Army.
In 1946, Halder gave evidence against leading members of the Nazi Party at the Nuremberg War Crimes Trial. His critics have pointed out that Halder's objections to Hitler were based on military differences rather than a rejection of Nazi philosophy. For example, he became involved in the July Plot because he believed that Hitler no longer had the ability to win the war. Franz Halder died in 1972.
---
Sources: Spartacus Educational