The Gaza War - Operation Iron Sword
(October 7- , 2023)
This is a preliminary overview of the Gaza War. The situation is fluid, and we will update the page as events dictate.
---
The Invasion Plan
Unprecedented Failure
Invasion
Attack By Sea
"Success" For Hamas
Hostages
The Iranian Role
Bombardment
The Horrors
The Nova Festival
Kfar Azza
Sderot
Kibbutz Be'eri
Ofakim
Nir Oz and Other Communities
The IDF's Slow Response
Israel Launches Sword of Iron
U.S. Policy
International Responses
Arab/Muslim Reaction and Supporters of Hamas
The United Nations
The Situation in Gaza
The Threat of Regional Escalation
Casualties
The Day After
Massacre Denial
The Invasion Plan
According to the Lebanese newspaper L'Orient-Le Jour, Iran decided the next battle should occur inside Israel after Hamas's "Sword of Jerusalem" operation in 2021. Hezbollah, Hamas, Palestinian Islamic Jihad (PIJ), and Iranian military officials, including Ismail Qaani, commander of the Quds Brigades of Iran's Islamic Revolutionary Guard Corps, met to discuss the possibility of infiltrating Jewish communities from Lebanon, Gaza, or the West Bank.
L'Orient-Le Jour said that the two goals of the operation were to strengthen Hamas and PIJ's control over Gaza and spotlight the weakness of Mahmoud Abbas and the Palestinian Authority (PA). The terrorist groups hope to spark an uprising in the West Bank and free Palestinian prisoners. On a larger scale, they hoped Israel would be forced to lift the Gaza blockade and politically recognize Hamas.
In April 2021, Hezbollah Secretary-General Hassan Nasrallah met with Hamas deputy leader Saleh al-Arouri and Islamic Jihad leader Ziad al-Nakhala and discussed an instance where a terrorist infiltrated Israel from Lebanon, which they saw as a test of Israel's defenses. Subsequently, the paper says, "Hezbollah organized a full-scale, public military demonstration in the village of Aaramta in southern Lebanon, titled 'We Will Cross,' signaling its intention to change the current rules of engagement and shift the clashes to territories controlled by the Israeli state."
According to Israeli journalist Ben Caspit, Israel learned from the interrogation of captured terrorists that Hamas originally planned the attack for Passover. He did not know why the date was changed. Still, he speculated it might have been related to the negotiations between Iran and the United States to exchange hostages and release frozen Iranian funds.
Meanwhile, Hamas hoped to lull Israel into a false sense of security and believed it would keep the peace so long as Israel allowed Gazans entry permits to work in Israel and allowed Qatar to bring tens of millions of dollars of humanitarian aid. "Hamas used an unprecedented intelligence tactic to mislead Israel over the last months by giving a public impression that it was not willing to go into a fight or confrontation with Israel while preparing for this massive operation," a source told Reuters.
The paper says the "Al-Aqsa Flood" plan was devised in a joint Hamas-Hezbollah-Iran military operations room in Beirut over several months. They launched a cyberattack on Israel's ground and air defense systems, allowing paragliders and drones to evade detection. Ground forces would then breach the fence.
NBC obtained documents found on the bodies of Hamas terrorists indicating terrorists planned to target elementary schools and a youth center in the Kfar Sa'ad to "kill as many people as possible" and seize hostages.
Hamas also organized an attack from the sea to penetrate Ashkelon and move on to Kiryat Gat.
The terrorists brought provisions with the expectation that they would occupy Israeli communities for several weeks. They were planning to continue the assault up to the border of the West Bank and link up with Hamas cells there. "They planned a second phase, including in major Israeli cities and military bases," an Israeli official told the New York Times.
They were also heavily armed with at least 10,000 weapons, sufficient to equip an entire military brigade. Among the weapons were 1,500 AK-47s, sniper rifles and machine guns, 2,000 grenades, Strela shoulder-fired anti-aircraft missiles, thermobaric missiles, commando knives, and RPG missiles from Russia and North Korea. They also had explosive devices to breach walls, fences, and doors and planned to plant mines in the area.
When the terrorists crossed the border, they carried maps of the towns and military bases they had obtained from drones. They also had guides for destroying or disabling armored vehicles and tanks. Drones were used to destroy observation towers and remotely operated machine guns along the border fence.
"They were conning Israel on a strategic level, using handheld radios, land-wire networks in the tunnels and other comms that we couldn't listen to, while using codes on the so-called open networks, which they knew we were listening to," Eran Etzion, former deputy head of Israel's National Security Council, told the New York Times. "They were creating an alternative reality."
Though they had meticulously planned the decapitation of communications to prevent the army from reacting quickly, the expectation was still that they had only minutes to complete their missions. Hamas spokesman Abu Obaida admitted they had succeeded "more than we had planned."
Unprecedented Failure
In what analysts have called the greatest failure of intelligence, governance, and military preparedness in its history, Israel was surprised by an invasion of an estimated 3,000 Hamas terrorists from Gaza on October 7, 2023, 50 years and a day after the 1973 War. Though compared in the media to the Egyptian and Syrian surprise Yom Kippur, experts noted that Israel did have intelligence the war was coming before that war started and had the opportunity to mobilize its troops. Israel has said there was no indication a sophisticated land, sea, and air attack by Hamas was imminent. Some reports have suggested Egypt passed on a warning some attack was likely; others have said that was untrue. The facts will probably not be ascertained until after the war. As in 1973, the day of the assault was a holiday, this time the usually joyous celebration of Simchat Torah marking the end of Sukkot.
As much of a disaster as it was, the Yom Kippur War did not see dozens of civilians, including children, the elderly, and women, slaughtered and taken captive by the enemy. The number murdered on the first day of the war – 900, proportionally equivalent to 32,000 Americans – was the highest one-day Jewish death toll since the Holocaust. By October 12, the death toll had risen to more than 1,300, including 30 U.S. citizens. The terrorists, whose declared goal is the destruction of Israel and the killing of Jews, murdered everyone they could, including Arabs, Thai workers, and a nurse from the Philippines.
While the Israeli intelligence failure was highlighted worldwide, less attention was paid to another similarity with 1973, the failure of U.S. (and other nations') intelligence. The U.S., whose Middle East intelligence capability has long been criticized for its failures (think Saddam Hussein's WMD, Iran's effort to develop a nuclear weapon, and unpreparedness for the Arab Spring), was also caught unaware. Just days before the invasion, United States National Security Adviser Jake Sullivan said, "The Middle East is quieter today than it has been in decades."
Israel believed it could maintain calm by allowing humanitarian aid and providing work permits to allow thousands of Gazans to enter Israel. The government mantra was "calm for calm." Israel also became more complacent when Hamas began providing intelligence on PIJ. The government was lulled into a false sense of security with this policy as it planned to execute the invasion.
Defense Minister Yoav Gallant and former IDF Chief of Staff Gadi Eizenkot had warned that the enemy was drawing inspiration from the Israeli public's disunity and demonstrations against the government's proposed judicial reform that included soldiers refusing to report for reserve duties if what many protestors referred to as a "coup" continued. Still, the government did not anticipate the attack.
Reports since October 7 revealed the IDF did have some indications that something was afoot. Israeli intelligence had foreseen a possible attack. A document code-named "Jericho Wall" written in May 2022 said Hamas was planning to attack on a Saturday, Shabbat, or on a Jewish holiday, when fewer soldiers would be guarding the border. Rockets, its said would provide cover for an assault on Israeli communities and military bases while and drones and snipers disable surveillance cameras. Officials discounted the ability of Hamas to conduct such a sophisticated operation.
In July 2023, an officer in Unit 8200, Israel's version of America's National Security Agency, warned that Hamas had conducted a training exercise that looked suspiciously like the plan outlined in Jericho Wall. "It is a plan designed to start a war," she added. "It's not just a raid on a village."
The alert was dismissed. Some Israelis have suggested it was because it came from a woman.
That was not the only warning. "A day before everything happened, I saw people with maps," one IDF lookout told N12. "They were looking at the fence and pointing at it. I told everyone: 'Listen, something is going to happen. I see them planning things.' I noticed that something was different on the front. I even told the person next to me in jest: 'Listen, they're going to storm our post.' It just looked different."
The lookout said her commanders "discounted" her concerns, telling her, "Hamas is just a bunch of punks, they won't do anything."
Concerns were also ignored regarding problems with observation balloons used to monitor the border. According to Haaretz, three balloons broke down weeks before the attack, but repairing them was not considered a priority. Hamas brought down four other balloons on the morning of the attack as part of the coordinated plan to neutralize the army's monitoring capabilities. Commanders believed that drones were doing an adequate job.
While Prime Minister Benjamin Netanyahu and Defense Minister Yoav Gallant said nothing about who was responsible for the failure to anticipate or be prepared for the attack, Maj. Gen. Aharon Haliva, the head of Military Intelligence, Shin Bet security service chief Ronen Bar, IDF Chief of Staff Herzl Halevi, National Security Adviser Tzachi Hanegbi, Finance Minister Bezalel Smotrich, and Education Minister Yoav Kisch were among the defense establishment and government officials who accepted responsibility and expressed remorse. By contrast, Communications Minister Shlomo Karhi said, "I am hearing, 'apologize, take responsibility.' For what?"
As the war progressed in Gaza, Netanyahu continued to be asked if he would accept any responsibility. In one interview, he said, "Did people ask Franklin Roosevelt, after Pearl Harbor, that question? Did people ask George Bush after the surprise attack on September 11? Look, it's a question that needs to be asked… And  I've said we're going to answer all these questions, including me, I'm going to be asked tough questions. There'll be enough time for that after the war."
Invasion
The invasion began at 6:00 a.m. with terrorists attacking from land, sea, and air, accompanied by a massive missile bombardment that, by the end of the day, exceeded 4,000 rockets. The degree of coordination was striking, and senior Hamas official Ali Baraka revealed planning for the attack took two years.
As in the past, the Iron Dome intercepted a high proportion of projectiles, but the system is not capable of intercepting every rocket, and some reached as far as Tel Aviv and Jerusalem, though most landed in the communities nearest Gaza and along the coast up to Ashkelon.
Israel began retaliatory airstrikes around 5 p.m. on October 7. In the first two days, more than 2,600 targets were struck, including attack tunnels, rocket launching sites, command and control centers, and terrorist infrastructure.
Attack By Sea
Hamas naval forces infiltrated Israel. The Israeli Navy killed dozens of terrorists. The Shayetet 13 commando unit captured the deputy commander of the southern division of the Hamas naval force, Muhammad Abu Ghali.
Shayetet 13 commandos were also airlifted to the Gaza border, where they fought and killed more than 60 terrorists, captured 26, and rescued 250 hostages. Two members of the unit were killed.
"Success" For Hamas
Israel had thought its border fence combined with surveillance was sufficient to prevent any incursion; however, terrorists breached the fence in more than 20 areas, with video circulating showing a bulldozer being used to create a hole in the fence. Explosives were used in other areas. Fighters stormed into Israel on foot, on motorcycles, and on other vehicles. Paragliders also flew over the fence.
Most likely, Hamas hoped a small force would succeed in getting inside Israel to kill as many Israelis as possible and take some hostages to use as bargaining chips in exchange for jailed Palestinians, as occurred when Prime Minister Benjamin Netanyahu agreed in 2011 to free more than 1,000 prisoners for the release of one soldier, Gilad Shalit, who had been held for six years. At the time, critics feared the decision would encourage Hamas to take more hostages. Hamas has been holding the remains of Israeli soldiers Hadar Goldin and Oron Shaul since 2014, in addition to two men with serious mental health conditions – Avera Mengistu and Hisham al-Sayed – who wandered into the Gaza Strip in 2014 and 2015.
The Hamas plan succeeded beyond those expectations as 3,000 terrorists infiltrated and began the wanton slaughter of civilians. They came with handcuffs to secure hostages, grenades to blow up shelters, and gas canisters to smoke residents out of their homes.
Thousands of Israelis were at a music festival celebrating Simchat Torah when terrorists arrived and began shooting. Concertgoers tried to flee, 260 were killed, and a number were captured and taken to Gaza as hostages—the dead and missing included visitors and citizens from several countries, including the United States.
Only a relatively small contingent of soldiers, police, and other first responders were in the area at the time of the attack. The IDF reported that 189 were killed.
The worst carnage was in several kibbutzim. Residents who had safe rooms hid in them, but terrorists went house to house, taking hostages and murdering men, women, and children. In echoes of the Holocaust, buildings were set on fire to burn residents or force them out of their hiding places, allowing them to be killed or taken hostage. Women were raped, people, including babies, were decapitated, and one video showed a terrorist bludgeoning a man with an axe. Corpses were desecrated.
Former IDF intelligence officer Yossi Alpher said Hamas had at least four objectives in launching its attack:
Freeing Hamas terrorists who are incarcerated in Israeli prisons.
Disrupting negotiations for the normalization of Saudi-Israel relations.
Defending the al-Aqsa Mosque.
Laying the groundwork for the takeover of the West Bank.
Drag fellow Islamists – Hezbollah in Lebanon and Iranian proxies in Syria – into the fight.
Sow discord among the Israeli Jewish public.
Claiming victory, even as much of Gaza was being destroyed in the fighting and thousands of Palestinian civilians were dead, Hamas's Khalil al-Hayya told the New York Times from the safety of  Qatar, "We succeeded in putting the Palestinian issue back on the table, and now no one in the region is experiencing calm." A Hamas media adviser added, "I hope that the state of war with Israel will become permanent on all the borders and that the Arab world will stand with us." 
Another Hamas leader, Mousa Abu Marzouk, exulted: "This is the first time that the Palestinians are crossing the borders and fighting in their historic land. Israel used to wage war against us outside its borders, to kill us and imprison us. Now, it's the opposite. Now the future Israeli generations will know they can't continue to occupy the Palestinians—they can't continue their wars forever." He added, "This is the biggest achievement."
Hostages
Table in "Hostage Square" in Tel Aviv
with empty seats for each hostage
In addition to the horrific murders, Israelis were also appalled to learn that more than 100 hostages (later revised to 242, including 33 children) were taken by the terrorists, most believed to be civilians, including a Holocaust survivor, elderly people, women, six Bedouins, and 32 children as young as nine months. At least 12 Americans and nationals from several other countries are believed to be among those kidnapped. A video showed four Israelis taken hostage by Hamas were killed soon after being taken captive.
The IDF recovered a manual from one of the terrorists with instructions on how to handle the Israelis they captured. It said "those expected to resist and those that pose a threat" should be killed. The rest should be blindfolded, then "reassured," to keep them obedient. "Use them as human shields," it says, and use "electric shocks" to control them. Kids were to be separated from their parents. The directions in the manual indicate the terrorists expected to be forced into a standoff with Israeli troops and advised them to collect supplies to survive a siege.
Meshaal said the group has kidnapped enough Israeli soldiers to negotiate the release of all the Palestinian prisoners in Israel.
Captured terrorists revealed during interrogations that they had been ordered to kidnap civilians, including the elderly and children. One said, "Whoever brings a hostage back [to Gaza] gets $10,000 and an apartment."
President Joe Biden said he was sending experts to help secure the release of hostages. Reportedly, these included FBI negotiators and special forces hostage rescue teams. "We're working on every aspect of the hostage crisis in Israel, including deploying experts to advise on assist and recovery." He added, "Folks, there's a lot we're doing, I have not given up hope of bringing these folks home."
The United States, Egypt, and Qatar were reportedly seeking to facilitate an agreement to exchange Israeli women and children for women in Israeli jails. Reuters said that Qatar was trying to arrange the exchange of the women and children for 36 Palestinian women and children held by Israel. Israel denied the reports.
Hamas official Ali Baraka said that any hostage exchange should include Hamas prisoners in Europe.
As one would expect, the families of the missing in Israel beseeched public officials for aid for their loved ones.
The number of hostages seriously complicates the Israeli response. Hamas hides them and uses them as human shields to discourage attacks on their positions. Without knowing their location, Israel could inadvertently harm them in airstrikes. Even if the hostages can be found, special forces are likely to face heavily armed terrorists who might kill their captives, or they might be injured in the crossfire.
In addition, a Hamas spokesperson threatened to kill Israeli hostages if Israeli airstrikes hit civilian homes in Gaza without warning.
On October 20, 2023, two American hostages, Judith Raanan and her daughter Natalie were released. Hamas acknowledged that Qatar played a role in negotiating their release.
Two more female hostages were released three days later. Nurit Yitzhak (79) and Yocheved Lifshitz (85) from Kibbutz Nir Oz, were set free for "compelling humanitarian and health reasons." Their husbands remained captive, so it was understandable the two women would be reticent about saying too much publicly about their treatment. Lifshitz did say she had been "through hell," was beaten, and held in a "spider's web" of underground tunnels in Gaza. She also related that a doctor had treated injured hostages because "they were scared we'd become sick."
Though happy for their release, Israeli officials were concerned about negotiations for only dual citizens. "Israel will not be a party to a 'selection' for holders of foreign passports for release," an allusion to the process used by the Nazis to decide which Jews would live and die in some death camps.
Still, Israel hoped delaying its ground offensive would result in progress in hostage negotiations. National Security Adviser Tzachi Hanegbi called Qatar's efforts to secure the release of Israelis held hostage by Hamas "crucial." 
Hamas claimed that some 50 hostages were killed in Israeli airstrikes. Israel did not confirm this.
On October 30, Israeli forces rescued  Pvt. Ori Megidish.
As of November 28, Israel said 141 hostages remain. Four soldiers died in captivity. Hamas was believed to hold some 180, PIJ perhaps 40, and 20 or so could be in the hands of crime organizations.
The families, who don't know if their loved ones are dead or alive, are in agony and, understandably, want the government to do everything possible to ensure their safe returns. They want to accept Hamas's demands that all terrorists in Israeli jails be released in exchange for the hostages. The government has given no indication it is willing to make such a deal, though, in the past, it has.
The Pentagon revealed that U.S. special operations forces and drones are in Israel to help Israel "identify hostages, including American hostages." The New York Times said other Western nations had also moved special forces closer to Israel to help with possible rescue or evacuation operations.
On November 9, PIJ released a video of an elderly woman and young boy it said they were holding and were prepared to release.

Chairs and gifts for missing children in "Hostage Square"
Late in the evening of November 20, the Israeli cabinet agreed to a deal for the release of 30 children, eight mothers, and 12 other women over four days. Netanyahu had pledged not to accept a ceasefire unless all the hostages were released, but under pressure from the families and the United States, he backed down. According to the deal, Israel would release three Palestinian prisoners for every hostage, a total of 150 female and young adults. Their names were to be published so members of the public would have an opportunity to object to freeing a particular inmate responsible for a crime against them. Israel said it would increase the amount of humanitarian aid allowed into Gaza, halt its ground operations, and suspend aerial surveillance so long as Hamas lived up to the bargain, with ten hostages released each day. Hamas agreed to allow the Red Cross to visit hostages and bring them medicine.
Netanyahu credited President Biden for his involvement, which he said resulted in more hostages being released with fewer Israeli concessions. In previous days, Biden had been pressuring the Qataris, the principal mediaries, to work harder to make a deal.
Netanyahu promised to resume the war after the hostages were brought home, but there was an intimation that so long as Hamas continued releasing captives, Israel would hold its fire. While everyone understood the pressure on him to find an answer for the families, fears were also expressed that the ceasefire would allow Hamas to regroup, move, and set more boobytraps. These concerns were the reason Netanyahu had opposed a truce.
The ceasefire went into effect at 7:00 a.m. GMT on November 24. Fifteen minutes later, a rocket was launched from Gaza and intercepted by Iron Dome. Israel did not respond. The first 13 hostages were released at 4:00 p.m. Israel then set 39 Palestinian prisoners free. Ten Thai and one Filipino captive were let go after the Thai government negotiated a deal with Iranian mediation.
Netanyahu's office claimed that Israel had negotiated the inclusion of a clause in the hostage deal for the ICRC to visit all of the remaining hostages; however, the ICRC said it was unaware of this, and Hamas insisted no visits would be allowed.
Hamas delayed the release of the second batch of hostages, making false claims about Israel failing to comply with the terms of the agreement. Hamas said the agreed number of aid trucks had not been allowed into Gaza and objected to Israel releasing Palestinian prisoners who were near the end of their sentences. Representatives from Qatar took the unprecedented step of flying to Israel to pressure Hamas to fulfill its commitment. The U.S., through Qatar and Egypt, also pressed Hamas to act. Israel threatened to resume fighting if the hostages were not released by midnight. Near the deadline, 13 Israelis and four Thai nationals were released, including seven Israeli children ranging in age from 3 to 16 and six Israeli women ranging in age from 18 to 67.
Among those freed was 9-year-old Emily Hand, an Israeli-Irish girl who was initially believed to have been killed by Hamas. The Irish Prime Minister angered Israelis when he said, "An innocent child who was lost has now been found and returned, and we breathe a massive sigh of relief. Our prayers have been answered."
Foreign Minister Eli Cohen tweeted: "Emily Hand was not 'lost,' she was kidnapped by a terror organization worse than ISIS that murdered her stepmother. Emily and more than 30 other Israeli children were taken hostage by Hamas, and you @LeoVaradkar are trying to legitimize and normalize terror. Shame on you!"
On the third day of the ceasefire, Hamas released nine children, four women, four Thai workers, and one Russian-Israeli, whom Russian President Vladimir Putin had demanded be freed. The children included Israeli-American Abigail Irdan, who had just turned four and whose parents were killed in front of her on October 7. Elma Avraham, 84, was airlifted directly to Soroka Hospital and was reportedly in serious condition.
President Biden expressed joy at Irdan's release, but 10 Americans remained unaccounted for. At least two were believed to be hostages.
Israel released 39 convicted Palestinian women and minors from prison and allowed 200 trucks to transport humanitarian aid into the Gaza Strip.
One of many teddy bears placed on benches
in Tel Aviv representing hostages
Families reunited with those released said they had been kept underground in tunnels for their entire captivity, and their eyes had to adjust to sunlight. Some slept on chairs pushed together. Food was also scarce; they were fed limited rice and bread and returned malnourished. Most captives did not know the fate of other family members, some of whom were killed on October 7. Irdan, for example, did not know she was now an orphan. Others reportedly could listen to Hebrew language radio and heard that their relatives had died in the Hamas attack. 
One female hostage whose arm was injured said a veterinarian treated her. Two brothers, 12 and 16, said they were branded so that if they escaped, they could be identified. Relatives of 12-year-old Eitan Yahalomi said he was beaten, forced to watch video footage of atrocities Hamas committed on October 7, and threatened with guns along with other children when they cried. The children were forbidden to make noise; all they could do to pass the time in captivity was to draw a little and play with cards. Emily Hand, 9, returned with a head full of lice and spoke only in whispers.
The Russian Israeli, Roni Kariboy, said the building where he was being held was bombed and collapsed. He escaped but was captured by Gaza civilians, who turned him over to Hamas.
One of the captives said she and other hostages were taken to Khan Yunis, and after an hour's walk, they entered a tunnel and walked two more hours until they reached a large hall where they met a terrorist who introduced himself in Hebrew. "Hello, I am Yahya Sinwar," he said. "You are the safest here. Nothing will happen to you." Then he left.
Biden said his goal is "to keep this pause going beyond tomorrow so that we can continue to see more hostages come out and surge more humanitarian relief to those in need in Gaza." In response, Netanyahu acknowledged "there is a plan that says it is possible to free, every extra day, another ten hostages. That is welcome. In the same breath, I also told the president we will return, with our full might, to achieve our objectives: Hamas's annihilation, and ensure that Gaza not revert to being what it was, and of course, to free all of our hostages."
After the first three days of the ceasefire, 18 children and 43 women were still believed to be hostages. Hamas was said to be unaware of the location of all the remaining captives. Israel and Hamas were arguing over the last group to be released and accusing each other of bad faith. Israel said Hamas had violated the agreement to release children and their mothers together after 13-year-old Hila Rotem was freed without her mother.
The asymmetry of the exchanges is reflected not only in the 3 to 1 ratio of prisoners to hostages released but also in the fact that the Palestinians have all been convicted or charged with violent crimes while the Israelis are all innocent civilians. The Palestinians are teenagers, most older than 16, while Jewish captives are as young as ten months old.
What was initially set to be the final exchange was threatened when Hamas broke the ceasefire, attacking IDF troops along a beach road in northern Gaza and attaching an explosive device to an Israeli vehicle near the Rantisi Hospital. Israel did not immediately retaliate, and 11 hostages were released – nine children and two mothers. Still, the youngest hostage, 10-month-old Kfir Bibas, his 4-year-old brother, and their parents, Yarden and Shiri, remained captive. 
The IDF also announced that three of the soldiers abducted on October 7 were dead. Israel said it would not extend the ceasefire beyond the two additional days agreed to the day before. The ground campaign would resume after the exchange on November 28.
On November 29, Hamas released ten hostages, including one American. Two Russian Israelis were freed separately at Putin's request. The following day, only eight Israelis were let go in violation of the agreement that ten would be released each day to maintain the pause in fighting. Hamas claimed the two Russians from the day before should be counted.
Talks broke down when Hamas offered to release only seven hostages and three bodies. Israel rejected the idea of exchanging live prisoners for hostages' bodies. Then, when Hamas failed to produce a list of hostages it was prepared to release by the deadline on December 1 and renewed rocket attacks on southern Israel, the ceasefire ended, and Israel resumed its campaign.
i24 News reported that before the ceasefire ended, 105 hostages, 81 Israelis, 23 Thais, and one Filipino had been freed. An additional Israeli thought to have been kidnapped was found dead on December 1. Israel believes 138 civilians and soldiers, including 20 women, remain in captivity. The United States, which has eight citizens held by Hamas, is supporting the effort to locate the hostages using unarmed drone flights over Gaza.
Hamas claimed the youngest hostage, a 10-month-old infant, was killed along with his four-year-old brother and their mother. Later, it said it would release the family but violated the truce that day. 
Meanwhile, Qatar and Egypt were reportedly seeking an agreement to end the war by arranging an exchange of all the hostages for thousands of Palestinian terrorists, exiling Hamas leaders the way the PLO was allowed to leave Lebanon in 1982, with an Israeli promise not to assassinate them. Gaza would be demilitarized, but it was unclear who the governing authority would be. Israel showed no interest in this idea.
As the released hostages began to recover from their ordeal, more information became public about their condition and treatment while captive. One revelation was that Hamas gave hostages tranquilizers to make them appear to be in good spirits when their release was filmed. Most of the hostages lost as much as 20% of their body weight from malnutrition. Those with health problems did not receive the medication they needed. 
Many hostages were reluctant to speak about their ordeals for fear of endangering the Israelis still in captivity. One Thai did speak about how he and other Thais were beaten. He said that the Israelis they were with were singled out for especially brutal treatment, including being whipped with electrical wires.
On December 8, Israel confirmed that two civilians believed to have been taken hostage were identified among those killed on October 7.
The Iranian Role
Iran is the principal financial backer of Hamas. It provides weapons and training for terrorists in Lebanon and Iran. As noted above, representatives of Hamas and PIJ met with Iranian military officials in 2021. Some 500 fighters from the two groups were in Iran for military exercises in September 2023.
In the early days of the fighting, it was not clear what role Iran may have played in the planning and implementation of the attack on Israel. U.S. officials have insisted Iran was surprised by the assault. 
No one questioned the Iranian objective of forcing Israel to confront a possible multifront war with its proxies in Lebanon and Gaza or its incentive to derail U.S. efforts to negotiate a deal with Saudi Arabia to normalize relations with Israel.
While denying any involvement, Iran's supreme leader, Ayatollah Ali Khamenei, praised Hamas. "We kiss the foreheads and arms of the resourceful and intelligent designers," he said.
The Wall Street Journal reported that Iranian President Ebrahim Raisi spoke to leaders of Hamas and Palestinian Islamic Jihad (PIJ) and "congratulated the Palestinian people on the victories of the resistance and emphasized Iran's support for the people and the resistance." Raisi added that "Iran supports the resistance and the Palestinian people, and that you bring happiness to the Islamic nation with this initiative."
The Journal said that the Islamic Revolutionary Guard Corps helped Hamas devise the attack and that meetings had been held for weeks in Lebanon before final approval was given a few days before it was launched.
Israel blamed Iran, but the United States insisted it had no evidence of Iran's direct involvement. Critics suggested the administration was reluctant to assign blame for fear it would prompt calls for action against Iran or undermine efforts to negotiate Iran's return to compliance with the nuclear deal. Some still called on the president to cancel the transfer of $6 billion in Iranian assets that had been arranged in exchange for the release of American hostages. The administration subsequently declared that none of this money, which is in a Qatari bank, had been released.
IDF Spokesman Rear Adm. Daniel Hagari said at a press conference on October 25 that "Iran directly aided Hamas before the war, with training, supplying weapons, money and technological know-how." He added, "Even now, Iranian aid to Hamas continues in the form of intelligence and online incitement against the State of Israel."
Hamas official Khaled Meshaal acknowledged that "Hezbollah and Iran supported us with weapons, expertise, and technology."
Khamenei accused the United States of helping Israel. "The United States is in some way directing the crime that is being committed in Gaza," he said, suggesting the hands of Americans "were tainted with the blood of the oppressed, children, patients, women, and others."
A Hamas delegation met Iranian officials in Moscow.
On November 25, a Malta-flagged ship owned by an Israeli was attacked by a suspected Iranian drone in the Indian Ocean. The drone exploded, causing damage to the ship but not injuring any of its crew.
Bombardment
From the opening phase of the war, Hamas continued a steady barrage of rockets in the direction of Israeli population centers. By October 12, the IDF reported there had been 6,000 rocket launches: 3,000 were hit by the Iron Dome, 260 landed in the water, 400 landed in Gaza, and the rest landed in open areas.
The rockets rarely have specific targets and are primarily designed to land anywhere they can cause destruction and death. As in the past, the Iron Dome shot down most of the incoming projectiles, but the system was overwhelmed by the sheer number, so some got through and damaged buildings, causing injuries and a handful of deaths. Due to the proximity of rockets to Ben-Gurion Airport, most international carriers canceled flights, and many Israelis abroad had difficulty getting home on the relatively few El Al and Israir charter flights. Other nations arranged flights to bring home their citizens who could not leave Israel.
Unlike past engagements, the IDF did not release statistics on the number of rockets intercepted by Iron Dome or misfires.
On October 27, a rocket hit a residential building in Tel Aviv for the first time, wounding three people.
On November 4, the IDF said its Arrow 2 air defense intercepted a Hamas rocket launched at Eilat, 250 kilometers from Gaza, the farthest distance Hamas rockets have ever reached. On November 9, the more sophisticated Arrow 3 intercepted a Houthi-fired missile on November 9. Israel intercepted several more missiles in the following days.
Hamas resumed launching rockets on December 1, breaking the ceasefire. More than 100 were fired on December 5, the most since the end of the truce. Three people in Ashkelon and one in Tel Aviv were wounded.
On December 6, the IDF reported that 12 rockets were launched from near the tents of Gazans who were sheltering near United Nations facilities.
The total number of launches since the start of the war exceeded 10,000.
The Nova Festival
One of the first encounters occurred in a forest about three miles from the border. Thousands of young people, most Israelis, but also foreigners who had come for a peace festival, were attacked by hundreds of terrorists. At least 260 revelers were gunned down, an unknown number were taken hostage, some escaped, and others remain unaccounted for.
In a widely circulated video, a man is seen being marched toward Gaza with his arms held behind his back while his terrified girlfriend is being driven away on a motorcycle. Cars were riddled with bullets, and another video showed a person who appeared dead being shot.  — on the ground by a car but moving — being shot by a man with a rifle and then lying still. Ano
Kfar Azza
This is where some of the worst atrocities occurred. The gruesome scene of corpses piled in a tent, with reports that one or more women may have been raped and that bodies had been defiled, shocked and infuriated the nation. The discovery of 40 dead babies, some with their heads decapitated, was a horror beyond imagination.
Sderot
Pickup trucks filled with terrorists rode into the city, and everyone in their path was shot. At one bus stop, seven civilians were found dead. The police station was overrun. Altogether, at least 20 civilians were killed, as well as about a dozen soldiers, firefighters, and police officers.
Kibbutz Be'eri
At 6 a.m. on October 7, two terrorists were seen on security cameras trying to enter the kibbutz. More gunmen arrived later and began going house to house, killing the occupants. Some houses were set on fire to draw out the inhabitants so they could be shot. When Israeli troops finally came to free the inhabitants trapped in their homes, they found burnt cars and houses, and bodies lined up on the street.
Roughly 1,000 people lived in the kibbutz, and more than 130 bodies were discovered after it was liberated. Security forces killed 103 terrorists.
Ofakim
A city of 40,000, Ofakim came under attack when two trucks arrived with 14 terrorists. According to the Times of Israel, "Only spontaneous action on the part of residents and police officers, armed with knives, a few handguns, and eventually the terrorists' rifles, stopped the act, but not before the city lost about 50 people within five hours."
Mayor Itzik Danino told TOI, "Spontaneously, residents started to organize. Some came out with flip-flops and knives. They didn't understand the level of threat posed by the terrorists."
In one of the remarkable stories from that fateful day, five terrorists broke into the home of Rachel Edry. Over the next 15 hours, she conversed and served them treats before security forces arrived and killed the terrorists.
Nir Oz and Other Communities
Weapons found by IDF after the massacre
The battle in Kibbutz Nir Oz lasted about eight hours. One resident, Lotus Lahav, told the New York Times, "We realized that it's only about half of the people here." She said about 350 to 400 people were there when the attack started, and only about 200 were left when it was over.
A retired nurse who went to the kibbutz to help recover the bodies said some were burned beyond recognition.
In one of many tales of heroism, the Times of Israel said, "a handful of men and women who, with only two rifles and a few handguns, prevented a detachment of heavily armed terrorists from setting foot in their community of Ein Habesor."
In the same story, TOI said Inbal Rabin-Lieberman, the 25-year-old security coordinator of Kibbutz Nir Am, and her uncle killed two terrorists and effectively deterred an attack on their kibbutz.
Yet another example of bravery involved Noam Tibon. His son, Amir, a journalist for Haaretz, was sheltering with his wife and two daughters when terrorists infiltrated Kibbutz Nahal Oz. Amir called his father to tell him they were under attack. Noam, a reserves general, drove from Tel Aviv and met up with soldiers who killed the intruders and rescued his son.
Youssef Ziadna, an Arab Bedouin, drove a group of Israelis to the music festival on October 7. At 6 a.m., he received a call for help from one of them. He went back to the area, where he saw a man and a woman who tried to get him to turn around. He got out of the bus, and the three came under fire. He returned to the bus and continued to the area of the party where terrorists were shooting concertgoers. He managed to round up 30 people and raced away under gunfire. The bus reached safety at a nearby kibbutz. Ziadan later learned one of his cousins was murdered, and four members of his family were missing. Recounting the events, Ziadna explained why he didn't turn away from danger. "I said no way, I will throw myself at death if it means I can save lives."
In addition to the atrocities, it was reported that terrorists stole credit cards from their victims. "Due to the security situation, we have seen cases where credit cards and bank account information are being misused," the Bank of Israel said in a statement. "These situations have been dealt with since the outset by professionals at the Bank of Israel."
To further torture the Israeli public, Hamas broadcast videos of their handiwork, showing naked women, captured children, and beheaded soldiers. They also disseminated videos of the taking of hostages, such as an elderly woman driven away in a golf cart and Palestinian children tormenting a young Israeli boy.
The IDF's Slow Response
Former intelligence officer Yossi Alpher said, "It took troops more than half a day to enter the kibbutzim and the town of Sderot. The army completely failed as a quick-reaction force. The kibbutzim have emergency civilian units that went into action straight away, and heroically, but at a huge cost in losses as they were outnumbered by terrorists. For more than a day, the IDF spokesperson and the government were incapable of updating the public."
Alpher acknowledged the situation was exacerbated by the fact that the attack occurred on Shabbat when many Jews were at synagogues and had their phones turned off. By 8 a.m., he said observant Israelis had learned there was a serious security incident.
Though many people who were trapped were under siege for hours, some troops did engage the terrorists. One tank commander said that he drove through the towns targeted by Hamas and said his crew killed more than 70 terrorists. In another location, an anti-terror unit fought 20 terrorists with cover from an all-female tank crew, which then engaged with other terrorists. "We cleared out all the terrorists and brought them out. I lost track of time. I only know that the women fought like lionesses," said one of the fighters.
In another battle, six officers and a new recruit were killed preventing Hamas from overrunning the Zikim training base. They saved 90 new recruits and likely many more Israelis who would have been targeted if the terrorists had advanced to other locations in Israel. Those who fell were Second Lt. Yannai Kaminka, 20; Captain Adir Abudi, 23; First Lt. Or Moses, 20; Sergeant Eden Alon Levy, 19; Private Neria Aaron Nagari, 18, and Second Lt. Adar Ben Simon, 20.
The Horrors [Warning Graphic]
More Jews were murdered in one day than at any other time since the Holocaust. People were murdered sleeping in their beds, waiting for the bus, dancing at a music festival, and doing morning chores. Men, women, and children were slaughtered. The way many were murdered mirrored the worst Nazi atrocities:
Baby murdered by Hamas terrorists
People were decapitated.
Grenades were thrown into safe rooms.
Buildings were burned to the ground.
People were burned alive.
Women were raped.
Victims died when trapped in buildings set on fire.
People were smoked out of their hiding places and shot.
Children were shot in front of their parents.
Parents were shot in front of their children.
Corpses of older people, women, and children were found with multiple gunshot wounds.
Faces were blown off, and grenades and RPGs ripped apart bodies.
Arms and feet were chopped off.
Pets were shot.
Searching bullet-riddled houses, streets, and cars, Israeli soldiers retaking control of the kibbutzim, towns, and settlements near the border were still recovering bodies days after the invasion. One volunteer for the Zaka organization, which collects human remains, described some of what he found at Kibbutz Be'eri. After entering one home, he found a dead woman: "Her stomach was ripped open, a baby was there, still connected with the cord, and stabbed." He also saw around 20 children who had their hands tied behind their backs before being shot and set on fire. Other bodies, he said, appeared to be sexually abused.
Secretary of State Antony Blinken testified before Congress and related one atrocity story: 
A family of four. A young boy and girl, 6 and 8 years old, and their parents around the breakfast table. The father's eye gouged out in front of his kids. The mother's breast cut off, the girl's foot amputated, the boy's fingers cut off - before they were executed. And then their executioners sat down and had a meal.
One captured terrorist told interrogators his men had received religious permission to kill children "because they'll grow up to be soldiers" and to decapitate "to sow fear among the Israelis."
Authorities learned more from documents found on captured and deceased terrorists. A computer file found on one terrorist had instructions for making chemical weapons, specifically a "cyanide dispersion device."
Israel also released an audio recording of a terrorist calling his parents to tell them that he was using the phone of a Jewish woman he killed along with her husband. He boasted that he killed ten Jews with his bare hands.
Reporters and ambassadors to Israel were shown a compilation video from cameras found on terrorists who were captured and killed, documenting the atrocities as they were being committed. The reporters were allowed to write about the content but not distribute the images, though many were available online, some posted by Hamas.
Knesset Speaker Amir Ohana asked permission to show Members of Knesset the same raw footage so they "know who and what we are facing" and "we will all know how much our path in this war against this evil is justified." Several of the 50 members who attended left in tears.
Izz ad-Din al-Qassam Brigades commander Saleh al-Arouri denied Hamas committed the atrocities and attributed them to other Gazans. "When the Gaza Division fell apart," he said, "people from the Strip went in and clashed with the settlers. As a result, people were killed."
Ordinary Palestinians joined in the pogrom. "The second wave of Arabs who came into the country were just as cruel as the terrorists of the first wave," Gadi Yarkoni, the mayor of the Eshkol Regional Council, told the Washington Free Beacon. "We saw that it was not only Hamas who came to slaughter us. It was all the residents of Gaza, including people who worked in our kibbutzim."
Reports of rape were also gathered from witnesses. Captured terrorists revealed during interrogations that they were instructed to "dirty" or "whore" the women.
One member of an all-female volunteer team responsible for preparing female corpses told The Sunday Times what she witnessed. "Opening the body bags was scary as we didn't know what we would see. They were all young women. Most in little clothing or shredded clothing and their bodies bloodied particularly round their underwear and some women shot many times in the face as if to mutilate them....We saw women whose pelvises were broken. Legs broken. There were women who had been shot in the crotch, in the breasts … there seems no doubt what happened to them."
Jewish feminists and others were outraged that women's organizations said nothing about the violence against women on October 7. Jewish women began to use the hashtag #MeToo_UNless_UR_A_Jew.
After weeks of silence, UN Women posted on Instagram, "We condemn the brutal attacks by Hamas on October 7 and continue to call for the immediate and unconditional release of all hostages." That statement was quickly replaced with one without the condemnation of Hamas.
On December 1, UN Women issued a new statement that first said, "All women, Israeli women, Palestinian women, as all others, are entitled to a life lived in safety and free from violence" before declaring, "We unequivocally condemn the brutal attacks by Hamas on Israel on 7 October. We are alarmed by the numerous accounts of gender-based atrocities and sexual violence during those attacks. This is why we have called for all accounts of gender-based violence to be duly investigated and prosecuted, with the rights of the victim at the core."
It was not only women who were abused. According to a doctor who examined the released hostages, at least ten, including men, were sexually assaulted or abused in captivity.
President Biden said, "Reports of women raped — repeatedly raped — and their bodies being mutilated while still alive — of women corpses being desecrated, Hamas terrorists inflicting as much pain and suffering on women and girls as possible and then murdering them, It is appalling." He added, "The world can't just look away at what's going on. It's on all of us — government, international organizations, civil society and businesses — to forcefully condemn the sexual violence of Hamas terrorists without equivocation. Without equivocation, without exception."
State Department spokesman Matthew Miller said of Hamas, "It seems one of the reasons they don't want to turn women over they've been holding hostage, and the reason this pause fell apart is they don't want those women to be able to talk about what happened to them during their time in custody."
Israel Launches Sword of Iron
"I have ordered a complete siege on the Gaza Strip. There will be no electricity, no food, no fuel, everything is closed," Defense Minister Gallant announced on October 9, 48 hours after the surprise attack. A country under assault cannot continue to support its attackers. "We are fighting human animals, and we are acting accordingly."
The military said its strikes against the coastal territory would be "bigger than before and more severe." Prime Minister Benjamin Netanyahu said, "We are going to change the Middle East."
Israeli Air Force Chief Maj.-Gen. Tomer Bar said on October 12: "We have a list of everyone who participated in these heinous crimes against our family and against the residents of the area surrounding Gaza, and we will get to them."
The first priority for Israel was to eliminate all of the terrorists who remained in the area of the border communities. That process began at about 10:00 on October 10. By the end, more than 1,500 Hamas infiltrators were dead.
The air campaign faced the complex challenges of avoiding possible locations of hostages and minimizing civilian casualties. As in the past, Hamas used civilian structures and individual Palestinians as shields.

Besides infrastructure, Israel targeted Hamas leadership. In the early days of the war, the IDF said it eliminated Zachariah Abu Ma'amar, the head of the Hamas Office for Internal Relations, and Joad Abu Shmalah, Hamas Minister of Economy.
On October 11, 2023, Netanyahu agreed to form a unity government with his rival Benny Gantz. In a press conference with the two of them and Defense Minister Gallant, the prime minister said, "Every Hamas member is a dead man."
In another sign of unity in the nation, the general public mobilized to fill gaps in the government's response to the crisis. Hebrew University did a study that found Israelis set aside their social and political divisions and rallied under the banner of "Defending Our Home." Nearly half the population volunteered during the war compared to one-third during the Covid-19 crisis. Volunteerism, researchers found, "cut across all age groups, genders, and religious affiliations." They also noted the rate of volunteerism among the Arab Israeli population reached 29% and that 28% of all volunteers were new to such activities. In addition to donating money, the most common activities included "collecting, packing, and distributing food and equipment, transportation of people, food, and equipment, assisting security forces, participating in outreach activities through social networks, and offering essential aid to evacuees."
While Israel hunts terrorists in Gaza, some leaders of Hamas are living in safety in Qatar, Lebanon, and Turkey. For example, Ismail Haniyeh, Hamas's leader and Chairman of the Hamas Political Bureau, resides in Qatar, as does Izzat Al-Risheq, head of its media department. Saleh al-Arouri, the founding commander of the Izz ad-Din al-Qassam Brigade, is believed to be in Lebanon.
Israel launched hundreds of airstrikes each day but was unable to stop the rocket bombardment. October 24 saw the most rockets fired at Israeli cities since the war began. Terrorists also attempted to infiltrate Israel by sea near Zikim Beach but were eliminated before they could reach the shore.
On October 25, the pattern continued of Hamas and Lebanese rocket launches and Israeli airstrikes. For the first time, Hamas used its longest-range missiles to target Haifa and Eilat.
Israel was also focused on ensuring that no threats emerged from the West Bank. It conducted an airstrike on Jenin and arrested dozens of Hamas operatives. According to Chief of Staff Halevi, the PA was preventing demonstrations in support of Hamas "for its own reasons." Throughout the fighting in Gaza, the IDF attacked and arrested Hamas operatives in the West Bank.
By October 26, the IDF had struck more than 7,000 targets in Gaza, and the number of rockets fired from Gaza declined significantly as more launch sites were destroyed.
Israeli ground troops remained primed to move into Gaza but were delayed by several factors. One was the continued negotiations to free hostages. The fear was that Hamas would be far less likely to negotiate once the ground campaign began. The hope remained that at least women, children, and the elderly might be released, though, as of October 26, only four hostages, all women, were set free.
A second cause of delay was the desire to continue training for the expected urban warfare. Many reservists who completed their mandatory service years earlier needed extra preparation time. The IDF also wanted to do more damage to the terrorist infrastructure with intensified airstrikes. 
The United States also requested that Israel give U.S. forces time to deploy air defenses in the region to protect troops from the possibility of attack from Iran-backed militias. U.S. bases had already been attacked at least 13 times in Iraq and Syria.
Israel was also under pressure to give civilians in northern Gaza more time to move south and to allow more humanitarian aid to flow through the Egyptian border crossing at Rafah.
In a sign that the time for a ground operation was nearing, the IDF conducted "a targeted raid using tanks in the northern Gaza Strip, as part of preparations for the next stages of combat."
"We are in decisive moments. This is a war for our home and we will win it. It's either us or them," Gallant said.
Ground operations began with tanks entering and leaving Gaza. In the following days, the tanks stayed in Gaza accompanied by infantry under cover of airstrikes and artillery bombardments. Despite three weeks of airstrikes on hundreds of targets, Hamas was still managing to launch rockets.
The Commander of the Home Front Command said on October 29, "The war will be long, lasting weeks and months."  Gantz declared, "The goal at the end of the war - to change the reality in the South, and also against our enemies in the North." He added that "additional stages in the war will also come, we are creating the conditions for them and we will carry them out. I am determined… to ensure the State of Israel is victorious over this tough and evil enemy — over this epitome of evil."
Perhaps the best example of how Hamas uses civilians as shields is that their headquarters is located beneath the Shifa hospital, the largest in Gaza. Israel released a video of the interrogation of two captured terrorists who confirmed that the hospital was used as an operations center. As it does with virtually everything Israel says, the media has questioned the evidence, but it is hardly new. In 2006, PBS aired a documentary that showed Hamas terrorists roaming the hallways and offices of the hospital. Hamas officials held interviews in the hospital. In the past, the Palestinian Authority Health Ministry (not the Hamas-controlled ministry in Gaza) accused Hamas of taking control of areas in Shifa Hospital and using rooms for interrogation, torture, and imprisonment. During Operation Protective Edge in mid-2014, Hamas used the Shifa hospital as an operations base. The hospital continued to see patients as the Hamas operatives congregated in the bunker underneath. On August 1, 2014, a Finnish female reporter was reporting from Shifa Hospital when she witnessed a rocket launched from the parking lot destined for Israeli territory. By locating its headquarters at the hospital, Hamas has made it a legitimate military target under international law.
Hamas is continuing its operations. On October 29, for example, terrorists emerged from tunnels near the Erez crossing in an attempt to ambush Israeli soldiers. The terrorists were all killed or wounded and captured.
The same day, Israel sent out a more urgent warning that civilians should evacuate the north, where fighting was expected to intensify as more IDF troops moved into the area.
Despite widespread speculation that Israel would launch a large-scale ground invasion with tens of thousands of soldiers, the IDF started the campaign slowly and methodically. The Britain Israel Communications and Research Centre suggested three reasons:
Recognizing that the war will be long, the IDF does not believe it is necessary to rush into an operation that could get bogged down.
The desire to ensure that Hezbollah does not use a ground incursion as an excuse to open a second front.
The need to accustom the public to functioning amid military activity in Gaza.
Israel continued to urge Gazans to move south out of the area where IDF operations are concentrated. Still, many civilians were unable to leave or prevented from doing so by Hamas. Given the use of civilians as shields, Israeli forces are in a nearly impossible position. Terrorists cannot be allowed to escape, but targeting them must balance the cost of civilian lives and damage to Israel's image. The IDF aborted certain strikes when civilians were in the area, but others were carried out that caused substantial collateral damage and attracted international opprobrium. One such strike was carried out to kill Ibrahim Biyari, who was one of the leaders of the Nukkba unit that perpetrated the October 7 massacre, and some 50 other terrorists hiding in a tunnel beneath the Jabalya refugee camp, the most populated in Gaza. The IDF reported it successfully took out the terrorists, but the ground around the tunnel that was struck collapsed, and many civilians were killed and injured. International media reported extensively on the strike's impact and grilled spokespeople on the necessity of the operation.
Artillery and tanks are using smoke-style diversions to make it difficult for Hamas forces to get clear shots at IDF forces, and D9 bulldozers are clearing boobytraps and mines. IDF ground forces were methodically moving into northern Gaza and engaging in close-quarters urban combat. Airstrikes were continuing, with more than 11,000 targets hit.
On October 31, seven soldiers from the Givati Brigade were killed when an anti-tank missile hit their armored vehicle. An RPG killed two soldiers, and two more died when their tank drove over an explosive device. 
During a battle for control over the base of Hamas's elite Force 17 near Jabaliya, Givati soldiers said roughly 100 women and children were pushed forward by Hamas to act as human shields.
The IDF announced it had completed the encirclement of Gaza City on November 2. Army engineers began to use robots and explosive devices to destroy tunnels and detonate boobytraps. Some 100 tunnels were already destroyed, including ones hit in airstrikes. 
While uninformed commentators talked a lot about soldiers having to enter tunnels, the difficulty of finding and killing the terrorists, and the danger from boobytraps. Former deputy IDF chief of staff Yair Golan said, "You don't need to go into the tunnels." Instead, Golan explained, "The wisdom is to find the entrances and seal them, or send in smoke that will cause the enemy to come out or will harm him."
"We are going to collapse the entrances and the tunnels on them. It will become a death zone. They made a mistake; they chose to be in a place they cannot escape from. They will die in the tunnels," an officer told the Walla news site.
Israel came in for renewed criticism when it struck an ambulance near the Shifa hospital that it said was carrying Hamas terrorists. Israeli spokesmen explained that Hamas has often used ambulances in hopes they would serve as protection for their movements and transfer of weapons. The same day, a U.S. official acknowledged that Hamas tried to sneak some of its fighters out of Gaza in ambulances along with injured civilians being evacuated to Egypt. After vetting the list of people attempting to leave, the terrorists were turned away.
By November 5, Israeli forces had surrounded Gaza City and effectively cut the Strip in two, isolating the north. Troops moved deeper into the area, and combat engineers destroyed tunnels. The IDF reported killing many Hamas commanders and those who replaced them. In one raid, soldiers found rocket launchers and rockets in a mosque and a building used by the Palestinian Scout Association. The IDF Paratroopers Brigade exposed the opening of an underground terror tunnel near an amusement park, and another found near a university. An additional cache of rockets belonging to PIJ was found in an underground storage site. Heavy fighting was also reported near the Shifa Hospital, where Hamas was believed to have tunnels for its headquarters.
During the fighting on November 7, IDF troops spotted a Hamas squad hiding in a mosque. They were killed with air support as soon as they left the mosque and headed for tunnel shafts. Troops came under fire from anti-tank missiles fired from a hospital.
The IDF continued its hunt for tunnels and said that it had destroyed 130 tunnel shafts by November 8. By the following day, the IDF said it had surrounded the remaining fighters of a 1,000-strong battalion hiding in the Indonesian Hospital and a nearby school in Beit Hanoun. Lt.-Col. Ido, commanding officer of the 551 Reserve Paratroop Battalion, said, "They are firing on us from this hospital." He also said IEDs were "buried in the ground, some in the woods, some in the kindergarten rooms, some in the schools."
Troops were closing in on the Shifa Hospital in Gaza City to seek out Hamas leaders and destroy their tunnels and headquarters underneath. The hospital, however, is full of patients and refugees, and the U.S. expressed concern about targeting it. Palestinian sources said that strikes had already been carried out nearby and claimed many casualties. The hospital reportedly had as many as 800 patients, while Israel believed hostages might be held in the tunnels below. 
Israel was being accused of besieging and shooting at the hospital. The IDF denied this, saying there were gunbattles with terrorists in the area, but it was not targeting the hospital. A spokesperson said on November 11 that he was in constant contact with the hospital director and that the East side remained open to evacuate staff and patients.
The Hamas-run Gaza Health Ministry claimed operations were suspended at the hospital after it ran out of fuel. The same day, the IDF said, "The staff of the Shifa hospital has requested that tomorrow we help the babies in the pediatric department to get to a safer hospital. We will provide the assistance needed."
Netanyahu said that Hamas rejected an Israeli offer to send fuel to the hospital. The IDF later said it supplied 300 liters of fuel, but Hamas did not allow the hospital's staff to accept it. Soldiers were guarding jerry cans of fuel left outside the hospital to prevent Hamas from stealing them.
Earlier, the IDF said it had enabled the evacuation of the Rantisi and Nasser hospitals.
Israeli troops killed 21 terrorists who fired rocket-propelled grenades and an anti-tank missile at them from the entrance to Al-Quds Hospital in Gaza City on November 13. Soldiers also discovered explosive devices inside a mosque and a weapons cache inside the children's room of the home of a senior Palestinian Islamic Jihad terrorist. A tunnel entrance was found in another house under a child's bed. 
When troops entered the Rantisi Hospital after the staff and patients left, they found a basement bunker that was used as a command and control center filled with suicide vests, grenades, AK-47 assault rifles, explosive devices, RPGs, and other weapons. Evidence that hostages had been held there was also discovered.
The IDF said the number of people in the Shifa Hospital compound was down to 1,000 from 60,000. The hospital remained the primary focus of attention of the media and U.S. officials. National Security Advisor Jake Sullivan acknowledged that it was a base for Hamas. "Without getting into intelligence information," he said, "we can just look at the open source reporting that Hamas is using hospitals, as it uses many other civilian facilities, for command and control, for weapons storage, to house its fighters. And this is a violation of the laws of war." He emphasized, however, "the United States does not want to see firefights in hospitals, where innocent people, patients receiving medical care, are caught in the crossfire, and we've had active consultations with the Israeli Defense Forces on this."
Israel was being blamed in the media for a rocket that hit the hospital on November 10, but the IDF maintained that a failed missile launch by terrorists caused it.
The media continued to question the veracity of Israeli and American reports on Shifa. National Security Council spokesman John Kirby subsequently said, "I can confirm for you that we have information that Hamas and the Palestinian Islamic Jihad used some hospitals in the Gaza strip, including al-Shifa, and tunnels underneath them to conceal and support their military operations and to hold hostages." He added, "Hamas and the Palestinian Islamic Jihad members operate a command and control node from al-Shifa in Gaza City. They have stored weapons there, and they are prepared to respond to an Israeli military operation against that facility." 
That information may have come from a terrorist who confessed the groups used the hospital. He divulged that some terrorists disguised themselves as medical staff with the knowledge of the hospital's staff.
On November 14, Israeli forces began operating inside the Shifa compound and later took control of the hospital. Troops found  guns, ammunition, protective vests, and Hamas military uniforms, some of which he said were hidden behind M.R.I. machines, others in nearby storage units, and some behind a "blast-proof door." 
IDF forces raided the outskirts of the Shati refugee camp and found weapons, combat gear, and operational plans belonging to Hamas.
On November 15, troops destroyed the Hamas parliament building.
Operations of the Israeli Navy were attracting less attention, but its fighters and divers were also active. The Unit for Underwater Missions (Yaltam) operating off the coast of Gaza found both above and below the water's surface a weapons cache that included explosive devices, explosive belts, ammunition, and inflatable boats.
During the continuing operation in the Shifa compound, which involved shootouts with terrorists, soldiers found the bodies of two of the hostages taken on October 7. Cpl. Noa Marciano was found in a building adjacent to Shifa. Yehudit Weiss was found in a building where Hamas stored weapons. The IDF showed journalists laptops found at the hospital that had photos and videos of captives, weapons discovered inside the hospital, and the entrance of a tunnel.
A stockpile of weapons was found at a booby-trapped hotel, and a recording of PIJ terrorists was released in which they discuss concealing weapons in baby carriages. The IDF also said two airstrikes targeted several of Hamas's top political and military leaders but could not confirm whether they were killed.
Israel was in complete control of the northern Gaza Strip by November 17 and planned to begin operations in the south where Hamas has tunnels, and its leaders were thought to be hiding with hostages. Israeli forces dropped leaflets warning Palestinians to leave parts of southern Gaza and that anyone in the vicinity of terrorists or their positions "is putting their life in danger."
Troops were continuing to investigate the Shifa Hospital. The IDF reported that one of the soldiers taken hostage on October 7 was killed at the hospital. At the basement levels of the complex, they found ammunition, grenades, combat equipment disguised in medical suitcases, and anti-tank mines alongside operational command posts of Hamas leaders with evidence of the presence of top Hamas officials and Israeli hostages. A book was discovered with Hamas's intelligence report on the IDF, and documentation was left behind from Shin Bet interrogations of terrorists who infiltrated Israel. The tunnel network led to the homes of senior Hamas officials. A video was released showing a 55-meter-long, 10-meter-deep tunnel under the hospital and CCTV footage taken inside the hospital of terrorists bringing two hostages inside.
"Real medical teams were not allowed to enter Hamas's military command rooms by the organization's operatives, who also covered some of the security cameras. Eventually, the upper part of the hospital was used militarily while underground were offices for senior officials' extended stays."
Haaretz, a paper known for its criticism of the government, sent correspondent Yaniv Kubovich to see the evidence that Shifa was a Hamas command center. He photographed a backpack with a symbol marking the 60th anniversary of Kibbutz Be'eri, Israeli-made 'Shoresh' sandals, and a collection of weapons. He entered the hospital's emergency room, where a shaft led to a tunnel network that allowed terrorists to use the hospital without being seen by patients or staff.
Kubovich said, "There is no way the hospital administrators didn't know what was happening" after he went into a 560-foot long tunnel (nearly the length of two American football fields) beneath the hospital "made entirely of reinforced concrete to defend against IDF attacks, replete with power sockets, power lines, and ventilation equipment." Kubovich was also shown where Hamas siphoned power from the hospital. Hence, it was unsurprising that Israel took the director into custody for questioning. 
Dozens of other tunnels and large quantities of weapons were found in a neighborhood where senior Hamas officials lived in Gaza City.  A weapons manufacturing lab, an arsenal, and a tunnel were found in the basement of a mosque.
The IDF also captured more than 300 terrorists and brought them to Israel for interrogation.
Israel and Hamas agreed to a ceasefire that commenced at 7:00 a.m. GMT on November 24 as part of the deal to exchange women and children held hostage by Hamas for women and youths jailed in Israel.
"This will be a short pause, at the conclusion of which the war (and) fighting will continue with great might and will generate pressure for the return of more hostages," Defence Minister Gallant said. 
Approximately 50 booby-trapped explosive devices and dozens of weapons stockpiles were located by Oketz (K-9) Unit fighters and dogs before the ceasefire. Sadly, Four dogs were killed in combat.
Fighters reported that nearly every building they entered was booby-trapped and that weapons were hidden in children's rooms, under beds and cribs.
Meanwhile, Hamas told Gazans who had moved south to return to their homes in the north. Israel dropped leaflets warning them not to do so because it remained a "dangerous war zone" and fired over the heads of people trying to get back into Gaza City.
On November 30, Hamas took credit for an attack by two terrorists who killed three Israelis, one a pregnant woman, at a bus station in Jerusalem. 
After Hamas broke the ceasefire on December 1 by launching rockets into Israel, the IDF resumed its campaign. The next major objective was expected to be the capture of Khan Yunis where the IDF believes Hamas leaders and some hostages may be hiding. The battle will be especially challenging because of the presence of civilians and the pressure being applied by the U.S. to fight in a way that reduces casualties.
The IDF also surrounded the Jabaliya refugee camp in the north of Gaza.
The media began to focus on a report from the Wall Street Journal that Israel has a plan for flooding the tunnels with seawater to flush out the terrorists. Several concerns were raised, including whether the ground was too porous for the tunnels to fill, the potential harm to hostages, the possibility of contaminating the aquifer that provides drinking water to the Strip, and the fear the soil would be saturated and buildings might collapse.
On December 6, the IDF reported it was engaged in the most intense day of fighting since the war began, with firefights in three Hamas strongholds, Jabalya and Shajaiya in the north and Khan Yunis in the south. Soldiers were going house to house in close-quarters combat.
"There isn't a single house here without weapons, there isn't a house without [tunnel] infrastructure. It's unbelievable. In dozens of yards of homes we found dozens of rocket launchers," an officer told reporters on December 8. "We found Kalashnikovs under mattresses, inside clothes closets. It wasn't thrown there suddenly, they were hidden in the homes."
U.S. Policy
The initial reaction of the international community outside the Middle East was almost universally supportive of Israel. The leaders of France, Germany, Italy, the United Kingdom, and the United States released a joint statement expressing "steadfast and united support to the State of Israel" and "unequivocal condemnation of Hamas and its appalling acts of terrorism."  
In what many were describing as the strongest statement ever made by President Biden and the angriest most had seen him, the president called the Hamas assault "an act of pure, unadulterated evil." Repeating a theme of the Israelis, he said, "The brutality of Hamas — this bloodthirstiness — brings to mind the worst — the worst rampages of ISIS."
"We stand with Israel.  And we will make sure Israel has what it needs to take care of its citizens, defend itself, and respond to this attack," Biden added. "Like every nation in the world, Israel has the right to respond — indeed has a duty to respond — to these vicious attacks."
Even with Congress in disarray following the Republican decision to replace the Speaker of the House, Biden said, "We're surging additional military assistance, including ammunition and interceptors to replenish Iron Dome."
The president also announced that the U.S. was moving a carrier strike group and other military assets to the region and issued a warning: "Let me say again — to any country, any organization, anyone thinking of taking advantage of this situation, I have one word: Don't. Don't."
He reiterated that the "atrocities have been sickening" and that the U.S. would "make sure the Jewish and democratic State of Israel can defend itself today, tomorrow, as we always have."
When he arrived in Israel on October 12, Secretary of State Blinken said, "You may be strong enough on your own to defend yourself, but as long as America exists, you will never, ever have to."
Former State Department official David Makovsky said the president did five things to impress Israelis:
He "struck a clear and decisive moral stance" and "expressed genuine, palpable horror at the brutal Hamas terror attack and massacres in southern Israel."
"Israelis could see Biden's empathy on full display at a time of national trauma."
"The promise of genuine U.S. wartime military assistance was the most vivid reminder that Israel is not alone in its moment of peril."
"Israelis believe Biden's declarations of fealty to Israel could be politically costly for him, and yet he persists."
"Israelis see that Biden understands the DNA of Zionism. During his visit in July 2022, he arrived in Israel and declared one doesn't have to be Jewish to be a Zionist."
The U.S. Senate unanimously adopted the Standing with Israel Against Terrorism resolution on October 19, and a week later, nearly the entire House of Representatives, 412 members, voted for a bipartisan resolution expressing support for Israel and condemning Hamas. Several members also called on the president to cancel the release of any of the $6 billion in frozen Iranian assets held by a Qatari bank. Across the country, rallies were held where community leaders and elected officials stood with the Jewish community to express their support.
More than 2,000 people in the entertainment industry, including Gal Gadot, Jamie Lee Curtis, Chris Pine, Mayim Bialik, Amy Schumer, Michael Douglas, Jerry Seinfeld, Mark Hamill, and Helen Mirren signed an open letter calling on the entertainment community to speak out forcefully against Hamas, to support Israel, to refrain from sharing misinformation about the war, and do whatever is in their power to urge the terrorist organization to return the innocent hostages to their families.
Senate Majority Leader Chuck Schumer, visiting Israel with a bipartisan group of senators, said, "You are not alone. The United States stands beside you as an unrelenting partner." The group was forced to run to shelters twice because of Hamas rocket fire.
In New York City, for example, Mayor Eric Adam spoke at one on October 10: "We are not all right when we see young girls pulled from their home and dragged through the streets. We are not all right when we see grandmothers being pulled away from their homes and children shot in front of their families. We are not all right when right here in the City of New York, you have those who celebrate at the same time....Everything is not fine. Israel has a right to defend itself, and that's the right that we know." He continued, "I'm your brother. Your fight is my fight....You marched with us with Dr. King. You stood with us with all the fights we have. And I'm saying we're going to stand with you and stand united together. And we don't have to be all right. We should be angry at what we saw."
 Secretary of Defense Austin meets with
Israeli Prime Minister Netanyahu
Secretary of State Antony Blinken went to Israel to meet with government officials and also met some Americans and Israelis with family members who had been taken hostage.
The U.S. Secretary of Defense Lloyd Austin arrived in Israel on October 13 along with a planeload of supplies. Two days earlier, the first shipment of armaments arrived. The U.S. promised to deliver ammunition and interceptors for Iron Dome, and Boeing reportedly was accelerating the delivery of 1,000 smart bombs. Austin said additional security assistance to Israel will "flow at the speed of war."
Austin condemned the "bloodthirsty, fanatical and hateful" attacks by Hamas terrorists. "The world has just witnessed a great evil: the deadliest attack on civilians in the history of the state of Israel and the bloodiest day in Jewish history since the end of the Holocaust, he said after meeting with Defense Minister Gallant. "So, make no mistake: The United States will make sure that Israel has what it needs to defend itself," he added.
The United States had already repositioned the USS Gerald R. Ford Strike Group closer to Israel and sent additional fighter aircraft to the region. "For any country, for any group or anyone thinking about trying to take advantage of this atrocity to try to widen the conflict or to spill more blood, we have just one word: Don't," Austin said.
As tensions along Israel's northern border intensified, and Iran threatened to intervene if Israel went ahead with a ground attack on Gaza, Biden ordered a second aircraft carrier task force into the Eastern Mediterranean. Austin reiterated that the intention was "to deter hostile actions against Israel or any efforts toward widening this war following Hamas's attack on Israel." A rapid-response force of 2,000 Marines was also deployed to the region.
As the world anticipated a ground operation, Biden made clear he thought it would be "a big mistake" for Israel to preoccupy Gaza. 
The administration was also becoming increasingly concerned with the safety of civilians in Gaza. The president appointed a former State Department official, David Satterfield, as a special envoy for Middle East humanitarian issues tasked with facilitating aid to "the most vulnerable people" and promoting the safety of civilians.
On October 16, Blinken took part in a meeting of the Israeli war cabinet as it laid out plans for prosecuting the war against Hamas. According to BICOM, this is the first time a senior U.S. official has joined these consultations since Henry Kissinger attended Golda Meir's security cabinet during the 1973 War. 
General Michael Kurilla, head of U.S. Central Command, also visited Israel. "I'm here to ensure Israel has what it needs to defend itself, particularly focused on avoiding other parties expanding the conflict," Kurilla told Reuters.
President Biden traveled to Israel on October 18 to meet with Israeli Prime Minister Netanyahu in Tel Aviv, the first time a president visited Israel during wartime. "For the people of Israel, there is only one thing better than having a true friend like you with Israel, and that is standing in Israel as the first U.S. sitting president to visit Israel in a time of war, it is deeply moving and speaks to the depth of support for Israel," Netanyahu said.
The president reaffirmed his support for Israel and repeated previous warnings that none of its enemies should try to exploit the situation. Biden also announced he would ask Congress for "an unprecedented support package for Israel's defense" and "keep Iron Dome fully supplied."
Privately, Biden urged Israeli officials to have a plan for humanitarian relief for Palestinian civilians and publicly asked Israel "to agree to the delivery of lifesaving humanitarian assistance to civilians in Gaza." He insisted that aid would have to go to civilians, not Hamas. This was after UNRWA had reported that Hamas had stolen fuel and medical supplies (the tweet was subsequently deleted). The president said the U.S. would provide $100 million in humanitarian aid.
Israel reportedly asked for a $10 billion emergency aid package, and former Defense Minister Gantz reportedly told Biden destroying Hamas "could take years." Current minister Gallant told the president, "It will be a long and difficult war, and Israel will need U.S. support for a long period." 
Just before departing Israel, Biden met with families of hostages and missing persons. He stayed long after his aides tried to hustle him to the airport. Each group member was given a minute to speak to the president. "Biden came to Israel to give us both diplomatic and military backing. But in this meeting, the feeling was that he came to give us something more, no less important: a hug," journalist and resident of Kibbutz Nahal Oz Amir Tibon related. "He shared with us the challenge of not giving in to despair or turning sadness into anger. There were moments when he wiped a tear from his eye."
Biden had originally planned to meet with the leaders of Egypt, Jordan, and the Palestinian Authority, but they all canceled following the bombing of a Gaza hospital that resulted in many civilian casualties. Israel was initially blamed, but as the president explains, the hospital was hit by an errant rocket fired by a terrorist group in Gaza, which Israel identified as Palestinian Islamic Jihad.
In a rare nationally televised Oval Office address on October 20, Biden once again expressed America's steadfast support for Israel in its war with Hamas and announced he would ask Congress to approve a security package that will "sharpen Israel's qualitative military edge." He also reiterated his admonition for Israel to "operate by the laws of war." 
The aid package totaling $14.3 billion will be held up until Republicans in Congress stop their infighting and elect a new Speaker of the House. In the meantime, the United States is sending two Iron Dome batteries it had purchased to Israel. Haaretz also reported that U.S. transport aircraft have landed in Israel carrying additional military supplies, including advanced ammunition. Israel also purchased and received armored vehicles, including ambulances, jeeps, and engineering equipment.
On October 22, the leaders of the U.S., Canada,  France, Germany, Italy, and the UK issued a joint statement supporting Israel and expressing concern for civilians and hostages.
In the first crack in Biden's unequivocal support for Israel's operations, he called for a "pause" in fighting to allow more time to get "prisoners" out. It was unclear precisely what the president meant. One official said he was referring to his request that Netanyahu temporarily suspend the assault to allow the two American hostages Hamas released to exit Gaza. Another official had said the previous week that the White House wanted a pause to allow more humanitarian aid into Gaza.
Meanwhile, an American official told reporters that following talks with the U.S., Israel "significantly refined" its original military plan.
Blinken traveled around the Middle East, meeting with Arab leaders to discuss the crisis. He met with Abbas in Ramallah to implore him to keep the West Bank calm and discuss the future of Gaza after the war ends. He also went to Iraq to express support for the government and ask Prime Minister Mohammed Shia al-Sudani to hold responsible those found to have carried out attacks against American personnel. 
The administration was also reportedly sending messages to Iran and Hezbollah warning that the United States would intervene militarily if they attacked Israel. The Pentagon announced that a nuclear submarine was sent to the area to emphasize the threat.
As the Hamas-derived number of civilian casualties reached 10,000, Blinken, CIA director Bill Burns, and the president repeatedly called on Netanyahu to pause its assault to allow more humanitarian aid into Gaza and were reportedly becoming increasingly frustrated by Netanyahu's refusal to do so. The prime minister said there would be no pause unless all the hostages were released. He suggested Israel would be willing to offer "tactical little pauses, an hour here, an hour there...to enable goods, humanitarian goods to come in, or our hostages, individual hostages to leave."
Meanwhile, Ron Dermer, the former ambassador to the U.S. and current Strategic Affairs Minister, who has taken an active role in most of the talks with American officials, is said to have cautioned government officials that failing to respond to the pressure could result in a high political cost for Israel.
The administration became increasingly critical of Israel's tactics and their impact on civilians. In particular, officials believed Israel was using bombs that were more powerful than needed for the operations and were causing too much collateral damage. This undoubtedly played a role in Biden agreeing to a $320 million sale of precision-guided weapon systems to Israel that could reduce civilian casualties. This sale was already in the works before Biden had submitted his proposal for emergency aid, which had not yet been approved.
Chief of Staff Halevi told a Knesset committee on November 9 that American-made weapons and intelligence were critical to the IDF's operations. Haaretz reported that some of the aid provided by the U.S. included:
From U.S. stockpiles in Europe, 57,000 155mm artillery shells.
Thousands of bunker-buster munitions.
Some 200 kamikaze drones.
To resupply Apache gunships, 2,000 Hellfire laser-guided missiles and 36,000 rounds of 30mm ammunition.
A shipment of 1,800 of the 3,000 M141 bunker-buster shoulder-fired rockets requested by Israel.
A total of 3,500 of 5,000 PVS-14 night vision devices on order.
Two Iron Dome batteries that Israel will lease from the U.S., along with 312 Tamir interceptors.
Other requests expected to be fulfilled include 200 Switchblade 600 dive-bombing drones, 75 armored Joint Light Tactical Vehicles, and 20,000 M4A1 rifles.
Following the announcement that Israel planned to begin operations in southern Gaza, the administration sought to delay them until a plan is made for the Palestinians whom Israel had told to move south. "In the event that we believe that Israel is likely to embark on combat operations, including in the south, we believe both that they have the right to do that, but that there is a real concern, because hundreds of thousands of residents of Gaza have fled now from the north to the south at Israel's request," said U.S. Deputy National Security Adviser Jon Finer. He added, "We think that their operations should not go forward until those people – those additional civilians – have been accounted for in their military planning. And so, we will be conveying that directly to them and have been conveying that directly to them."
As Israel prepared to resume its military campaign following the pause for releasing hostages, the Biden administration reportedly urged Israel to minimize the displacement of Palestinian civilians in southern Gaza. The administration opposed establishing a safe area, citing concerns that it would be insufficient to accommodate the population and necessary humanitarian aid. Additionally, Israel was advised to conduct operations with increased precision in southern Gaza to reduce the risk of harming civilians. 
Blinken had arrived for his fourth trip to Israel the day before the pause in fighting ended and repeated previous admonitions to de-escalate tensions in the West Bank and hold settler extremists accountable for anti-Palestinian violence. He also continued to emphasize the administration's concern with what would happen to Gaza after the war, reiterating U.S. opposition to renewed occupation and settlement in Gaza.
Blinken elaborated on his expectations, "taking more effective steps to protect the lives of civilians, including by clearly and precisely designating areas and places in southern and central Gaza where they can be safe and out of the line of fire. It means avoiding further significant displacement of civilians inside of Gaza. It means avoiding damage to life-critical infrastructure, like hospitals, like power stations, like water facilities. And it means giving civilians who've been displaced to southern Gaza the choice to return to the north as soon as conditions permit. There must be no enduring internal displacement."
Netanyahu said, "I told him we have sworn, and I have sworn, to eradicate Hamas. Nothing will stop us."
International Responses
Romanian Prime Minister Marcel Ciolacu and German Chancellor Olaf Scholz flew to Tel Aviv and met with Netanyahu. Scholz declared that "German history and our responsibility arising from the Holocaust make it our task to ensure Israel's existence and security" and warned "all other players not to enter this conflict" as it would be "a big and unforgivable mistake."
At least 12 Germans were believed to be among the hostages held by Hamas. Another who appeared to be abused in a Hamas video was found dead.
German Interior Minister Nancy Faeser said on November 1 that Hamas-related activity would be banned. She also announced the German branch of the Samidoun Palestinian Prisoner Solidarity Network would be dissolved because it "supports and glorifies" groups, including Hamas.
After the war began, anti-Semitic incidents in Germany increased dramatically. 
In one instance, a Berlin synagogue was firebombed, and there were several reported instances of Star of David symbols being painted on the homes of Jewish residents in Berlin.
On October 19, the day after Biden left Israel, British Prime Minister Rishi Sunak arrived. "I am in Israel, a nation in grief," Sunak said. "I grieve with you and stand with you against the evil that is terrorism." After meeting with the families of British victims, he wrote, "We support, absolutely, Israel's right to defend itself against this murderous enemy. More than a right, it has a duty to its citizens to restore the country's security and bring the hostages home."
"In that vein, we will stand with Israel; we will stand with you in solidarity with your people and your right to defend yourself, to bring security back to your country, to your people, to ensure the safe return of the hostages that have been taken. You have not just a right to do that, I think you have a duty to do that, to restore that security to your country," added Sunak.
The UK also became directly involved in the war. In November, James Heappey, Minister of State for the Armed Forces, said, "A total of 12 aircraft have deployed to the eastern Mediterranean. These flights have provided surveillance support to Israel, including preventing the transfer of weapons to terrorist groups, and to wider regional security. They have also delivered humanitarian aid into Egypt."
French President Emmanuel Macron met with Netanyahu on October 24. "We will fight against this terror together, the way we fought against ISIS," Macron said.
Anti-Israel protests spread around the world, with hundreds of thousands demonstrating in London, Istanbul, and other cities. Lord Ian Austin witnessed the October 28 London march and observed that there were "lots of signs calling for Israel to be eradicated. [But I] didn't see any calling for peace, a two-state solution, Gaza to be freed from Hamas or hostages to be released."
Relations between Israel and parts of Latin America deteriorated as the war intensified. Bolivia announced it was cutting diplomatic ties with Israel. Bolivia had previously protested an earlier Gaza operation and severed ties in 2009. Relations were not restored until 2019. Chile, Colombia, and Honduras recalled their ambassadors.
On November 13, the 27 European Union states condemned Hamas for using hospitals and civilians as "human shields," and the premiers of Germany, Spain, Denmark, and Romania, issued a joint statement supporting Israel's right to self-defense and urging Hamas to release the hostages.
Arab/Muslim Reaction and Supporters of Hamas
Hamas hoped its usual rhetoric about "defending the al-Aqsa Mosque" and its "courageous" attack on the "Zionists" would engender support from Muslims worldwide and provoke an uprising of Palestinians in the West Bank and Israeli Arabs within Israel. It did not.
Israel was not engaged in any activity on the Temple Mount, and many Muslims were horrified by the atrocities committed by Hamas, which they saw as a perversion of Islam. Israeli Arabs were equally appalled when they saw that Hamas did not attack soldiers of the "occupation" but civilians. They murdered indiscriminately, killing Arabs, Thai workers, and peace activists, dragging away infants, women, the disabled, and the elderly to tunnels in Gaza.
Arab Knesset member Ayman Odeh said: "Any call for militant actions and igniting a war between Arabs and Jews inside Israel is something we will not accept."
Similarly, Mansour Abbas, Knesset member and leader of the Islamic Ra'am Party, wrote to his followers: "I call on Arab citizens and all Arab and Jewish citizens to maintain restraint and behave responsibly and patiently, and to maintain law and order." He also called on Hamas to "release the captives in your hands. Islamic values command us not to imprison women, children, and the elderly." 
Haaretz reported that "most leading media outlets in the Arab world have ignored the attacks on Israeli civilians. They haven't reported on Hamas's atrocities and haven't mentioned the 240 or so hostages that were taken."
Anti-Israel demonstrations have taken place throughout the Middle East, but leaders have expressed a range of views.
The United States pressured Palestinian Authority President Mahmoud Abbas to condemn Hamas, which is also his enemy. Using almost the same language that President Biden expressed in his call with him, Abbas said Hamas's actions "do not represent the Palestinian people." He subsequently backtracked.
Meanwhile, Fatah's Central Committee sent "greetings of appreciation and pride" to the  "martyrs" and congratulated "the forces of heroism" who massacred Jews. It also called on the Palestinian public to "answer the calls to confront" Israel and escalate the situation on the ground "in every conflict area and throughout the homeland" to aid the Palestinians in Gaza.
Fatah also released a video showing members of its Al-Aqsa Martyrs' Brigades participating and bragging about their role in the massacre. In a video posted on Telegram, a terrorist says they broke into the Nahal Oz kibbutz, plundered it, "killed soldiers, and stepped on their heads."
Egypt, which is mostly concerned with Palestinians crossing its border, urged restraint, as did Jordan. Israel's peace partners from the Abraham Accords, Bahrain, and the United Arab Emirates, condemned Hamas. Bahrain's Crown Prince Salman bin Hamad Al Khalifa said the massacre of Israelis was barbaric and horrific, and called for the release of the Israeli hostages. Dr. Ali Rashid Al Nuaimi, chairman of the Defense, Interior, and Foreign Affairs Committee of the United Arab Emirates Federal National Council, made clear that his country would not withdraw from the Accords. "The Accords are our future," he said. "It is not an agreement between two governments, but a platform that we believe should transform the region where everyone will enjoy security, stability and prosperity."
Iran, Iraq, Qatar, Turkey, Syria, and Lebanon cheered the Hamas attack. Other Muslim and Arab states that could not bring themselves to condemn Hamas offered only minimal support for the Palestinians. Saudi Arabia blamed "the continued occupation."
Some individuals were willing to go against the tide. One journalist, for example, wrote on X, "Any Kuwaiti who forgets the treachery of the Palestinian leadership is ignorant. My solidarity is with the Palestinian and the Israeli people. We want to uproot Hamas and the PLO." Expressing his disdain for their corruption of the religion, he said, "They killed an Israeli woman, took offer her clothes, smashed her, and marched around in victory…but victory for what?! Are these the principles of Islam?!"
Another Kuwaiti expressed the view of other Muslims and Arabs. Sheikh Yasser al-Habib said, "Who among us does not enjoy the revenge against the Zionist enemy? We were all excited by the news when it first reached us." Even he changed his view when the atrocities were uncovered. "Where have the ethics of warfare gone?" he wrote. "What was the reason for these atrocities that were committed?"
Amjad Taha, a Saudi influencer and an expert in politics and diplomatic strategy with almost half a million followers, tweeted in Hebrew: "In the Arab, Muslim, and free world, we support Israel and condemn the Palestinian terror attacks. As you can see in today's videos, it is a struggle between a civilized nation and barbaric militias."
Other social media influencers have expressed support for Hamas. The Qatari-backed al-Jazeera propaganda network is also stoking anger toward Israel.
Meanwhile, large demonstrations outside the Middle East supported Hamas. Some of the most vocal support came from pro-Palestinian groups on college campuses. At Harvard, for example, 31 student organizations signed a statement praising Hamas. Students for Justice in Palestine chapters across the United States expressed support for the massacre, sometimes with the backing of other campus groups. Some faculty also sided with Hamas. Supporters of Israel put up posters with pictures of hostages, many of which were torn down.
The hostility toward Israel, especially across the Middle East, increased exponentially after an explosion at the Al-Ahli Hospital killed dozens of people sheltering there (see more below). Hamas and much of the media immediately blamed Israel, setting off riots in the West Bank and elsewhere. Riots also took place outside Israeli and American embassies in Jordan, Turkey, and Lebanon, and a synagogue in Berlin was firebombed. 
Just as ties had begun to improve, Turkish President Recep Tayyip Erdogan declared that Hamas is a "liberation group waging a battle to protect its land." He also canceled a planned trip to Israel, later recalled his ambassador, and declared, "Netanyahu is no longer someone we can talk to. We have written him off."
On November 10, Haaretz reported that leaders from the Gulf, Iran, Egypt, Jordan, Turkey, and Syria called for an end to "Israeli aggression against Gaza," more humanitarian aid, and a freeze on international arms exports to Israel at an  Islamic-Arab summit in Riyadh. Saudi Crown Prince Mohammed bin Salman said Israel bears responsibility for "crimes committed against Palestinian people."
Nevertheless, the Saudis and the Abraham Accords signatories blocked a resolution to prevent the transfer of U.S. military equipment to Israel from American bases in the Middle East region, suspend all diplomatic and economic contacts with Israel, cut back oil sales to the United States over Washington's support for Israel; stop Israeli air traffic over the skies of the Gulf and send a joint delegation to the United States, Europe, and Russia to push for a ceasefire.
Mohammed bin Salman called for a global export ban on arms to Israel, but this was probably just rhetoric to satisfy. his public as he knows Israel gets most of its arms from the United States, which will not stop the transfer of weapons.
The United Nations
The United States vetoed a UN Security Council resolution calling for a "humanitarian pause" in the fighting. "The United States is disappointed this resolution made no mention of Israel's right of self-defense," said U.S. Ambassador to the UN Linda Thomas-Greenfield. "Like every nation in the world, Israel has the inherent right of self-defense, as reflected in Article 51 of the UN Charter."
The resolution also did not mention Hamas, saying only that the council "firmly condemns all violence and hostilities against civilians and all acts of terrorism."
On October 26, a U.S. resolution condemning Hamas and calling for "humanitarian pauses" in the fighting was vetoed by China and Russia.
The resolution also did not mention Hamas, saying only that the council "firmly condemns all violence and hostilities against civilians and all acts of terrorism."
The next day, the General Assembly overwhelmingly adopted a resolution calling for an "immediate, durable and sustained humanitarian truce leading to a cessation of hostilities." Israel and the United States voted against the resolution.
The UAE introduced a resolution on December 8 describing the humanitarian situation in Gaza as "catastrophic" and demanding "an immediate humanitarian ceasefire."
The Situation in Gaza
Hamas did not warn Palestinians in Gaza of its intention to attack Israel on October 7, 2023. Knowing Israel would retaliate, Palestinians were used as shields. Hamas guaranteed civilians would be killed by firing rockets from civilian areas and hiding among them.
As Israel launched airstrikes against Hamas targets in Gaza, warnings were issued for civilians to evacuate targeted areas. Despite the risk of giving terrorists the chance to flee, a forewarning is also given before bombing buildings where non-combatants live. Palestinians also receive phone messages. The IDF's Arab-language channels shared videos on social media providing Gazans instructions on where to go to be safe.
Within the first few days of the war, nearly 200,000 Gazans had fled. As in the past, many civilians found shelter in UNRWA schools.
Israel dropped leaflets on October 13, telling all civilians to move south, but Hamas told them to stay in their homes. Many still tried to reach the southern border with Egypt, but the crossing was closed by the Egyptians, who did not want to be responsible for hundreds of thousands of Palestinian refugees and the possibility of Hamas infiltrators who are affiliated with the regime's greatest enemy – the Muslim Brotherhood.
Israel cut off food, fuel, electricity, and water as part of its siege. Under pressure from the U.S., however, Israel agreed on October 16 to allow trucks carrying water and medicine to enter Gaza through Egypt. The decision to prohibit fuel was aimed at preventing Hamas from shifting its allocation from humanitarian purposes to operating generators within its tunnels.
The UN accused Israel of creating a humanitarian disaster and placing impossible demands on people to flee within a matter of hours. Israel's Ambassador to the UN, Gilad Erdan, said, "The United Nations has turned a blind eye to Hamas' arming and its use of the civilian population and civilian infrastructure in the Gaza Strip as a hiding place for its weapons and murder, and now, instead of standing by Israel, whose citizens were slaughtered by Hamas terrorists and which tries to minimize harm to those not involved, it is preaching to Israel."
Israel was further outraged and called for the resignation of Secretary-General Antonio Guterres after he blamed Israel for the Hamas attack and said Israel's response was "collective punishment."
The United States was reportedly working with Qatar to convince the Egyptians to open the border but seemed primarily concerned with providing passage to the 500-600 American passport holders who were advised to move toward the Rafah border crossing. Egypt did not open the crossing; instead, it placed concrete slabs to block it.
Alqahera News reported on October 14, quoting Egyptian sources, "Egyptian authorities have rejected the idea of using the Rafah crossing only for foreigners. They added, 'The Egyptian position is clear,' and that it requires the facilitation of the entry and passage of aid to the Gaza Strip."
Meanwhile, Israel continued to launch waves of airstrikes in what was expected to be the prelude to a ground operation.
Egypt continued to come under pressure to open the crossing, allowing Gazans to leave and supplies to come in. 
As in past conflicts in Gaza, the media narrative began to shift from focusing on the murder of Israelis to the conditions in Gaza. After Israel announced civilians in the north would have 24 hours to move south of Gaza City, reports highlighted the difficulty of more than one million people moving in such a short period. Hospitals, in particular, were said to have no way to transport patients. The commentary neglected to mention that the distance needed to reach safety was usually less than five miles.
The 24-hour deadline allowed civilians to leave the area before an expected ground operation. Israel let the deadline slip when it became clear the area would not be cleared in time.
As images of wounded and dead Palestinians began to proliferate, U.S. officials increasingly emphasized that while Israel had the right to defend itself, the IDF must adhere to the laws of war.
Despite repeated airstrikes by Israel, Hamas managed to continue launching rockets, setting off alerts in Tel Aviv, where Netanyahu and Blinken were forced to take shelter, and Jerusalem during a Knesset session. The communities near the Gaza border that had been attacked were evacuated. 
Israel was attracting more criticism over its airstrikes in what appeared to be civilian areas. "You may have seen footage on TV or on social media, and you may see a building standing and then flashes,, and then the building collapses, and you say to yourself, well, that looks very much like a civilian building," explained IDF Spokesperson Lt. Col. Jonathan Conricus. "What I want to tell you is that, no, that isn't a civilian building. It is a legitimate military target. And why is that? Because Hamas uses all, locates all of their offices, headquarters, their research and development and all of their other military assets, If it's above ground, they locate themselves in civilian buildings."
On October 17, the Al-Ahli Hospital was reportedly hit by a rocket. Hamas and the media immediately blamed Israel. Riots broke out in Ramallah and elsewhere around the region. The IDF was slow to respond because it wanted to be sure it had the correct information on the cause of the blast. While waiting for the IDF, the media showed gruesome pictures from the hospital and repeated Hamas propaganda that more than 400 people were killed, which inflamed the situation.
The IDF later announced that it had determined the hospital had been hit by a rocket launched by Palestinian Islamic Jihad that misfired. The IDF also released a video of the rocket failure and a recording it intercepted that indicated Hamas knew PIJ was responsible. The number of casualties was also believed to be 100-300.
While the media throughout the conflict has unquestioningly accepted Hamas's claims and statistics provided by its Health Ministry, journalists doubted the veracity of Israel's explanation. When he arrived in Israel the following day, after receiving U.S. and Israeli intelligence, President Biden exonerated Israel, saying, "I'm deeply saddened and outraged by the explosion at the hospital in Gaza yesterday, and based on what I've seen, it appears as though it was done by the other team, not you."
Canadian and French intelligence concurred. 
It was not until November 26 that Human Rights Watch admitted Israel was not responsible: "The explosion that killed and injured many civilians at Al-Ahli Arab Hospital in Gaza on October 17, 2023, resulted from an apparent rocket-propelled munition, such as those commonly used by Palestinian armed groups, that hit the hospital grounds." Also,  contrary to initial reports that said the hospital was it, HRW said the unidentified munition "hit a paved area inside the hospital compound, between a parking lot and a landscaped area."
After almost two weeks of resistance, Egypt announced on October 19 that it would allow humanitarian aid to enter Gaza through the Rafah border crossing, but it did not. More than 100 trucks carrying supplies were held up at the border, waiting for it to be opened. The decision came after pressure from the United States. Though he had refused to meet with Biden after his visit to Israel, the president did speak by phone to President Abdel Fattah el-Sisi about opening the crossing from his plane.
While the opening had been a request of the international community and agreed to by the Israeli government, it upset the families of Israeli hostages. "The decision to allow humanitarian aid to the murderers of Gaza has caused great anger among the family members," the Bring Them Home Now organization said in a statement. "We remind you that children, babies, women, soldiers, men and the elderly—some of whom have serious health issues, are wounded … are being held underground like animals without any human conditions, and the government of Israel is treating the murderers to baklava and medicine."
The Rafah crossing finally opened on October 21, and 35 trucks carrying humanitarian aid entered Gaza. 
The same day, an international summit on the war opened in Cairo. It was attended by Jordan's King Abdullah, Egyptian President Al-Sisi, Palestinian President Abbas, British Foreign Minister James Cleverly, and UN Secretary-General Guterres. The summit focused on the humanitarian crisis, the release of hostages, the need for regional stability, and for Israel to respect international law in its military response. It concluded without agreement on a joint statement.
British Prime Minister later agreed to provide 20 million pounds ($24.4 million) of humanitarian support for Gaza.
Israel has continued to warn civilians to move south and to evacuate areas targeted by its troops. Hamas, however, has been blocking access roads and shooting at people to prevent them from leaving.
Despite its efforts, Israel was bombarded with international criticism and blamed for the plight of civilians. Under pressure from the United States, Israel reopened pipes to supply water to the Strip and restored communication and the Internet after shutting it down for a day. "We made it clear they had to be turned back on," a U.S. official told the Washington Post. "The communications are back on. They need to stay back on."
Meanwhile, Hamas has plenty of supplies and no intention of sharing them with the population. Officials told the New York Times that Hamas has hundreds of gallons of fuel and stockpiles of food, water, and medicine to allow the terrorists to fight for three to four months. NBC reported Hamas has more than 200,000 gallons of fuel for rockets and generators to provide air and electricity to its tunnels. The IDF also released a recording of the commander of the West Jabaliya Brigade of Hamas speaking to the head of the Indonesian Hospital in Gaza and another Gazan that revealed how fuel from hospitals is stolen.
Foreign nationals also remain trapped in Gaza. Among them are an estimated 200 British citizens and 600 Americans. American officials said that Israel and Egypt were prepared to let foreigners leave, but Hamas has now turned them into additional hostages.
Humanitarian aid was ramping up by the end of October. U.S. officials said 45 trucks had entered on the 29th, and the goal was to increase the number to 100 daily. Israel said its security forces check all food and medicine deliveries before it enters. "All of the deliveries are designated for the civilian population — if it comes to light that they are being taken by Hamas, they will stop," the Prime Minister's office said.
The Times of Israel said it was told, "The trucks first enter Egypt where they undergo an initial round of inspections. They then are driven into Israel through the Nitzana crossing, where they are inspected by Israel's COGAT military liaison before being sent back to Egypt and driven into Gaza through the Rafah crossing."
Inspectors found that one aid truck had oxygen concentrators for aerating Hamas tunnels hidden among boxes of cookies. That truck was prevented from entering Gaza.
On the 31st, Egypt finally consented to allow 81 wounded Gazans to enter Egypt for treatment. Some foreign nationals were also allowed through Rafah on November 1. In the following days, the numbers increased.
Israel agreed to open a corridor for three hours on November 4 to allow civilians to move from the north of Gaza to the safe zone in the south. Hamas fired mortars toward the road to interfere with the evacuation. Operations were suspended for several hours on the following days to facilitate the migration.
In one of the many messages sent to Gazans, the IDF said (translated from Arabic):
O residents of Gaza, join the many who are heading to the south of Wadi Gaza at this hour!
I would like to inform you that although Hamas continues to undermine the ongoing humanitarian efforts on your behalf and uses you as human shields, today the IDF will once again allow passage on the Salah al-Din Road between 10:00 AM and 14:00 PM. For your safety, take this next opportunity to move south beyond Wadi Gaza.
Many of you are doing this at this hour, as you can see in the attached photos that were taken a short while ago.
If you care about yourself and your loved ones, head south according to our instructions. Rest assured that Hamas leaders have already taken care of defending themselves.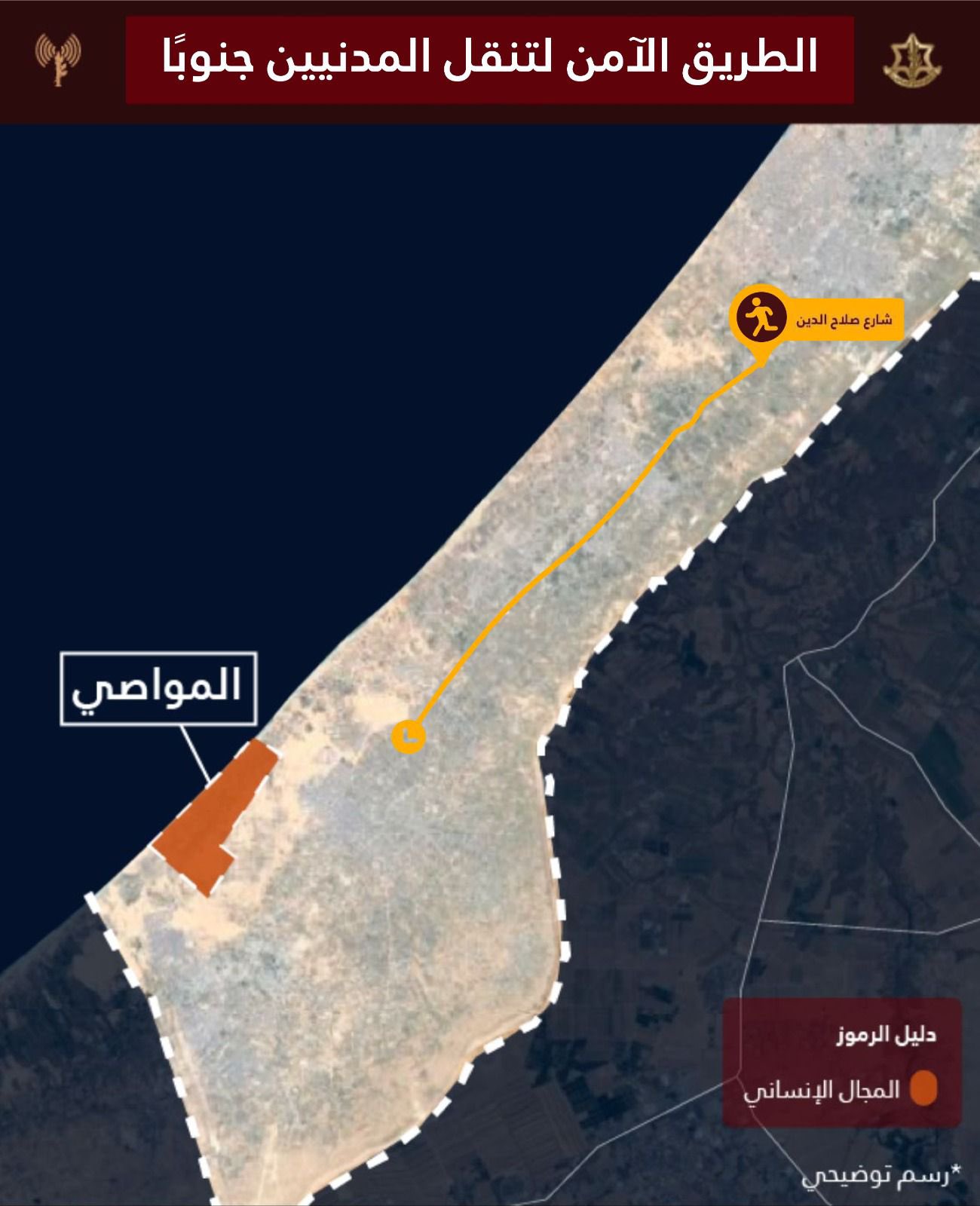 IDF directions for Gazans to move south
As the conditions for civilians in Gaza continued to deteriorate, international calls for a ceasefire were growing. On November 9, French President Macron said, "We need a very rapid humanitarian pause, and we must work toward a cease-fire."
The IDF said on November 10, it killed a Hamas terrorist who held thousands of Gazans hostage in the Rantisi Hospital, preventing their evacuation southwards.
After weeks of refusing to allow fuel into Gaza, Israel consented on November 15 to permit 23,000 liters to be transferred for UNRWA. Over the objections of hostage families and some members of his coalition, Netanyahu agreed to allow fuel trucks to enter Gaza daily for UN use.
The IDF assisted in the evacuation of newborn babies from the Shifa Hospital who were to be transferred to Eygpt for medical treatment.
UNRWA said on November 20 that approximately 1.7 million Gazans had been displaced.
As per the agreement for freeing hostages, Israel allowed a convoy of trucks into Gaza after the ceasefire went into effect on November 24. Israel agreed to allow at least 200 trucks of humanitarian aid for every day the truce held. Still, Biden administration officials told the Times of Israel that the number would unlikely be reached because the IDF lacked the necessary delivery capacity. To compensate, Israel was being pressured to open a second crossing into Gaza. Biden proved wrong, and the required aid was delivered.
While stories had circulated that Gaza's waste treatment had failed, a Haaretz reporter verified it was working. 
As Israel pressed its campaign into the south, civilians were given instructions to move to safe areas. The United States continued to put pressure on the Israeli government to avoid civilian casualties and allow more aid into the Strip. Despite reports of hoarding and stealing of supplies, Israel complied. This included an agreement to provide daily deliveries of fuel, which Israel has resisted because it believes Hamas prevents it from reaching its intended destinations. Strategic Affairs Minister Ron Dermer told the cabinet that increasing fuel supplies was "critical" to ensure the administration's continued support from Washington.
The Biden administration was also leaning on Israel to open the Kerem Shalom crossing for screening humanitarian supplies to speed up their delivery. On December 8, Israel agreed to do so.
The Threat of Regional Escalation
A second front in the war was always a possibility, given Iran's objective of forcing Israel to fight on multiple fronts. Israel has been preparing for years for the possibility of a war in Lebanon and was on alert for any sign Hezbollah might enter the fighting.
Starting the second day of the war, Hezbollah began launching drones and firing anti-tank missiles and mortar shells at IDF positions on the Lebanese border. Israel returned fire. On October 9, several terrorists crossed the border and were killed by Israeli forces.
Tensions continued to grow as Israel's attacks on Gaza intensified. Hezbollah and IDF troops periodically exchanged fire along the border; one Israeli was killed and three wounded by an anti-tank missile. Israel used artillery to shell the area and may have killed a Reuters videographer and injured six other journalists.
Israel ordered 22 communities along the border to evacuate and began moving troops north.
Both Iran and Hezbollah were thought to be more interested in seeing Israel bogged down and bleeding in Israel than mounting a direct assault. Israel had warned Hezbollah before the Gaza War began that it would show no restraint if it were attacked from Lebanon. According to the Washington Institute's Hanin Ghaddar:
The goal of Hezbollah's current strategy seems clear: to reap the benefits of the Hamas-Israel war without losing the military presence it has steadily built up in Lebanon since 2006. Although the group believes that opening another front could temporarily overwhelm Israel per the "united front" strategy designed by Iran's Islamic Revolutionary Guard Corps (IRGC), it also seems to realize that this approach would fail to defeat Israel in the long term—more likely, it would wind up destroying Hezbollah's arsenal and weakening its forces. A full-scale war that ends without clear victory would leave the organization with insufficient funding to restock its military or push a "victory" narrative to its core constituency in Lebanon; the leadership might not even be able to rebuild their strongholds in Beirut and the south.
Ghaddar added that Iran may be satisfied for now with having frozen the Israeli-Saudi normalization process, exposed weaknesses in Israel's intelligence and military strength, and, through its support for Hamas, "caused serious harm inside Israel in retaliation for suspected Israeli operations inside Iran."
The situation could yet spiral out of control as Hezbollah threatens to join the war if Israeli troops move into Gaza incursion.
While the threat from Lebanon has attracted the most attention, Israel is also concerned with the Syrian border. Iranian and Hezbollah forces have been present in Syria since the beginning of the civil war. Iran is believed to have more than 13 military bases with five divisions of troops in Syria, provoking Israel to repeatedly bomb targets in Syria to prevent a buildup of troops and weaponry.
On October 14, rockets were fired at Israel from Syria. Israel responded by bombing the airports in Damascus and Aleppo to interdict Iranian weapons shipments. Israel also began attacking Hezbollah targets in Lebanon. Two days later, the IDF ordered the evacuation of 28 communities within two miles of the border, and Hezbollah and the IDF exchanged fire. An anti-tank missile injured three people in Metula on the 17th, and the IDF killed four would-be infiltrators and five other Hezbollah terrorists. On October 18, Hezbollah destroyed surveillance cameras on several Israeli army posts along the border, further ratcheting up tensions. Israel launched airstrikes in Lebanon the following night.
On October 19, 30 rockets were launched from Lebanon toward Kiryat Shemonah. They were believed to have been shot by Hamas. A father and his daughter were wounded.
The same day, a U.S. Navy destroyer in the Red Sea intercepted four land attack cruise missiles and 15 drones during a nine-hour barrage launched by Houthi forces in Yemen. It was not immediately clear if they targeted the ship or Israel. It appeared the latter was more likely. Elsewhere, in Syria and Iraq, U.S. forces were attacked by rockets and drones. 
Hezbollah continued to fire rockets and anti-tank missiles into Israel on October 21. The IDF returned fire. On a visit to the area, Gallant said, "Hezbollah has decided to join the combat and is paying a price for it, and we must prepare for any possibility. Great challenges lie ahead."
Provocations continued from both Lebanon and Syria. In response to rocket launches from Syria toward Israel on October 24, IDF fighter jets struck military infrastructure and mortar launchers belonging to the Syrian Army. The IDF has intercepted drones from Lebanon and eliminated more than 20 Hezbollah cells. 
Another 14 communities close to the Lebanese border were set to be evacuated and settled in state-funded guest houses. Many residents began moving south when attacks from Lebanon escalated. An estimated 250,000 Israelis were displaced from 64 evacuated towns.
Hezbollah is coordinating activities with the Gaza terrorists. According to a report by Hezbollah's al-Manar TV, Hezbollah chief Hassan Nasrallah met with the head of Palestinian Islamic Jihad, Ziad Nahleh, and the deputy head of Hamas' political bureau, Saleh al-Arouri to discuss the path to "real victory."
On October 29, the IDF destroyed several Hezbollah observation posts in southern Lebanon in response to four separate rocket and missile attacks. The IDF intercepted a surface-to-air missile that was launched from Lebanese territory on the 31st. Exchanges of fire continued daily, prompting thousands of Lebanese civilians near the border to move north.
The Iran-backed Houthi rebels in Yemen fired a ballistic missile toward Eilat, which was intercepted outside the Earth's atmosphere by the Arrow air defense system in its first test of the war and what was believed to be the first combat ever to take place in space.
Israeli Air Force fighters also shot down drones over the Red Sea launched from Yemen. Israel subsequently deployed missile boats to the Red Sea. F-35I Adir fighter jets shot down a cruise missile, the first known cruise missile intercept by the American-made stealth fighter.
A spokesperson for the Houthis said on October 31they had launched three attacks and would "continue to carry out more qualitative strikes with missiles and drones until the Israeli aggression stops."
Hamas in Lebanon fired 12 rockets at Kiryat Shmona on November 2, wounding two people and causing widespread damage.
In a much-anticipated speech on November 3, Nasrallah denied that Hezbollah was aware of the Hamas plan or had any part in it but expressed solidarity with the Palestinians and their "martyrs." He was vague, however, about whether Hezbollah would intensify its attacks. "Some claim Hezbollah is about to join the fray. I tell you: We have been engaged in this battle since October 8," he said. "Some would like Hezbollah to engage in an all-out war, but I can tell you: What is happening now along the Israeli-Lebanese border is significant, and it is not the end."
Nasrallah and Netanyahu also exchanged threats. In his speech, the Hezbollah leader said, "I tell the Israelis, if you are considering carrying out a preemptive attack against Lebanon, it will be the most foolish mistake you make in your entire existence." Israel's prime minister responded that Israel's "enemies in the north" should not escalate the war. "You cannot imagine how much this will cost you," he declared.
He also accused Biden of making a "fake argument that Hamas cut off children's heads (without) evidence."
Violence along the border escalated after his speech, with one Israeli civilian killed by an anti-tank missile fired from Lebanon and Israel launching new airstrikes on Hezbollah targets. On November 6, 30 rockets were fired from Lebanon. There were no reports of damage or injuries, and the IAF responded with strikes on Hezbollah targets. Kiryat Shemonah continued to be bombarded, and the estimated 3,000 residents who remained after the town was evacuated were advised again to leave.
Chief of Staff Halevi said the military was "ready at any moment to go on the offense in the north."
Undeterred, Hezbollah fired 20 rockets into Israel on November 7. IAF jets destroyed a Hezbollah weapons warehouse, rocket fire installations, and infrastructure for directing terror attacks.
On November 8, the Pentagon reported that a U.S. military surveillance drone was shot down off the coast of Yemen by the Houthis.
On November 10, a drone fired from Syria hit a school in Eilat. Some 40 students were in the basement at the time but had no serious injuries. Israel responded with an airstrike targeting the group that launched the drone. Hezbollah said seven of its fighters were killed but didn't say if it was from the Israeli attack.
Nasrallah made another speech saying that Iran supports the "axis of resistance" (including Hamas, Hezbollah, Yemen's Houthis, and Iraqi Shia groups). He admitted Arab states felt no compulsion to go to war with Israel but insisted they pressure the United States to call for a ceasefire.
On November 11, six Israeli civilians were wounded by anti-tank missiles fired from Lebanon as violence continued to escalate. The following day, eight soldiers and ten civilians (six making repairs for the Israel Electricity Corporation) were wounded by missiles. Multiple rockets were fired, four were intercepted, and the rest fell in open areas. Another 20 rockets were fired on the 13th. The IAF responded with airstrikes.
The U.S. shot down a drone launched toward Israel from Yemen on November 15.
Hezbollah continued to fire at Israeli targets. On November 17, more than ten missile and mortar attacks came from Lebanon. An anti-tank missile wounded four Israelis. The IDF  responded with artillery shelling and airstrikes.
On November 19, Houthi rebels hijacked a cargo ship they mistakenly believed was Israeli. None of the crewmembers were Israeli. Drones and missiles also were fired from Yemen that were intercepted by the Saudis, Americans, and Israelis.
On November 26, the U.S. Navy responded to a distress call from a tanker hijacked by rebels and captured five armed individuals who attempted to flee in a small boat. The following day, U.S. Central Command (CENTCOM) announced two ballistic missiles had been launched from Yemen toward an American destroyer in the Gulf of Aden but fell into the sea far from the ship.
Hezbollah ceased its attacks during the pause in fighting when Israel and Hamas exchanged prisoners for hostages. Once Hamas broke the ceasefire, Hezbollah resumed its attacks, which seemed to be carefully calibrated to avoid provoking a large-scale Israeli response. Rockets, mortars, and anti-tank missiles were directed at areas close to the border. Israel struck the source of the fire and, in one case inadvertently hit an area that caused casualties to the Lebanese army. The IDF said it "regretted an incident."
On December 7, an Israeli civilian was killed by an anti-tank missile fired from Lebanon.
After Israel shot down a fourth missile from Yemen, the U.S. reportedly told Israel it would respond to the Houthis to avoid an expansion of the conflict.
Meanwhile, Bloomberg reported that Saudi Arabia offered increased cooperation and investment in Iran if it prevented its proxies from expanding the war beyond Gaza.
Casualties
In Israel, the death toll for the massacre on October 7 was initially believed to exceed 1,400; however, by December 4, it was updated to 1,151, with some people still unaccounted for and the remains of others unidentified. The number included 274 IDF soldiers, 764 civilians, 57 Israel Police officers, and 38 local security officers. The fatalities included two infants, 12 children under the age of 10, 36 youths aged 10-19, and 25 people over the age of 80. Three soldiers who were kidnapped were declared dead on November 28. In addition, Hamas held the bodies of 15 civilians and members of the security forces. 
Of the 278 injured, 40 were in serious condition in hospitals, 164 were in moderate condition, and 14 were in good condition. 
Approximately 200 foreigners, including those holding dual nationality, were killed. Among them are 31 U.S. citizens, 30 Thais, 30 French, 19 Russian, 18 Ukrainian, 10 British and Nepalis, 9 Argentines, 6 Canadians, and 4 Filipinos and Chinese. 
The doctors at the Israeli National Center of Forensic Medicine of the Ministry of Health have worked nonstop to identify the remains of the victims of the October 7 massacre but admit some bodies were so severely mutilated, burned, and brutalized that they may never be identified. As one member of the staff explained:
The process of identifying the victims is sad and very complex. The sights are very hard, and the stories are even harder. We see young and old women and children, shot in all parts of their bodies, some cuffed, some burned alive, their bodies intertwined, parents hugging their child. Some of them were left with only ashes and tiny fragments of bone. Never, in all my professional life, have I seen such great cruelty and unimaginable evil.
Israeli archaeologists have been called to help collect and identify remains. "As archaeologists, we are trained to identify human remains that others may miss," Moshe Ajami, the deputy head of Israel's Antiquities Authority, told the New York Times.
Approximately 7,262 Israelis were wounded as of November 13.
The death toll of soldiers after the ground operation began in Gaza was 89 as of December 7. The total, including those killed inside Israel battling terrorists after the invasion, is 407. Seven soldiers and one civilian were killed near the northern border.
On November 30, two Israelis thought to be held hostage were found to have been killed.
The media has focused on hundreds of thousands of Palestinians forced to flee from their homes by the violence. Little attention has been paid to the estimated 125,000 Israelis from 64 towns who have been evacuated from their homes in the north and south. 
The Hamas-run Health Ministry claimed that more than 2,300 civilians, including 724 children and 458 women, were killed in the first week. The Ministry's figures in past conflicts were inaccurate. They failed to distinguish between terrorists, civilians, and people killed from misfired Hamas rockets. The Ministry did not say a single member of Hamas had been killed, suggesting that the hundreds of Israeli airstrikes somehow managed to miss all their targets.
Luke Baker, who was in charge of coverage of the Israeli-Palestinian conflict for Reuters from 2014 until 2017, said Hamas "has squeezed the life out of honesty and probity. Any health official stepping out of line and not giving the death tolls that Hamas wants reported to journalists risks serious consequences." He added, "Hamas has a clear propaganda incentive to inflate civilian casualties as much as possible."
Similarly, President Biden said he has "no confidence in the number that the Palestinians are using" and "I have no notion that the Palestinians are telling the truth about how many people are killed."
Still, the media continued to report the unverified claims of the Hamas ministry, which said more than 17,177 Palestinians had been killed by December 7.
Israel has not published a tally of the enemy killed – estimates were as high as 6,000 – but did publish the names of some of the commanders it eliminated. They include:
Ali Qadi, the leader of the Nakba Force responsible for the massacre on October 7.
Merad Abu Merad, the head of the Hamas aerial system, was also responsible for the invasion.
Asma-al-Mazini, the head of Hamas's Shura Council and a minister responsible for Hamas prisoners in Israeli jails.
Ayman Nofal, the commander of Hama's Central Gaza Brigade and a member of its General Military Council.
Mohsen Abu Zina, the head of weapons and industries.
Wael Asefa, commander of Deir al-Batah battalion.
Ahmed Ghandour, commander of the northern Gaza brigade, who was involved in the abduction of Gilad Shalit in 2006.
Ayman Siam, head of Hamas's rocket firing array.
The Day After
The Biden administration increasingly focused on what would happen to Gaza after the war ended. Blinken is insisting on pursuing the two-state solution to offer the Palestinians hope of achieving a political victory following Hamas's defeat. State Department spokesman Vedant Patel said, "There is no returning to the October 6 status quo" and "our viewpoint is that Palestinians must be at the forefront of these decisions and Gaza is Palestinian land, and it will remain Palestinian land." 
The Israeli government, which opposed the idea of a Palestinian state before the war, gave no indication it was going to change its position. In the short term, Netanyahu said, "I think Israel will for an indefinite period have security responsibility" for Gaza. He ruled out any international force and insisted Gaza must be demilitarized..
Minister Gideon Sa'ar explained the most likely scenario: 
There will be security strips of one kilometer, or whatever is defined, to which it is forbidden to approach. Maybe we will put mines there; I'm not going to decide now. But our kibbutzs and our towns near the border need security the day after they return at the end of the operation. We will give them the confidence to return there. And they will.
The administration opposes Israel's reoccupation of Gaza and has suggested that the Palestinian Authority take over responsibility for the Strip. Israelis, however, do not believe the hugely unpopular PA is capable of controlling the area, given its inability to manage the West Bank effectively and its failure in Gaza when it was the authority there.
Israel must also worry about Hamas terrorists in the West Bank. Simultaneously with the Gaza offensive, the IDF staged raids to kill and arrest Hamas members on its eastern border. MEMRI translated a message from the West Bank branch of Hamas's student organization calling on Palestinians there to imitate the October 7 attack, and the group posted operational instructions for carrying out terrorist attacks.
Israel will have its own rebuilding effort after the war. In addition to the communities in the south that were overrun with terrorists, the country will have to recover from the tremendous economic cost of the war and the reservists who had to leave their jobs. In early November, the Bank of Israel said the absence of workers cost the economy about $600 million per week.
Massacre Denial
The PA sent out a statement to foreign ministries and the UN claiming that Israeli helicopters caused the deaths of the Israelis at the Nova music festival. Hamas made a similar claim after Haaretz reported that a police investigation determined that an IDF helicopter may have hit some Israelis when it fired at terrorists attacking the concertgoers. A police statement denied this had been the finding, saying that the helicopter arrived hours after the massacre began. The report focused on the bravery of police officers on the scene. 
Netanyahu responded: "Today, the Palestinian Authority in Ramallah said something utterly preposterous. It denied that it was Hamas that carried out the horrible massacre at the nature festival near Gaza. It actually accused Israel of carrying out that massacre. This is a complete reversal of truth."
---
Sources: Joshua Levitt, "Finnish TV Reporter at Gaza's Al Shifa Hospital: 'It's True That Rockets Are Launched Here From the Gazan Side Into Israel,'" Algemeiner, (August 1, 2014).
Gal Beckerman, "'The Middle East Region Is Quieter Today Than It Has Been in Two Decades,'" The Atlantic, (October 7, 2023).
Summer Said, "Iran Helped Plot Attack on Israel Over Several Weeks," Wall Street Journal, (October 8, 2023).
Cara Tabachnick and Khaled Wassef, "Middle East leaders praise and condemn Hamas attacks against Israel," CBS News, (October 8, 2023).
Courtney Kube, "U.S. is sending a carrier strike group closer to Israel and will begin supplying munitions starting Sunday," NBC News, (October 8, 2023).
Sheren Falah Saab, "Support for Israel in Arab World No Longer Taboo," Haaretz, (October 8, 2023).
"Hamas carried out years-long campaign to fool Israel before attack, source says," Times of Israel, (October 9, 2023).
Emanuel Fabian, "IDF: Israeli Navy commandos take senior Hamas member captive," Times of Israel, (October 9, 2023).
Yoav Zitun, Ilana Curiel, Elisha Ben Kimon, Meir Turgeman, Israel Moskvitz, Roni Green Shaulov, "Commanders, soldiers, police officers: The names of the heroes who died defending Israel," Ynet, (October 9, 2023).
Meg Kelly and Sarah Cahlan, "Video shows apparent death of Israeli hostages in Hamas custody," Washington Post, (October 9, 2023).
"Qatar leading talks to swap Hamas-held hostages for Palestinians in Israeli jails," Reuters, (October 9, 2023).
Emanuel Fabian, "Defense minister announces 'complete siege' of Gaza: No power, food or fuel," Times of Israel, (October 9, 2023).
Gianluca Pacchiani, "IDF instructs Gazans on evacuation routes, while many find shelter in UNRWA schools," Times of Israel, October 9, 2023).
Miranda Nazzaro, "Number of displaced in Gaza surpasses 187,000 as dozens of towns evacuate, U.N. office says," The Hill, (October 9, 2023).
Mounir Rabih, "How Hamas, Hezbollah and Iran carefully planned an unprecedented offensive in Israel," L'Orient Today, (October 9, 2023).
Leily Nikounazar, "Iran's Supreme Leader Issues Tehran's Latest Denial of Involvement in Israel Attacks," New York Times, (October 10, 2023).
"Transcript: Mayor Adams Delivers Remarks at 'New York Stands With Israel' Rally," NYC, (October 10, 2023).
Lazar Berman, "'At least 40 babies killed': Foreign reporters taken to massacre site in Kfar Aza," Times of Israel, (October 10, 2023).
Samia Nakhoul and Jonathan Saul, "How Hamas duped Israel as it planned devastating attack," Reuters, (October 10, 2023).
Canaan Lidor, "In Ofakim, one woman's graceful bravery offers precious solace to a grieving nation," Times of Israel, (October 10, 2023).
Hana Levi Julian, "Residents in Dozens of Northern Israel Communities Race for Cover as Sirens Are Activated," Jewish Press, (October 11, 2023).
Hiba Yazbek and Nicholas Casey, "Israel Agrees to Unity Government as War With Hamas Intensifies," New York Times, (October 11, 2023).
"Hamas Leaves Trail of Terror in Israel," New York Times, (October 11, 2023).
@MEMRIReports, (October 11, 2023).
"Hamas' Attack on Israel Messages: Swords of Iron - War in the South," Israel Ministry for Diaspora Affairs and Combating Antisemitism, (October 11, 2023).
Sharon Wrobel, "Israeli victims' credit cards reportedly abused by terrorists after Hamas onslaught," Times of Israel, (October 11, 2023).
Marc Rod, "In Washington, a massive show of support for Israel on Capitol Hill," Jewish Insider, (October 11, 2023).
Nicholas Bogel-Burroughs, Roni Rabin, and Corey Kilgannon, "What We Know About the Americans Missing or Killed in Israel," New York Times, (October 11, 2023).
Ron Kampeas, "Biden: 'I have not given up hope' on rescuing hostages held by Hamas," JTA, (October 11, 2023).
"Egyptian official source denies warning Israel of attack from Gaza," Egypt Today, (October 11, 2023).
Jessica Schladebeck and Theresa Braine, "Israeli PM Netanyahu vows to 'crush and destroy' Hamas as airstrikes continue; U.S. citizen deaths climb to 22," Daily News, (October 11, 2023).
"Fatah Calls On The Palestinian Public To 'Stand With Gaza' By Escalating The Conflict With Israel Everywhere," MEMRI, (October 11, 2023).
Rob Crilly, "First planeload of US AMMUNITION arrives in Israel to help arm massive ground assault on Gaza and more interceptors for Iron Dome may also be on board," Daily Mail, (October 11, 2023).
Emanuel Fabian, "Air Force chief vows to get to everyone involved in Hamas's murderous assault," Times of Israel, (October 12, 2023).
Hanin Ghaddar, "Hezbollah Miscalculations and the Gaza War," Washington Institute, (October 12, 2023).
Yoav Zitun, "Watch: Israeli commandos lock horns with Hamas terrorists in daring operation," Ynet, (October 12, 2023).
David S. Cloud, Anat Peled, and Dov Lieber, "Hamas Militants Had Detailed Maps of Israeli Towns, Military Bases and Infiltration Routes," Wall Street Journal, (October 12, 2023).
"Hamas has failed to rally the Middle East to its cause," The Economist, (October 12, 2023).
@SecBlinken, (October 12, 2023).
"Hamas hostages: Who are the people taken from Israel?" BBC, (October 12, 2023).
Arman Mahmoudian, "Hamas is Only One of Four Iranian Fronts Against Israel," Stimson, (October 12, 2023).
"Israel Under Attack – Open Letter," Creative Community for Peace, (October 12, 2023).
"'The horror': Israeli collecting corpses near Gaza," AFP, (October 12, 2023).
Joseph Clark, "Austin: U.S. Commitment to Israel Is 'Ironclad,'" U.S. Department of Defense, (October 13, 2023).
Adam Rasgon and David D. Kirkpatrick, "What Was Hamas Thinking?" The New Yorker, (October 13, 2023).
Anna Schecter, "'Top secret' Hamas documents show that terrorists intentionally targeted elementary schools and a youth center, NBC News, (October 13, 2023).
Ghaith al-Omari, "Hamas Has Fractured the Arab World," Foreign Affairs, (October 13, 2023).
Abeer Salman and Lucas Lilieholm, "Hamas tells Gaza residents not to leave their homes after IDF warns civilians to evacuate," CNN, (October 13, 2023).
Itamar Eichner and Daniel Edelson, "Erdan: UN criticism of IDF north Gaza evacuation order is 'disgrace,'" Ynet, (October 13, 2023).|
David Makovsky, "The Trust Biden Built with Israelis Doesn't Come with a Blank Check," Washington Institute, (October 13, 2023).
Eyad Kourdi, "Gazan hospitals flooded with injured people as death toll climbs above 2,000, Palestinian officials say," CNN, (October 14, 2023).
Humeyra Pamuk, "US advises its citizens in Gaza to move closer to Egypt's Rafah crossing," Reuters, (October 14, 2023).
Celine Alkhaldi, Magdy Samaan, and Nadeen Ebrahim, "Egyptian authorities are not allowing US nationals to enter Egypt from Gaza, local media says," CNN, (October 14, 2023).
Euan Ward, "Israel Agrees to Unity Government as War With Hamas Intensifies," New York Times, (October 14, 2023).
"Readout of President Biden's Call with President Mahmoud Abbas of the Palestinian Authority," The White House, (October 14, 2023).
Gadi Zaig, Maayan Jaffe-Hoffman, Yonah Jeremy Bob, "IDF eliminates terrorist who led last week's Hamas massacre," Jerusalem Post, (October 14, 2023).
Lazar Berman, "Visiting US senators vow to provide Israel all assistance: 'You are not alone,'" Times of Israel, (October 15, 2023).
Amir Rapaport. "Analysis | Israel at War, Week One: On Heroism, Recovery, and Challenges Ahead," IsraelDefense, (October 15, 2023).
Tal Ariel Yakir, "'With 1 tank facing hundreds of terrorists, I understood how the Yom Kippur War fighters felt,'" Israel Hayom, (October 15, 2023).
Oren Liebermann, Natasha Bertrand and Brad Lendon, "US sending second carrier strike group, fighter jets to region as Israel prepares to expand Gaza operations," CNN, (October 15, 2023).
Emanuel Fabian, "Syria accuses Israel of bombing Aleppo airport for second time in 3 days," Times of Israel, (October 15, 2023).
"Israeli forensic teams describe signs of torture, abuse," Reuters, (October 15, 2023).
Yaniv Kubovich and Jonathan Lis, "Israel Allows Water Into Gaza Strip via the Rafah Crossing, but No Fuel nor Food," Haaretz, (October 16, 2023).
Avi Scharf and Anshel Pfeffer, "Arms Airlift to Israel, Bombers in Jordan, Two Carriers: U.S. Deploying More Forces to Mideast," Haaretz, (October 16, 2023).
"Abbas says Hamas does not represent Palestinians," Times of Israel, (October 16, 2023).
Claire Parker, Kareem Fahim, and Karen DeYoung, "U.S. officials signal pressure on Israel to address Gaza crisis," Washington Post, (October 16, 2023).
David Levy, "Hamas Leadership and America's Extradition Option," BESA, (October 16, 2023).
Phil Stewart, "Senior US general flies into Israel as its war with Hamas deepens," Reuters, (October 16, 2023).
Ari Blaff, "UNWRA Deletes Social-Media Post Accusing Hamas of Stealing Humanitarian Supplies," National Review, (October 16, 2023).
"IDF lookouts say their warnings about Hamas were ignored," Jerusalem Post, (October 17, 2023).
"RECAP: Israel-Hamas War Day 11," Haaretz, (October 17, 2023).
Yoav Zitun, "Captured weapons shed light on stunning extent of Hamas's battle blueprint," Ynet, (October 17, 2023).
Ilana Curiel, "'Fought like lionesses': The female tank crew who saved settlements from massacre," Ynet, (October 17, 2023).
"Israel thwarts infiltration bid from Lebanon, killing four: army," France24, (October 17, 2023).
Abby Sewell and Kareem Chehayeb, "5 Hezbollah fighters are killed as tensions flare along the border between Lebanon and Israel," AP, (October 17, 2023).
"Hamas airs hostage video as rockets continue to strike Israel," BICOM, (October 17, 2023).
Yaniv Kubovich, "Shin Bet Chief: We Were Unable to Thwart the Attack, the Responsibility for This Falls on Me," Haaretz, (October 17, 2023).
Kathryn Watson, "In Israel, Biden says it appears 'the other team' is to blame for Gaza hospital explosion," CBS News, (October 18, 2023).
Kareem Chehayeb and Bassem Mroue, "Hezbollah destroys Israeli surveillance cameras along the Lebanese border as tension soars," AP, (October 18, 2023).
Jacob Magid, "US vetoes Gaza war UN resolution that doesn't stress Israeli right to self-defense," Times of Israel, (October 18, 2023).
Barak Ravid, "Inside Biden's talks with Netanyahu, Israel's war team," Axios, (October 18, 2023).
Roni Green Shaulov and Yoav Zitun, "Charred remains of mother, son recovered 11 days after Hamas massacre," Ynet, (October 18, 2023).
Carrie Keller-Lynn, "Citizens, including an MK, helped repel Hamas attack in Ofakim," Times of Israel, (October 18, 2023).
"British PM Sunak in Israel for wartime visit," JNS, (October 19, 2023).
Jeremy Herb, "Between 100 and 300 believed killed in Gaza hospital blast, according to preliminary US intelligence assessment," CNN, (October 19, 2023).
Graeme Wood, "Hamas's Hostage-Taking Handbook Says to 'Kill the Difficult Ones' and Use Hostages as 'Human Shields,'" The Atlantic, (October 19, 2023).
Joshua Marks, "Egypt to open Rafah crossing for aid to Hamas-ruled Gaza," JNS, (October 19, 2023).
Amir Tibon, "I Met the Most Important Zionist Leader in the World: President Biden," Haaretz, (October 19, 2023).
Barak Ravid, "U.S plans to send 2 Iron Dome batteries to Israel as war intensifies," Axios, (October 19, 2023).
"Hamas official says group has enough Israeli soldiers to negotiate Palestinian prisoners' release," Reuters, (October 19, 2023).
Yoav Zitun, "Watch: Armored jeeps sent by US arrive in Israel," Ynet, (October 19, 2023).
Deborah Danan, "This Bedouin bus driver is credited with saving 30 people from Israel's Nova party massacre," JTA, (October 19, 2023).
Tara Copp and Lolita C. Baldor, "US military shoots down missiles and drones as it faces growing threats in volatile Middle East," AP, (October 19, 2023).
"Hamas releases hostages as rockets pound Israel on two fronts," Jerusalem Post, (October 20, 2023).
Hilo Glazer, "A Handful of Israeli Officers Saved 90 New Recruits From Hamas Terrorists. They Paid With Their Lives," Haaretz, (October 20, 2023).
Trevor Hunnicutt and Jarrett Renshaw, "White House asks Congress for $106 billion for Ukraine and Israel wars," Reuters, (October 20, 2023).
"Israel at war: What you need to know -- day fifteen," Haaretz, (October 21, 2023).
Rishi Sunak, "Hamas have already shown who they are. They must be defeated," The Telegraph, (October 21, 2023).
"Foreigners killed, abducted or missing after Hamas attack," AFP, (October 22, 2023).
Barak Ravid, "Herzog confirms Israel found Hamas files with instructions for making chemical weapons," Axios, (October 22, 2023).
Hana Levi Julian, "Israel Struggling to Identify Victims of Oct. 7 Hamas Massacre," Jewish Press, (October 23, 2023).
Yaniv Kubovich, "Despite Repeated Warnings, Israeli Army Neglected Malfunctioning Observation Balloons on Gaza Border," Haaretz, (October 23, 2023).
"UK to provide 20 million pounds of further aid for Gaza," Reuters, (October 23, 2023).
Maya Zanger-Nadis, "Hamas terrorists: We were told 'whoever brings a hostage gets $10,000,'" Jerusalem Post, (October 23, 2023).
Emanuel Fabian, "IDF intercepts drones over north, foils Hezbollah missile squads," Times of Israel, (October 23, 2023).
Neville Teller, "The Arab Israeli community stands in solidarity against Hamas," Jerusalem Post, (October 24, 2023).
Joe Barnes, "Death tolls from Hamas-run health ministry are not trustworthy, former Reuters chief warns," The Telegraph, (October 24, 2023).
@i24NEWS_EN, (October 24, 2023).
Nadav Shragai, "The involvement of the 'uninvolved': Gaza's population actively abetted Hamas in plotting against Israel," Israel Hayom, October 24, 2023).
Andrew Tobin, "'Just as Cruel as the Terrorists': Many Ordinary Palestinians Joined in Hamas's Atrocities Against Israel," Washington Free Beacon, October 24, 2023).
"278 still hospitalized in Israel since Hamas assault," Times of Israel, (October 24, 2023).
Sophia Ankel, "An 85-year-old Israeli hostage freed by Hamas says she was held in a 'spider's web' of tunnels and beaten with sticks," Business Insider, (October 24, 2023).
Fadi Amun, "Hezbollah Chief Meets With Hamas, Islamic Jihad Leaders in Lebanon, Talk Ways for 'Real Gaza Victory,'" Haaretz, (October 25, 2023).
Emanuel Fabian, "Hamas fires long-range rockets at Eilat, Haifa, as IDF strikes on Gaza continue," Times of Israel, (October 25, 2023).
"Israel at War," Haaretz, (October 25, 2023).
Dion Nissenbaum, Gordon Lubold, Dov Lieber, and Omar Abdel-Baqui, "Israel Agrees to U.S. Request to Delay Invasion of Gaza," Wall Street Journal, (October 25, 2023).
Summer Said, Dov Lieber, and Benoit Faucon, "Hamas Fighters Trained in Iran Before Oct. 7 Attacks," Wall Street Journal, (October 25, 2023).
"Biden says he has 'no confidence' in Palestinian death count," Reuters, (October 25, 2023).
"Hamas blocks road to Gazans fleeing- 'They're shooting at people,'" Jerusalem Post, (October 26, 2023).
Emanuel Fabian, "Gallant: Ground op soon, soldiers ready. Israel's next 75 years depend largely on our success," Times of Israel, (October 26, 2023).
"UN General Assembly adopts Gaza resolution calling for immediate and sustained 'humanitarian truce,'" United Nations, (October 26, 2023).
Matthew Rosenberg and Maria Abi-Habib, "As Gazans Scrounge for Food and Water, Hamas Sits on a Rich Trove of Supplies," New York Times, (October. 27, 2023).
"Israel restored Gaza's internet under U.S. pressure, official says; Netanyahu warns of long war," Washington Post, (October 29, 2023).
David Millward, "Hamas blocks foreign nationals from leaving Gaza," The Telegraph, (October 29, 2023).
"Netanyahu announces war entering 'second stage,,'" BICOM, (October 29, 2023).
Nick Timothy, "British society will pay a terrible price for indulging extremism," The Telegraph, (October 29, 2023).
Emanuel Fabian, "IDF spokesman says rescued IDF soldier provided helpful info about captivity," Times of Israel, (October 30, 2023).
"White House says ceasefire in Gaza is not 'the right answer right now,'" AFP, (October 30, 2023).
"PM says all aid to Gaza is checked by Israeli security officials, helps war aims," Times of Israel, (October 30, 2023).
Eric Schmitt, "American Commandos Are in Israel Helping to Locate Hostages, Pentagon Says," New York Times, (October. 31, 2023).
"Hamas says at least 50 killed in airstrike on Jabaliya camp; no independent confirmation," Times of Israel, (October 31, 2023).
Yonah Jeremy Bob, "12 things to know about the IDF's Gaza ground offensive - analysis," Jerusalem Post, (October 31, 2023).
@AvivaKlompas, (October 31, 2023).
Ben Sales, "An Israeli first responder recalls tending to the body of a baby burnt in an oven," JTA, (October 31, 2023).
Lior Ben Ari, Elisha Ben Kimon, Yoav Zitun, Itamar Eichner, and Matan Tzur, "IDF intercepts second 'aerial threat' over Eilat; Blinken to visit Israel again to press Gaza humanitarian aid," Ynet, (October 31, 2023).
Tzvi Joffre, "DF sends warships to Red Sea after aerial attacks from Yemen," Jerusalem Post, (November 1, 2023).
Emanuel Fabian, "IDF announces another 9 soldiers killed fighting in northern Gaza," Times of Israel, (November 1, 2023).
Cassandra Vinograd and Emma Bubola, "Bolivia Cuts Diplomatic Ties With Israel Over Strikes in Gaza," New York Times, (November 1, 2023).
"Abraham Accords here to stay despite war, says Emirati official," Jerusalem Post, (November 1, 2023).
"MKs are shown raw videos of Hamas atrocities; some leave in tears," Times of Israel, (November 1, 2023).
Zoë Richards, "Biden calls for a 'pause' in Israel-Hamas war to 'get the prisoners out,'" NBC News, (November 1, 2023).
Yoav Zitun, "In battle for Gaza stronghold, 100 women and children pushed forward by Hamas to act as human barrier," Ynet, (November 1, 2023).
Itamar Marcus, "Fatah brags it took part in October 7 slaughter," Palestinian Media Watch, (November 1, 2023).
"IDF releases proof of Hamas stealing gas from Gazan hospitals," Jerusalem Post, (November 1, 2023).
Anna Schecter, "Hamas is hoarding vast amounts of fuel as Gaza hospitals run low, U.S. officials say," NBC News, (November 1, 2023).
"New Report Reflects the Vital Role of Civil Society and Volunteers in the Early Phase of the Iron Swords War: Half of Israelis Volunteered in the First Two Weeks," Press Release, Hebrew University, (November 2, 2023).
"Germany bans pro-Hamas activity, dissolves group that celebrated attack on Israel," Times of Israel, (November 2, 2023).
"Army engineers said to begin operation to destroy Hamas tunnels in areas under IDF control," Times of Israel, (November 2, 2023).
"Ex-IDF deputy chief: Soldiers won't enter the tunnels, will turn them into Hamas death traps without going in," Times of Israel, (November 2, 2023).
Seth J. Frantzman, "Israel uses F-35I to shoot down cruise missile, a first for Joint Strike Fighter," Breaking Defense, (November 2, 2023).
Gianluca Pacchiani, "In much-hyped speech, Nasrallah makes threats but does not commit to broader war," Times of Israel, (November 3, 2023).
"Israeli military says hit an ambulance being used by Hamas," Reuters, (November 3, 2023).
Abby Sewell, "Lebanon's militant Hezbollah leader threatens escalation with Israel as its war with Hamas rages on," AP, (November 3, 2023).
"Turkey recalling ambassador; Erdogan: We've written Netanyahu off," Times of Israel, (November 4, 2023).
"Honduras recalls ambassador to Israel over 'serious humanitarian situation' in Gaza," Times of Israel, (November 4, 2023).
Jacob Magid, "Hamas tried to send fighters to Egypt in ambulances for wounded Gazans — US official," Times of Israel, (November 4, 2023).
Adam Entous, "Blinken Meets With Palestinian and Iraqi Leaders in Bid to Contain Gaza War," New York Times, (November 5, 2023).
"Hamas planned for massacre during Passover, Iran forced delay," Jerusalem Post, (November 5, 2023).
Harriet Barber, "How Israel shot down a ballistic missile in space for the first time," The Telegraph, (November 5, 2023).
Vivian Salama and Stephen Kalin, "U.S. Diplomats Press Israel to Pause Gaza Assault," Wall Street Journal, (November 6, 2023).
Alexandra Hutzler, "Netanyahu to ABC's Muir: 'No cease-fire' without release of hostages," ABC News, (November 6, 2023).
Emanuel Fabian, "Northern towns bombarded as 30 rockets fired from Lebanon; IDF shells launchers," Times of Israel, (November 6, 2023).
Jared Malsin, "U.S. Plans $320 Million Weapons Transfer to Israel as Gaza Toll Mounts," Wall Street Journal, (November 6, 2023).
Emanuel Fabian, "Ground forces push further into Gaza City, 'deepening pressure' on Hamas, IDF says," Times of Israel, (November 7, 2023).
Jacob Magid, "Netanyahu: Israel set to maintain security control in Gaza 'indefinitely' after war," Times of Israel, (November 7, 2023).
@AvichayAdraee, (November 7, 2023).
Paul Nuki, "Hamas terrorists' last stand at Gaza hospital," The Telegraph, (November 7, 2023).
Ben Hubbard and Maria Abi-Habib, "Behind Hamas's Bloody Gambit to Create a 'Permanent' State of War," New York Times, (November 8, 2023).
Josh Breiner, "Israeli Police Collect Eyewitness Testimony of Gang Rape During Hamas Attack," Haaretz, (November 8, 2023).
"Israel-Hamas War Images Emerging From Gaza Suggest Urban Fighting," New York Times, (November 9, 2023).
Antonio Pita, "Gideon Saar, Israeli minister: 'There will be security zones in Gaza that will be forbidden to be approached,'" El Pais, (November 9, 2023).
Yaniv Kubovich, "IDF Chief: Palestinian Authority Works Daily to Prevent Demonstrations in Support of Hamas," Haaretz, (November 9, 2023).
Sharon Wrobel, "War is costing economy some $600m a week due to work absence — Bank of Israel," Times of Israel, (November 9, 2023).
Jacob Magid, "New top American general says Israeli goal of toppling Hamas 'a pretty large order,'" Times of Israel, (November 10, 2023).
"Terrorist organizations in Gaza responsible for hitting Al-Shifa Hospital - IDF spokesman," Jerusalem Post, (November 10, 2023).
Emanuel Fabian, "Eilat school was hit by drone fired from Syria, IDF says as it strikes back," Times of Israel, (November 10, 2023).
"Israel at war," Haaretz, (November 11, 2023).
Paul Nuki, "Israel-Hamas war latest: Israeli army to help evacuate babies from Gaza hospital," The Telegraph, (November 11, 2023).
"Israel at war," Haaretz, (November 12, 2023).
"Transcript: National Security Adviser Jake Sullivan," Face the Nation, (November 12, 2023).
"Interview With Israeli Prime Minister Benjamin Netanyahu," State of the Union, (November 12, 2023).
"IDF kills 21 terrorists who fired RPGs from Gaza hospital," JNS, (November 13, 2023).
Joshua Marks, "Hamas terror infrastructure found in Gaza university, mosque," JNS, (November 13, 2023).
Shira Rubin and Joby Warrick, "Hamas envisioned deeper attacks, aiming to provoke an Israeli war," Washington Post, (November 13, 2023).
Emanuel Fabian, "IDF: Hamas command center found under Gaza children's hospital; hostages were likely held there," Times of Israel, (November 13, 2023).
Elisha Ben Kimon, "Hamas weapons found in Gaza waters," Ynet, (November 13, 2023).
George Allison, "British aircraft providing surveillance support to Israel," ukdj, (November 14, 2023).
Brandon Gillespie, "White House confirms Hamas terrorists using Gaza's largest hospital as operations base," Fox News, (November 14, 2023).
"Hamas envisioned deeper attacks, aiming to provoke an Israeli war," New York Times, (November 15, 2023).
Yonah Jeremy Bob, "IDF finds data on rescued hostage in Al-Shifa Hospital laptops," Jerusalem Post,  (November 16, 2023).
Oded Yaron and Ben Samuels, "Revealed: The Munitions U.S. Supplied Israel for Gaza War," Haaretz, (November 16, 2023).
Emanuel Fabian, "IDF reveals entrance to Hamas tunnel, weapons cache found in Shifa Hospital complex," Times of Israel, (November 16, 2023).
Emanuel Fabian, "Military recovers bodies of two Israeli hostages in area of Gaza's Shifa Hospital," Times of Israel, (November 16, 2023).
Emanuel Fabian, "Army says it struck Hamas underground sites where senior commanders were hiding," Times of Israel, (November 17, 2023).
Ben Samuels, "U.S. Presses Israel to Postpone Strikes in South Gaza Until Displaced Palestinians From North Are Accounted for," Haaretz, (November 19, 2023).
Einav Halabi, Liron Levi, and Itamar Eichner, "Palestinian Authority denies Hamas music festival massacre," Ynet, (November 19, 2023).
Jonathan Lis, "Israel approves cease-fire, hostage release deal with Hamas," Haaretz, (November 20, 2023).
"Hamas Threatens To Repeat October 7 Attack In Or From West Bank," MEMRI, (November 20, 2023).
Yoav Zitun, "Detained Gaza terrorist says Hamas hid as hospital staff in Al Shifa," Ynet, (November 20, 2023).
Yaniv Kubovich, "Did Hamas Operate Under Gaza's Al-Shifa Hospital? A Tour of the Tunnels Leaves No Room for Doubt," Haaretz, (November 23, 2023).
Jacob Magid, "US officials say Israel likely can't make good on hostage deal promise to up Gaza aid," Times of Israel, (November 24, 2023).
Bassam Masoud and Janis Laizans, "Ceasefire takes hold in Gaza ahead of hostage release, aid enters enclave," Reuters, (November 24, 2023).
"Report: Hamas refuses to allow Red Cross to visit Israeli hostages not included in first stage of deal," Haaretz, (November 24, 2023).
Jon Gambrell, "An Israeli-owned ship was targeted in suspected Iranian attack in Indian Ocean, US official tells AP," AP, (November 25, 2023).
Sam Sokol, "Israeli Foreign Minister Says Irish Prime Minister Legitimizing Terror After Tweet About Freed Hostage," Haaretz, (November 26, 2023).
"Gaza: Findings on October 17 al-Ahli Hospital Explosion," Human Rights Watch, (November 26, 2023).
Idrees Ali, Phil Stewart, and Aziz El Yaakoubi, "Tanker in Middle East safe from attackers after U.S. Navy responds, officials say," Reuters, (November 27, 2023).
"Hamas leader Yahya Sinwar met Israeli hostages in tunnels, spoke in Hebrew, report says," Ynet, (November 27, 2023).
Sivan Hilaie, "'Forced to watch film of the atrocities. When a child cried, they were threatened with a weapon' - Eitan was alone in captivity for 16 days," Ynet, (November 27, 2023).
"Watch: IDF troops expose Gaza's Al Shifa Hospital as terror hotbed," Ynet, (November 27, 2023).
Jackie Hajdenberg, "UN Women posts, then deletes, statement condemning Hamas attack in Israel," JTA, (November 28, 2023).
Aamer Madhani and Zeke Miller, "The US tells Israel any ground campaign in southern Gaza must limit further civilian displacement," AP, (November 28, 2023).
Dean Shmuel Elmas, "Saudis offer investment to Iran if it curbs proxies," Globes, (November 29, 2023).
"Secretary Antony J. Blinken at a Press Availability," U.S. Department of State, (November 30, 2023).
Ronen Bergman and Adam Goldman," New York Times, (November 30, 2023).
"Netanyahu ends meeting with Blinken, says Israel has 'sworn to destroy Hamas,'" Times of Israel, (November 30, 2023).
"UN Women statement on the situation in Israel and Gaza," UN Women, (December 1, 2023).
Christina Lamb, "First Hamas fighters raped her. Then they shot her in the head," The Sunday Times, (December 2, 2023).
Nancy A. Youssef, Warren P. Strobel, and Gordon Lubold, "Israel Weighs Plan to Flood Gaza Tunnels With Seawater," Wall Street Journal, (December 4, 2023).
"14 kids under 10, 25 people over 80: Up-to-date breakdown of Oct 7 victims we know about," Times of Israel, (December 4, 2023).
Lahav Harkov, "Hamas drugged hostages before releasing them," Jewish Insider, (December 5, 2023).
Darlene Superville, "Biden calls reports of Hamas raping Israeli hostages 'appalling,' says world can't look away," AP, (December 5, 2023)
"At least 10 freed hostages were sexually abused in Hamas captivity, doctor says," Times of Israel, (December 6, 2023).
Shira Rubin, "As it planned for Oct. 7, Hamas lulled Israel into a false sense of calm," Washington Post, (December 6, 2023).
Gabrielle Tétrault-Farber, "Israel, UN signal progress in talks to open Gaza crossing," Reuters, (December 7, 2023).
"Thai Held Hostage by Hamas in Gaza: Israelis 'Singled Out for Especially Brutal Treatment,'" Reuters, (December 7, 2023).
"Following US pressure, Israel approves increase of fuel deliveries to Gaza," Times of Israel, (December 7, 2023).
Gordon Lubold, Dov Lieber, and Vivian Salama, "Fight for Gaza's Khan Younis Puts Israel, U.S. on Collision Course," Wall Street Journal, (December 7, 2023).
Emanuel Fabian, "Hamas broke temporary truce in Gaza minutes after it began, senior IDF officer says," Times of Israel, (December 8, 2023).
Photos: Gaza map - Mor, Public domain via Wikimedia Commons. 
War map - Ecrusized, influenced by user Rr016., CC BY-SA 4.0 via Wikimedia Commons.
Weapons - IDF Spokesperson's Unit.
Baby - Prime Minister's Office.
Austin-Netanyahu - Secretary of Defense Lloyd J. Austin III meets with Israeli Prime Minister Benjamin Netanyahu in Tel Aviv, Israel, Chad McNeeley, U.S. Department of Defense, (October 13, 2023).
@i24NEWS_EN, (October 18, 2023).
Evacuation map and photo - @AvichayAdraee, (November 7, 2023).
Hostage square and teddy bear photos - © Mitchell Bard.