Pre-State Israel: The Assassination of Hayim Arlosoroff
(June 16, 1933)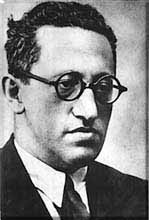 The assassination of Hayim Arlosoroff on June 16, 1933, brought out deep-seated animosities between political groups in the yishuv. Arlosoroff had just returned from Germany, where he had been negotiating with the Nazis for increased emigration. These agreements between the Zionist leadership in the yishuv and the Nazi German government were known as the Ha'avara (transfer) agreements and were the subject of intense controversy. After returning from these negotiations, tensions in the yishuv were high. However high tensions were, the assassination was a shock to the community, which was stunned that Jews would murder another Jew for political purposes.
After offering a reward for information leading to an arrest, the Palestine Police Force accused three suspects of involvement in the murder. Two, Abraham Stavsky and Zvi Rosenblatt, were prosecuted for committing the act, while the third, Abba Ahimeir, was charged with incitement to murder.
All three suspects were active among Revisionists; Ahimeir headed a particularly extremist element of the party. His anti-Labor movement rhetoric was often focused on the official Zionist leadership, of which Arlosoroff was a rising star. lack of evidence, however, led to his acquittal on May 16, 1934.
Another theory to explain the murder had been advanced by the defense. British Jewish defense attorney Horace Samuel claimed that two Arabs had committed the crime for sexual, not political, reasons. One of the two Arabs, already in prison for a separate murder, confessed. Later the confession was retracted, and instead, the Arab accused Stavsky and Rosenblatt of bribing him to confess.
Of the two original suspects in the actual killing, Rosenblatt was acquitted of all charges due to lack of corroboration. Abraham Stavsky, however, was found guilty and sentenced to the death penalty. The decision was appealed, and only shortly after the verdict had been pronounced, it was overturned by the all-British Palestine Court of Appeals. Stavsky was released like the others, for lack of corroborative evidence.
The controversy over the assassination continues until this day. Different theories hold the British or the Nazis responsible. In 1982, Menachem Begin established a committee to reopen the case, but no new evidence was found.
---
Sources: The Jewish Agency for Israel.
The World Zionist Organization.