Herbert Louis Samuel
(1870 - 1963)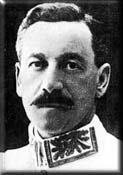 When the first High Commissioner for Palestine arrived in Jerusalem, he was met with a seventeen-gun salute and endless words of welcome. Sir Herbert Samuel made the journey in June 1920, and served as High Commissioner for a period of five years. His appointment was viewed by many Jews as affirmation that the British promise for a Jewish National Home in Palestine would be honored. The telegram sent to the Zionist Organisation Central Office in London reflects the atmosphere of excitement that surrounded Samuel's arrival.
Samuel himself was moved by the outpouring of emotion which greeted him in the Land of Israel. He had been raised in an Orthodox Jewish home, and although he subsequently ceased practicing, he remained intensely interested in Jewish communal problems.
Samuel's career in different British posts was unique in its scope; he was the first unconverted Jew to serve in a Cabinet office.
Samuel first presented the idea of a British protectorate in 1915. In a memorandum to Prime Minister Asquith, he proposed that a British protectorate be established which would allow for increased Jewish settlement. In time, the future Jewish majority would enjoy a considerable degree of autonomy. Herbert believed that the creation of a Jewish center would flourish spiritually and intellectually, resulting in the character improvement of Jews all over the world. At that time, however, Prime Minister Asquith was not interested in pursuing such an option, and no action was taken. Yet significant groundwork had been accomplished, and it was on the basis of Samuel's work that the Balfour Declaration was later written.
It was therefore no surprise that Samuel was appointed first High Commissioner of Palestine. His appointment made him the first Jew to govern in the Land of Israel in 2,000 years. Anxious to serve his country well, Samuel made it clear that his policy was to unite all dissenting groups under the British flag. Attempting to appease the Arabs in Palestine, Samuel made several significant concessions. It was he who appointed Hajj Amin al-Husseini, a noted Arab nationalist extremist, to be Mufti of Jerusalem. In addition, he slowed the pace of Jewish immigration to Palestine, much to the distress of the Zionists. In attempting to prove his impartiality, the Zionists claimed that he had gone too far, and had damaged the Zionist cause. Many Zionists were ultimately disappointed by Samuel, who they felt did not live up to the high expectations they had of him.
---
Sources: The Jewish Agency for Israel and The World Zionist Organization.