Walter Rothschild, 2nd Baron Rothschild
(1868 - 1937)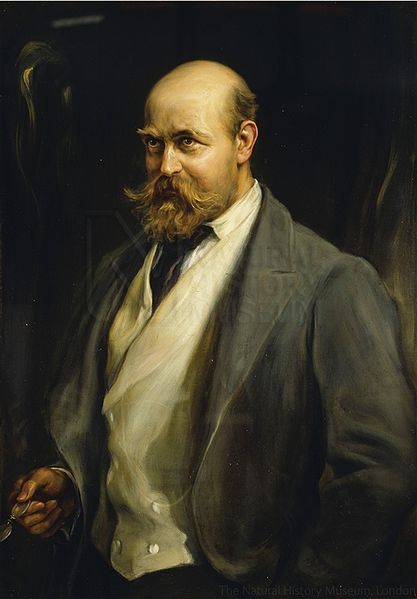 Walter Rothschild, 2nd Baron Rothschild, a scion of the Rothschild family, was a British banker, politician, and zoologist.
Walter Rothschild was born in London, the eldest son and heir of Lord [Nathan] Rothschild, an immensely wealthy financier, of the international Rothschild financial dynasty, and the first Jewish peer in England.
The eldest of three children, Walter was deemed to have delicate health and was educated at home. As a young man he traveled in Europe, attending the university at Bonn for a year before entering Magdalene College at Cambridge. In 1889, leaving Cambridge after two years, he was required to go into the family banking business to study finance.
At the age of seven, he declared that he would run a zoological museum. As a child, he collected insects, butterflies, and other animals. Among his pets at the family home in Tring Park were kangaroos and exotic birds. As a boy, Rothschild was once dragged off his horse and assaulted by workmen while on a hunting ride near Tring, an experience that he personally attributed to Anti-Semitism.
At 21, he reluctantly went to work at the family bank, N M Rothschild & Sons in London. He worked there from 1889 to 1908. Нe evidently lacked any interest or ability in the financial profession, but it was not until 1908 that he was finally allowed to give it up. However, his parents established a zoological museum as a compensation, and footed the bill for expeditions all over the world to seek out animals. At one point he had his photograph taken riding on a giant tortoise and, on another occasion, drove a carriage harnessed to six zebras to Buckingham Palace to prove that zebras could be tamed.
Rothschild was 6' 3" tall, suffered from a speech impediment and was very shy. Though he never married, Rothschild had two mistresses, one of whom bore him a daughter.
Walter Rothschild was a Conservative Member of Parliament for Aylesbury from 1899 until he retired from politics in January 1910.
Despite his health, Rothschild served part-time as an officer in a Territorial Army unit, the Royal Buckinghamshire Yeomanry, being promoted Major in 1903 and retiring in 1909.
As an active Zionist and close friend of Chaim Weizmann, he worked to formulate the draft declaration for a Jewish homeland in Palestine. On 2 November 1917 he received a letter from the British foreign secretary, Arthur Balfour, addressed to his London home at 148 Piccadilly. In this letter the British government declared its support for the establishment in Palestine of "a national home for the Jewish people". This letter became known as the Balfour Declaration.
---
Source: Wikipedia.
Wikimedia, By Helgen KM, Portela Miguez R, Kohen J, Helgen L [CC BY 3.0 (http://creativecommons.org/licenses/by/3.0)], via Wikimedia Commons