Myths and Facts
The Middle East Peace Process
by Mitchell Bard
Anwar Sadat deserves all the credit for the Egyptian-Israeli peace treaty.
Israel must withdraw from the Golan Heights to achieve peace with Syria.
Israel's occupation of Lebanese territory impedes peace.
Israel has no interest in peace with the Palestinians.
Solving the Palestinian question will bring peace to the Middle East.
A Palestinian state will pose no danger to Israel.
Jews will be welcome in a future Palestinian state.
If Israel ends the occupation, there will be peace.
The Palestinians have never been offered a state of their own.
The Palestinians are being asked to accept only 22% of Palestine.
The best option for peace is a one-state solution.
The Palestinian education system promotes peace with Israel.
Palestinians no longer object to the creation of Israel.
Israeli Arabs would prefer to live in a Palestinian state.
Israel must negotiate with Hamas.
Palestinians want to create a secular democratic state.
The Palestinians' top priority is peace with Israel.
Palestinian maps reflect their goal of coexistence with Israel.
The Abraham Accords were a betrayal of the Palestinians.
Israel must make concessions for the peace process to succeed.
Anwar Sadat deserves all the credit for the Egyptian-Israeli peace treaty.
FACT
The peace drive did not begin with President Anwar Sadat's November 1977 visit to Jerusalem. Sadat's visit was unquestionably a courageous act of statesmanship, but it came only after more than a half-century of efforts by Zionist and Israeli leaders to negotiate peace with the Arabs.
"For Israel to equal the drama," said Simcha Dinitz, former Israeli ambassador to the United States, "we would have had to declare war on Egypt, maintain belligerent relations for years, refuse to talk to them, call for their annihilation, suggest throwing them into the sea, conduct military operations and terrorism against them, declare economic boycotts, close the Strait of Tiran to their ships, close the Suez Canal to their traffic, and say they are outcasts of humanity. Then Mr. Begin would go to Cairo, and his trip would be equally dramatic. Obviously, we could not do this because it has been our policy to negotiate all along."1
Nonetheless, Israeli Prime Minister Menachem Begin proved that, like Sadat, he was willing to go the extra mile to achieve peace. Despite the Carter administration's tilt toward Egypt during the talks, Begin remained determined to continue the peace process and froze Israeli settlements in the West Bank to facilitate the progress of negotiations.
Israel made tangible concessions to Egypt in exchange for only promises. Begin agreed to cede the strategically critical Sinai Peninsula—91% of the territory won by Israel during the Six-Day War—to Egypt in exchange for Sadat's pledge to make peace.
Egypt insisted that Jewish civilians leave the Sinai, uprooting 7,000 Israelis from their homes and businesses. Israel lost electronic early-warning stations that provided intelligence on Egyptian military movements; relocated more than 170 military installations, airfields, and army bases; surrendered direct control of its shipping lanes to and from Eilat, as well as one thousand miles of roadways, homes, factories, hotels, health facilities, and agricultural villages; and transferred the Alma oil field, discovered and developed by Israel.
The status of Taba—a resort town built by Israel in what had been a barren desert area near Eilat—was not resolved by the Camp David Accords. Israel turned the city over to Egypt after an international arbitration panel ruled in Cairo's favor on September 29, 1988.
Sadat made a courageous decision to make peace with Israel, but Begin's decision was no less bold, and the Israeli sacrifices were far more substantial than those of the Egyptians.
The state of Israel wants to give the Palestinians what no one else has heretofore given them—the possibility of establishing a state. Neither the Turks, the English, the Egyptians, or Jordanians gave them such a possibility.
—Prime Minister Ariel Sharon2
Israel must withdraw from the Golan Heights to achieve peace with Syria.
FACT
Given the history, Israel is understandably hesitant to give away the strategic high ground and its early-warning system in the Golan Heights. Nevertheless, Israel repeatedly expressed a willingness to negotiate with Syria over the area's future. President Hafez Assad and his son Bashar, who succeeded him, insisted on a total withdrawal with no compromises. They also were unwilling to agree to Israel's demand for a peace treaty similar to those Israel signed with Egypt and Jordan.
The civil war in Syria provided a vivid reminder of why Israel was reluctant to give up the Golan Heights. If they had made a deal with Assad, ISIS, Hezbollah, Iran, and other enemies might be on the Sea of Galilee's shores threatening northern Israel. Those enemies remain a danger, but they are further from the border. Israel is unlikely to contemplate any compromises on the Golan Heights unless and until a stable, peaceful government emerges in Syria and the radical forces are expelled.
Israel's occupation of Lebanese territory impedes peace.
FACT
Israel has never had any hostile intentions toward Lebanon but has been forced to fight two wars because of terrorist threats, first from the PLO and now Hezbollah, to menace citizens living in northern Israel. In 1983, Israel signed a peace treaty with Lebanon, but Syria forced President Amin Gemayel to renege on the agreement.
Israel pulled all its troops out of southern Lebanon on May 24, 2000, in coordination with the UN, fulfilling its commitment under Security Council Resolution 425. Still, Hezbollah and the Lebanese government insist that Israel holds Lebanese territory in a largely uninhabited patch called Shebaa Farms. This claim gives Hezbollah a pretext to continue its belligerency toward Israel. The Israelis maintain, however, that the land was captured from Syria.
In January 2005, the Security Council adopted a resolution reasserting that the Lebanese claim to the Shebaa Farms area is "not compatible with Security Council resolutions," affirming that Israel completely withdrew from Lebanon.
Hezbollah effectively controls Lebanon with Iran's patronage and has built an arsenal of 150,000 rockets aimed at Israel.3 Given Hezbollah's commitment to Israel's destruction, the only way peace can be achieved with Lebanon is if Hezbollah is uprooted either by the Lebanese or by Israel.
Israel has no interest in peace with the Palestinians.
FACT
Israel has an equal or better claim to Judea and Samaria (the West Bank) than the Palestinians. Judea and Samaria have been home to Jews for centuries, and the territory has important religious significance to the Jewish people. The Palestinians have been residents dating no earlier than the Muslim conquest. A Palestinian state never existed, so there is no moral or legal obligation to provide Palestinians with sovereignty they never had.
Nevertheless, Israel has repeatedly offered compromises to reach a peace agreement with the Palestinians, but they have all been rejected. Under the Oslo Accords, Israel withdrew from roughly 40% of the West Bank and proposed giving up as much as 97% of the territory in exchange for peace. Israel subsequently evacuated the entire Gaza Strip.
The experience following the disengagement shifted Israeli opinion to the right. Instead of getting peace, Israel has faced years of terrorism. Consequently, Israelis are much more reluctant to consider territorial compromises. An Israel Democracy Institute survey in July 2022 found that only 32% of Israeli Jews supported a peace agreement resulting in the creation of a Palestinian state.4 They will need greater confidence in a Palestinian commitment to peace combined with security guarantees before they contemplate further withdrawal.
If no solution is reached, Israel could face a perpetual "Palestinian problem," but to solve it, Israel's leaders must avoid endangering the population. The Palestinian demand for a state based on the 1967 border (actually the 1949 armistice line) with Jerusalem as its capital is a non-starter. As George W. Bush noted in his 2004 letter to Ariel Sharon, "In light of new realities on the ground, including already existing major Israeli populations centers, it is unrealistic to expect that the outcome of final status negotiations will be a full and complete return to the armistice lines of 1949."
Israelis understand they face a demographic dilemma. If they apply Israeli sovereignty to the West Bank, over time, the Palestinians will make up a majority, or at least a significant minority of the Israeli population. Israelis would then have to choose between denying Palestinians the right to vote and ceasing to be a democracy or absorbing them and changing the Jewish character of the nation.
Knowing this, successive Israeli governments have acknowledged the desirability of reaching an agreement allowing the Palestinians some form of self-government (Yitzhak Rabin referred to an "entity," other Israeli leaders foresaw a state). The question then arises as to the borders of that authority.
The Palestinians have agreed that the major settlement blocs would be annexed to Israel if an agreement for a Palestinian state was reached.5 Still, the question of how the Jews living outside those blocs would be treated is unclear. Tens of thousands of residents would need to be evacuated and compensated. Given the trauma, cost, and difficulty of evacuating about 9,000 Jews from Gaza, it is difficult to imagine an Israeli government willing to force at least ten times that many Jews from their homes in Judea and Samaria.
In addition, every Israeli government, and most nonpartisan observers, agree that Israel's security requires a presence in the Jordan Valley. It is possible that the security fence could, with some modifications, become a permanent border. Other arrangements would have to be made to minimize the threat to the Israeli population.
Proposals by Prime Ministers Ehud Barak and Ehud Olmert offered the Palestinians some authority in East Jerusalem; however, Israeli positions have hardened since then, and it is difficult to envision that such an arrangement would be acceptable now. Nevertheless, a compromise might be possible. For example, Mahmoud Abbas and Yossi Beilin agreed in 1995 that a Palestinian capital would be established in the Jerusalem suburb of Abu Dis. The Trump peace plan also proposed Abu Dis as the capital.6 The Palestinians built a parliament building there, but it was never used, and Abbas no longer supports the idea.
No solution is possible if the Palestinians refuse to accept the permanent presence of a Jewish state.
Solving the Palestinian question will bring peace to the Middle East.
FACT
A cardinal view of Arabists is that the Israeli-Palestinian conflict is the core of all Middle East problems. According to Middle East scholar Martin Kramer, this "linkage" theory holds that the Israeli-Palestinian issue "practically alone, prompts the rise of terrorists, weakens friendly governments, and makes it impossible for the United States to win Arabs and Muslims over to the good cause."7
The Palestinian's plight is the result rather than the cause of the Arab-Israeli conflict and stems from the Arabs' unwillingness to accept a Jewish State in the Middle East. Had Arab governments not gone to war in 1948 to block the UN partition plan, a Palestinian state would now be celebrating more than 70 years of independence. Had the Arab states not supported terrorism directed at Israeli civilians and provoked seven subsequent Arab-Israeli wars, the conflict could have been settled long ago, and the Palestinian problem resolved.
Meanwhile, the Palestinian problem is one of many simmering ethnic, religious, and nationalistic feuds plaguing the region. It had nothing to do with the Iran-Iraq War, the Gulf wars, the Lebanese Civil War, or the "Arab Spring" upheavals. Similarly, today, there are civil wars in Syria, Yemen, and Libya, conflicts between Sunni and Shiite Muslims, and Iranian threats against its neighbors, to name a few of the disputes unrelated to Israel or the Palestinians. "Almost every border in that part of the world, from Libya to Pakistan, from Turkey to Yemen, is either ill-defined or in dispute," scholar Daniel Pipes noted years before the current turmoil. "But Americans tend to know only about Israel's border problems and do not realize that these fit into a pattern that recurs across the Middle East."8
If the Palestinian problem were solved, it would not impact the region's volatility. It would also not bring peace to Israel because radical Islamists such as Hamas, Hezbollah, and the regime in Iran do not accept the legitimacy of a Jewish state in what they consider the Muslim heartland.
A future Palestinian state must be a democracy that seeks peace with Israel.
—Foreign Minister Yair Lapid9
A Palestinian state will pose no danger to Israel.
FACT
For many years, the consensus in Israel was that the creation of a Palestinian state would present a grave risk to Israeli security. These fears were well founded, given the long-standing Palestinian commitment to the destruction of Israel and the later adoption of the phased plan whereby the Palestinians expressed a willingness to accept a West Bank state in the short term and use it as a base from which to pursue the longer-term goal of replacing Israel.
Starting with the Oslo agreements in the early 1990s, a radical shift in opinion occurred. Most Israelis became reconciled to living beside a peaceful demilitarized Palestinian state (though Yitzhak Rabin never agreed to establish such a state).
The two-state solution is viewed internationally as the best option for ending the conflict, but Israelis still believe it entails risks, a view reinforced by Palestinian actions since Oslo. After returning much of the West Bank and all of Gaza and allowing the Palestinians to govern themselves, terrorism and incitement against Israelis have continued. So far, no concessions by Israel have been sufficient to prompt the Palestinians to end the violence.
Israelis also fear that a Palestinian state will become dominated by Islamic extremists and serve as a staging area for terrorists, a concern grounded in the experience following the disengagement from Gaza and the efforts of Hamas to take over the West Bank. Another danger, albeit one that has diminished in recent years, is that a Palestinian state could serve as a forward base for Arab nations that refuse to make peace with Israel in a future war.
A Palestinian state would pose no threat in an ideal world, but history and experience make Israelis cautious.
Jews will be welcome in a future Palestinian state.
FACT
It is taken for granted that Arabs should be allowed to live in Israel – the Israelis would be rightly condemned for bigotry if they were not – yet proponents of a two-state solution do not criticize the Palestinians for pledging to make their state judenrein. Palestinian Authority President Mahmoud Abbas said, "In a final resolution, we would not see the presence of a single Israeli – civilian or soldier – on our lands."10
Nearly 800,000 Jews live in the disputed territories. What Abbas advocates is ethnic cleansing.
More than two million Arabs, 21% of the population, live peacefully in Israel with full civic rights, prompting Prime Minister Benjamin Netanyahu to note, "There are Arabs who live here, but they can't contemplate Jews living there."11
Besides being immoral, the Palestinians' position is also hypocritical. Abbas demands that Palestinian refugees be allowed to move to Israel while simultaneously planning to expel all Jews from the territory where they have lived for centuries.
Many settlement critics share Abbas' sentiment. They also call for removing all Jews from the West Bank on the pretext that it is a prerequisite for peace.
Why is every Jew expected to be evacuated from the West Bank rather than being given the option of staying? Why should "Palestine" be one of the only countries where Jews cannot live?
If Jews were barred from living in New York, Paris, or London, it would be called anti-Semitic. Barring Jews from the West Bank, the cradle of Jewish civilization should be no less objectionable.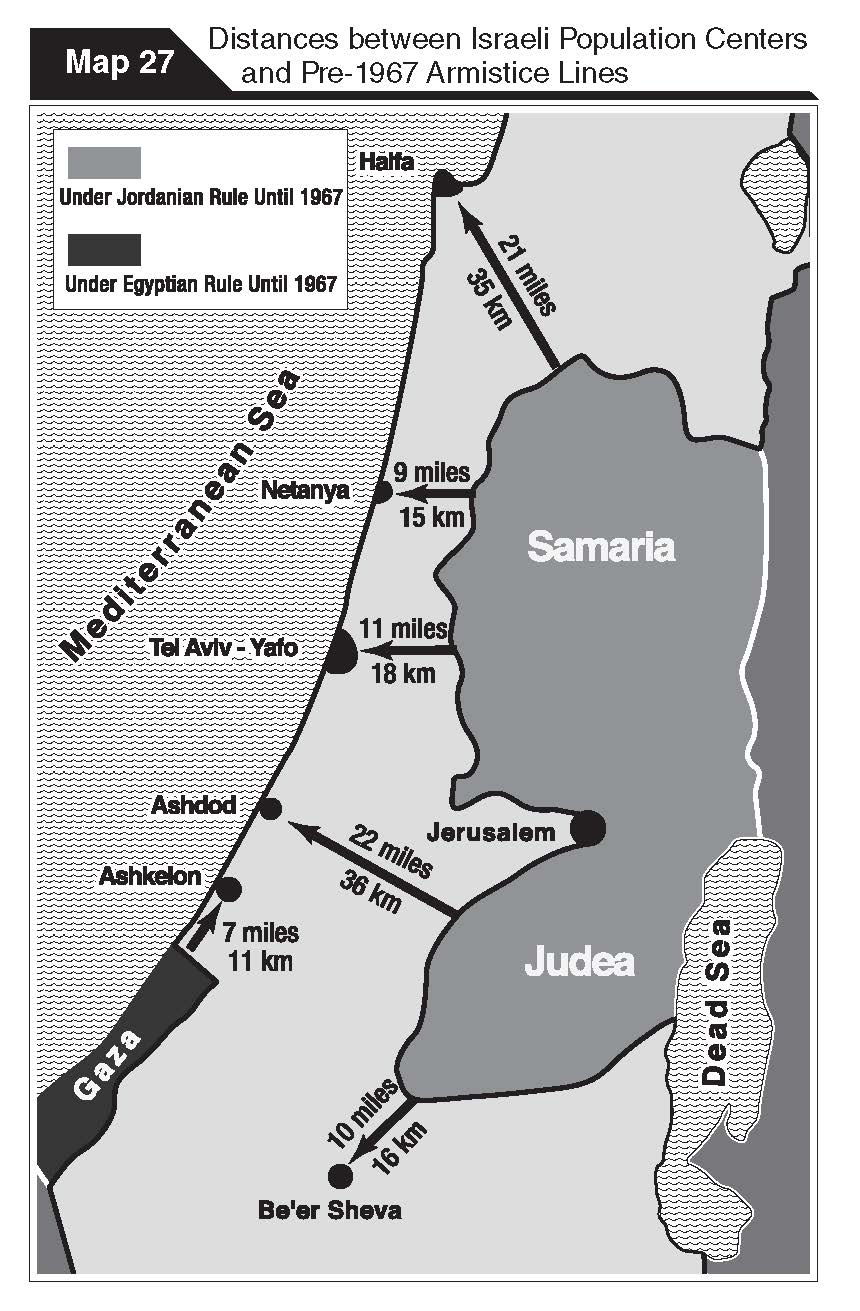 If Israel ends the occupation, there will be peace.
FACT
The experience in Gaza offered a stark case study of the fallacy of the once-popular "land for peace" slogan. If the Palestinians wanted to end Israeli control over their lives, they would have cheered Israel's evacuation of Gaza and done everything possible to make it a success. Instead, they denounced the disengagement. Still, Israel withdrew from every inch of Gaza—not one Israeli soldier or civilian remains—at a significant emotional and financial cost.
And what has the end of the "occupation" of Gaza brought Israel? Has Israel received peace in exchange for the land?
Since 2005, Israel has been targeted by incessant terrorist attacks and bombarded by more than 16,000 rockets. Terror and incitement also continued unabated from the West Bank, preempting any possibility that Israelis would support additional territorial concessions. Rather than "end the occupation," Palestinian actions have forced Israel to maintain a presence to ensure the safety of its citizens.
The responsibility for this escalation in the Israeli-Palestinian conflict rests with the Palestinians, who have yet again turned their backs on peace. Rather than take the withdrawal of Israel from Gaza as an opportunity to build a future for their children, they instead refused to relinquish their embrace of a culture of hate and death.
—Editorial, Chicago Sun-Times12
Slogans are good for bumper stickers, but they are irrelevant to the future of Israel and its neighbors. Israelis have repeatedly shown a desire for peace and a willingness to make painful sacrifices, but nothing they do will end the conflict. Peace will be possible only when the Palestinians demonstrate a desire to coexist with Israel through their actions.
The events following the disengagement caused Israelis to lose faith that any conceivable compromise would end the conflict with the Palestinians. Consequently, most Israelis are in no hurry to offer new concessions; they now demand more stringent safeguards before any additional withdrawals.
The Palestinians have never been offered a state of their own.
FACT
The Palestinians have had numerous opportunities to create an independent state but have repeatedly rejected them:
·       In 1937, the Peel Commission proposed the partition of Palestine and the creation of an Arab state.
·       In 1939, the British White Paper proposed the creation of a unitary Arab state.
·       In 1947, the UN would have created an even larger Arab state as part of its partition plan.
·       The 1979 Egypt-Israel peace negotiations offered the Palestinians autonomy, which would almost certainly have led to complete independence.
·       The Oslo agreements of the 1990s laid out a path for independence, but the process was derailed by Palestinian terrorism.
·       In 2000, Prime Minister Ehud Barak offered to create a Palestinian state in all of Gaza and 97 percent of the West Bank.
·       In 2008, Prime Minister Ehud Olmert offered to withdraw from almost the entire West Bank and partition Jerusalem on a demographic basis.
·       In 2013-14, the Palestinians took unilateral steps that sabotaged the Kerry initiative.
·       In 2020, the Palestinians rejected the Trump peace plan.
In addition, from 1948 to 1967, Israel did not control the West Bank. The Palestinians could have demanded an independent state from the Jordanians but never did.
The Palestinians have spurned every chance for statehood. A variety of reasons have been given for why the Palestinians have, in Abba Eban's words, "never missed an opportunity to miss an opportunity." Historian Benny Morris has suggested that the Palestinians have religious, historical, and practical reasons for opposing an agreement with Israel. He said, "Arafat and his generation [which includes Mahmoud Abbas] cannot give up the vision of the greater land of Israel for the Arabs. [This is true because] this is a holy land, Dar al-Islam [the world of Islam]. It was once in the hands of the Muslims, and it is inconceivable [to them] that infidels like us [the Israelis] would receive it."
The Palestinians also believe that time is on their side. "They feel demographics will defeat the Jews in one hundred or two hundred years, just like the Crusaders." The Palestinians, Morris says, also hope the Muslims will acquire nuclear weapons that will allow them to destroy Israel.13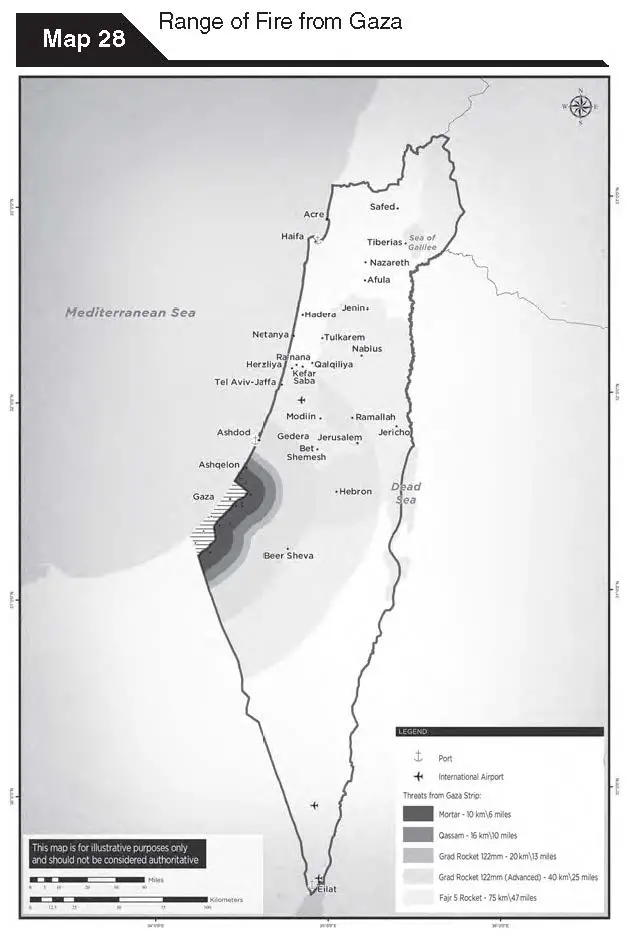 The Palestinians are asked to accept only 22% of Palestine.
FACT
When Israel offered a two-state solution to the conflict, the Palestinians shifted their complaint to the size of the state they demanded. Palestinians say Israel is doing them no favors by offering a state in the disputed territories because it asks them to accept a state in only 22% of Palestine, while Israel keeps 78% percent. This is a compelling point to show the unfairness of the Palestinians' plight and to suggest Israel's peace overtures are inconsequential unless you know the history of Palestine and recognize that the truth is precisely the reverse.
Historic Palestine included Israel, the West Bank, and Jordan. It is Israel, including the disputed territories, which is only 22% of "Palestine." If Israel withdrew entirely from the West Bank and Gaza Strip, it would possess only about 18%. And from Israel's perspective, it is the Zionists who already sacrificed by accepting the UN's partition resolution, which allotted the Jewish state only about 12% of the historic land of Israel.
Meanwhile, of the approximately 13.4 million Palestinians worldwide, some 76% (3.2 million in Jordan, 5 million in the disputed territories, and 2 million in Israel) live in historic Palestine.
The best option for peace is a one-state solution.
FACT
Some peace advocates believe the only solution to the Israeli-Palestinian conflict is creating one state encompassing Israel, the West Bank, and the Gaza Strip. "It is simply the recognition of the uncomfortable reality that Israel and the occupied Palestinian territories already function as a single state. They share the same aquifers, the same highway network, the same electricity grid, and the same international borders," argued Michael Tarazi, a legal adviser to the PLO.14
Nonpartisans' support for the one-state solution is driven to some degree by despair over the prospect of a two-state solution. Assaf Sharon argued it "is more an expression of moral outrage and political desperation than a well-reasoned proposal."15
Palestinian leaders prefer that a single Palestinian state replace Israel. Jews who believe in "Greater Israel" favor one state to prevent the creation of a Palestinian state and to assert sovereignty over the historic Land of Israel.
Polls, however, show little popular enthusiasm for this option. A June 2022 poll found that 22% of Palestinians in the West Bank and Gaza Strip support one state for Israelis and Palestinians.16 A 2019-2020 survey reported that only 9% of Israeli Jews favored the annexation of Judea and Samaria and establishing one state.17
The principal argument against a one-state solution from Israel's point of view is demographic. The Jewish population is 74% of the total. If you add Israel's current population of 9,450,000 (6,998,000 Jews) with the disputed territories (4.9 million), you get an entity with nearly 14.4 million people, and the percentage of Jews would fall under 50%. Some argue that Israel should not annex Gaza – what would happen to it is unclear – in which case the Jewish population would increase to 56% of the population, but the Palestinians would still make up a significant minority (44% – up from 21% today). Some people question Palestinian population figures, but even if you accept one of the lower estimates, the percentage of Jews will drop significantly; Palestinians would still comprise a much larger proportion of the population than today. The demographic balance would be even more disadvantageous if Palestinian refugees were allowed to move to the unitary state.
Granting the Palestinians full and equal civil rights could alter the state's Jewish character. Failure to grant those rights would make the state undemocratic. Because of this dilemma, even the most hawkish Israeli prime ministers have been unwilling to annex the territories, and that was one reason Ariel Sharon decided to evacuate Gaza.
If Palestinians ever achieved a majority, Jews fear they would become second-class citizens and be persecuted as they have historically been in Arab and Muslim countries.
The idea that a single state would end the conflict is also dubious. "In the Middle East, wherever a central regime is imposed on different sectarian/ethnic groups, the consequence is ongoing struggle," former peace negotiator David Makovsky observed, mentioning the examples of Iraq, Syria, Lebanon, and Libya. Furthermore, he asked, "Does a country that has ingathered Jews from Ethiopia, Syria, Yemen, and throughout discriminated communities in the Middle East suddenly yield that identity?"18
From the Palestinian perspective, should they be expected to accept an outcome that does not allow them to realize their national identity? "Palestinians, too, have persevered," Makovsky acknowledges. "In their dispersal, in the refugee camps and through two intifadas, they have not surrendered their identity."
The creation of one state will not erase decades of anger or the religious, cultural, social, and economic differences. "The road to two states is arduous," Makovsky observes, "but the one-state path guarantees endless bloodshed."19
The Palestinian education system promotes peace with Israel.
FACT
Israelis have little confidence in the prospect of peace with the Palestinians because they see how the younger generation is indoctrinated in schools. Rather than use education to promote peace with their Jewish neighbors, schools impart anti-Semitic stereotypes, regurgitate anti-Israel propaganda, and disseminate content provoking hostility and intolerance rather than coexistence.
A study commissioned by the European Union examined 156 textbooks and 16 teacher guides. The report said they present "ambivalent – sometimes hostile – attitudes towards Jews and the characteristics they attribute to the Jewish people" and their "frequent use of negative attributions in relation to the Jewish people...suggest a conscious perpetuation of anti-Jewish prejudice."
One religious studies textbook asks students to discuss the "repeated attempts by the Jews to kill the prophet" Muhammad and asks who are "other enemies of Islam." A math text showed a picture of Palestinians hitting Israeli soldiers with slingshots to describe Newton's second law of motion. Another textbook "promotes a conspiracy theory that Israel removed the original stones of ancient sites in Jerusalem and replaced them with ones bearing "Zionist drawings and shapes."
Terrorists are praised, and those killed are referred to as martyrs. Such references appear in science and math books unrelated to the conflict with Israel. In addition, maps in the texts replace Israel with "Palestine."20
We have found books with passages that are so anti-Semitic that if they were published in Europe, their publishers would be brought up on anti-racism charges.
—French lawyer and European Parliament member Francois Zimeray21
According to a study of 89 teacher guides by Dr. Arnon Groiss, Israel and the Jewish connection to the land of Israel are delegitimized. Students are supposed to be taught that the Palestinians have a right to all of "Palestine" and that Jews have no claim to the land. Jews and Israel "are depicted as aggressive, barbarous, full of hate and bent on extermination, thus forming an existential threat to the Palestinians." Maps label Israeli cities with Arabic names.
Rather than a peace curriculum, Groiss says teachers are instructed to encourage "a violent liberation struggle" because "peace and coexistence with Israel are not an option." The Palestinian refugees are expected to "return to their former residential places in liberated Palestine, not to the State of Israel." Cities in Israel, such as Haifa and Acre, are "waiting for liberation."
The Islamization of the conflict is evident in the portrayal of Jews as the enemies of Islam and the stress placed on defending and liberating the al-Aqsa Mosque, jihad, and martyrdom. Women are encouraged to emulate terrorists such as Dalal al-Mughrabi and Leila Khaled.
Al-Mughrabi participated in the 1978 Coastal Road massacre in which 38 Israelis, including 13 children, were murdered. Khaled hijacked a TWA plane from Rome to Tel Aviv in 1969 and was prevented from seizing an El Al flight from Amsterdam to New York the following year by Israeli sky marshals.
Another study of 222 textbooks published since 2020 found "a systematic insertion of violence, martyrdom, and jihad across all grades and subjects. Extreme nationalism and Islamist ideologies are widespread throughout the curriculum, including in science and math textbooks. The possibility of peace with Israel is rejected. Any historical Jewish presence in the modern-day territories of Israel and the Palestinian Authority is entirely omitted."
Despite assurances from Palestinian officials that changes would be made in the 2020-21 curriculum, the report said no substantive changes were made "relating to existing problematic content which supports hate speech, anti-Semitism, incitement, violence, and encouragement of martyrdom and jihad."22
Israelis see what children are taught and despair that the next generation of Palestinians will be intolerant, violent, and uninterested in peace.
Palestinians no longer object to the creation of Israel.
FACT
While Israelis celebrate their independence, Palestinians mourn the establishment of Israel on what they call Nakba Day. Had the Palestinians and the Arab states accepted the partition resolution in 1947, the State of Palestine would also celebrate its birthday each year, and Palestinians would not be lamenting "The Catastrophe."
Palestinians are understandably bitter about their history, but we are repeatedly told that they object to the "occupation" of the territories Israel captured in 1967. If that is true, why isn't Nakba Day on the anniversary of the Arab defeat in the Six-Day War?
The reason is that the Palestinians consider the creation of Israel the original sin, and their focus on that event indicates a refusal to reconcile themselves to the existence of a Jewish State. The Hamas Covenant explicitly calls for the destruction of Israel.
As long as the Palestinians treat Israel's creation as a catastrophe, the prospects for coexistence will remain bleak.
Palestine means Palestine in its entirety—from the [Mediterranean] Sea to the [Jordan] River, from Ras al-Naqura to Rafah. We cannot give up a single inch of it. Therefore, we will not recognize the Israeli enemy's [right] to a single inch.
—Hamas leader Mahmoud Zahar23
Israeli Arabs would prefer to live in a Palestinian state.
FACT
Israeli Arabs know that, despite its faults, Israel is still a democratic state that offers them freedoms denied to Palestinians living under the rule of the Palestinian Authority and Hamas. Hence, most say they prefer to live in Israel rather than a Palestinian state. One poll found that only 20% of Israeli Arabs were ready to move to a Palestinian state.24
The Palestine News Network surveyed Palestinian Arabs in Jerusalem and found that 93% preferred to remain under Israeli rule and would not give up their Israeli identity cards.25
Many of the 330,000 East Jerusalemites depend heavily on Israel for jobs, health care, and unemployment insurance. They do not foresee having the same opportunities or benefits under the Palestinian Authority. When the possibility of dividing Jerusalem was discussed in 2007, Jamil Sanduqa, head of the Shuafat refugee camp, said, "If they put a border here, we'll move to Haifa and Tel Aviv. You'll have 50,000 people who live here leaving East Jerusalem in minutes." He added, "I don't want to raise my children on throwing stones or on Hamas," Sanduqa said.26
A land swap is one of the proposals for moving toward a two-state solution. One idea is to shift the border so the 50,000 residents of Umm el-Fahm, plus an additional 150,000 Israeli Arabs who sit on 200 square miles of land just northeast of the West Bank (referred to as the "Arab triangle"), would be a part of a future Palestinian state. The Palestinians swap citizenship; Israel exchanges land. Residents in these towns, however, are vehemently opposed to being part of the deal.
Only 10% of the residents were willing to move to a Palestinian state.27 "We wish to express our sharp opposition to any initiative taken by the State of Israel and the Palestinian Authority with regard to our civil, political, and human rights," the heads of the Arab regional councils and cities wrote to Prime Minister Olmert and his cabinet members in response to the land swap proposed in 2007. "We wish to make it clear that as citizens of the State of Israel since 1948–1949 . . . the proposed moving of borders will deprive us of these human rights and tear apart the social and economic ties that have been constructed on the basis of a long and difficult struggle."
One signatory was Sheik Hasham Abed Elrahman, Umm el-Fahm's mayor and head of the Wadi Ara Forum of Arab and Jewish Mayors. He wrote, "I can tell you that we want to work together with the Jewish majority for the betterment of all of Israel. Religiously, politically and socially, we want to remain part of the State of Israel."28
Few Palestinians want to move to "Palestine," and many who live under the rule of the Palestinian Authority and Hamas would emigrate if they could. According to a 2022 survey, 26% of the residents would like to leave.29
Israel must negotiate with Hamas.
FACT
Hamas controls the Gaza Strip; therefore, some people argue that Israel must negotiate with the terror group. Few Israelis believe that Hamas is interested in peace. Still, advocates for negotiations believe a long-term cease-fire agreement could be reached in which Hamas promises to stop firing rockets and Israel ceases its military operations.
Hamas cease-fires have resulted from the fear that Israel was about to attack them or in response to targeted killings of their leaders. They also accept them to rearm and then, at the time of their choosing, resume assaults.
Hamas also remains committed to its covenant that calls for the destruction of Israel, and its spokespeople make belligerent statements. In 2015, for example, Hamas leader Khaled Meshaal said, "The so-called peace process is futile. There is no peace. Only the path of Jihad, sacrifice, and blood (will bear fruit)."30 Three years later, Political Bureau Chairman Ismail Haniyeh vowed that "we shall never forget Palestine from the [Mediterranean] Sea to the [Jordan] River" and "we shall never recognize Israel!"31
The international community set three conditions for lifting economic sanctions on Hamas, which are also prerequisites to any negotiation: Renounce violence against Israel, Recognize Israel, and honor all previous agreements between Israel and the Palestinian Authority. Hamas rejects all three.
It is often said that you don't make peace with your friends, you make peace with your enemies, but this assumes the enemy you are negotiating with is not committed to your destruction.
Palestinians want to create a secular democratic state.
FACT
To appeal to the West, Palestinians often say their goal is to create a "secular democratic Palestine," and supporters of the two-state solution assume a Palestinian state will be secular and democratic. No secular democratic Arab states exist in the Middle East, and a Palestinian state is unlikely to be any different.
In its draft constitution, the Palestinian Authority has already established Islam as the official religion of "Palestine" and Sharia as "a principal source of legislation." Furthermore, all evidence suggests that a Palestinian state would deny its people human and civil rights Westerners take for granted.
The authoritarian regime of Mahmoud Abbas and the Islamic rule of Hamas in Gaza foreshadow Palestinians' fate in a future state. Abbas was elected in 2005 but repeatedly canceled elections, remaining in office nearly two decades beyond the end of his term. Abbas does not allow freedom of speech, assembly, or religion. Critics of the regime are jailed, tortured, or, in some cases, executed. Women's rights are limited, and gay people are persecuted based on Koranic prohibitions on homosexuality. The liberties of Palestinians would be further threatened if Sharia Law was imposed and the Palestinian state operated under the authority of the Islamists of Hamas.
The Palestinians' top priority is peace with Israel.
FACT
In a June 2022 Palestinian Center for Policy and Survey Research (PSR) poll, 69% of Palestinians opposed a two-state solution, and only 28% supported it. A Washington Institute poll the same month had similar results, with 66% rejecting a two-state solution and 31% willing to accept one. That survey also found that 46% believed the top Palestinian national priority is to regain all of historic Palestine, from the Jordan River to the Mediterranean Sea.
When asked in the PSR poll which problem they see as the top priority for the Palestinian Authority, 26% said unemployment and poverty, 25% said corruption in public institutions, and only 16% said continuation of the occupation and settlement construction.
Unlike Israelis, who have mobilized hundreds of thousands of people to demonstrate for peace, Palestinians only organize to protest and riot. They have never had anything analogous to the Israeli Peace Now movement. Their preference for violence is reflected in the PSR poll, which reported that 55% of the Palestinian public support a return to confrontations and armed intifada, and 59% view armed attacks against Israelis inside Israel as serving the national interest in ending the "occupation." When asked about the most effective means of ending the Israeli occupation and building an independent state, 50% chose armed struggle and 22% negotiations.
Is it any wonder that Israelis believe they have no partner for peace?
Palestinian maps reflect their goal of coexistence with Israel.
FACT
Palestinian leaders communicate their true goal – a single state of Palestine replacing Israel – through imagery. Map 29 appeared on the Palestinian Authority website and illustrated better than any words the Palestinians' objective.
The President of the Palestinian Authority, Mahmoud Abbas, is head of its dominant faction, Fatah. The Fatah emblem features a grenade with crossed rifles superimposed on the map of Israel. This emphasizes the dedication of Fatah, along with the other "liberation" groups, to the "armed struggle" against Israel, a euphemism for terrorism against civilians.
Fatah is the largest faction of the PLO, which has an unambiguous emblem:
This is the emblem of the Fatah Youth Movement to ensure that young Palestinians get the message.
The Palestinian education system is committed to communicating to students of all ages that only one state should exist between the Mediterranean Sea and the Jordan River – Palestine.
Palestinian textbooks send a similar message to school children. Here are just two examples:

"Al-Tarbiyah al-Wataniyyah" ("National Education")
3rd grade, page 49, academic year 2002-2003

"The Geography of Palestine"
Nan Jacques Zilberdik reported, "As part of its protests against the normalization agreements between Israel and the UAE, Bahrain, and Sudan – and the fear that more Arab states will follow – Fatah posted the image below [on the Facebook page of the Fatah Commission of Information and Culture, October 28, 2020] with four repetitions of the PA map of "Palestine" that includes all of Israel."32
While the international community has championed the two-state solution as the best opportunity for peace between Israelis and Palestinians, the visual evidence suggests the Palestinians have a different goal.
The Abraham Accords were a betrayal of the Palestinians.
FACT
In a dramatic and unexpected joint announcement by the United States, Israel, and the United Arab Emirates on August 13, 2020, Israel and the UAE "agreed to the full normalization of relations." The agreement followed years of quiet diplomacy and interaction between the two countries.
The Palestinian Authority condemned the agreement as "a betrayal of Jerusalem" and an "aggression against the Palestinian people." Hamas called it "cowardly" and "a blatant assault on our religious, national, and historical rights in Palestine, a treacherous stab in the back of the Palestinian people and their resistance forces, and a miserable attempt to influence their struggle and resistance path aimed defeating the occupation."33
On September 15, 2020, Bahrain joined the UAE in signing what became known as the Abraham Accords. Morocco and Sudan subsequently agreed to normalize relations with Israel.
For years, the Palestinians exercised a de facto veto over Arab states' relations with Israel. U.S. officials accepted this and did not use American leverage to change their minds. John Kerry, President Barack Obama's Secretary of State, expressed the conventional wisdom. "I've talked to the leaders of the Arab community," he said in 2016. "There will be no advanced and separate peace with the Arab world without the Palestinian process and Palestinian peace."34
Obama's policies inadvertently contributed to the Abraham Accords. America's Gulf allies saw him reducing U.S. support for them while signing a nuclear deal with their enemy Iran. This encouraged them to seek help from Israel, which shared their concern with Iran's pursuit of a nuclear weapon.
The Gulf states also saw the potential benefits of ties with Israel, such as trade and access to technology. They were frustrated by the Palestinians' unwillingness to make any compromises for peace with Israel. The leaders of the UAE and Bahrain decided they would no longer sacrifice their national interests for the Palestinians.
By removing the veto over their relations with Israel, the Arab states may have improved the prospects for peace by forcing the Palestinians to see that they have no leverage in negotiations and must compromise if they hope to achieve independence.
Israel must make concessions for the peace process to succeed.
FACT
The Palestinians, and their supporters worldwide, continue to operate under the impression that Israel must make "goodwill" gestures – such as prisoner releases, settlement freezes, and checkpoint dismantlement – to get the peace process back on track. While the United States and others routinely pressure Israel to make such gestures, the Palestinians are not expected to make any corresponding goodwill gestures.
What seems to be forgotten, however, is that compromises and concessions are supposed to be the subject of peace talks, not a price Israel should be expected to pay to bring the Palestinians to the negotiating table. If the Palestinians are committed to peace, they should be anxious to discuss all the outstanding issues without preconditions. Peace takes two willing parties.
---