Israel International Relations:
Israel - UAE Relations
Introduction
Until the signing of the Abraham Accords on August 13, 2020, the United Arab Emirates (UAE) did not officially recognize Israel, and Israeli passport holders could not legally enter the country. 
Relations became strained in 2010 after the UAE accused the Mossad of assassinating Mahmoud al-Mabhouh. He was the co-founder of the Izz ad-Din al-Qassam Brigades, the military wing of Hamas, and wanted by the Israeli government for the kidnapping and murder of two Israeli soldiers in 1989 and for purchasing arms from Iran for use in Gaza.
In late November 2015, the government of the United Arab Emirates granted Israel formal permission to establish a diplomatic office in Abu Dhabi. Although this signifies a slight warming in relations between the two countries, the UAE granted permission to Israel largely to facilitate its membership in the International Renewable Energy Agency (IRENA). Officials from both countries have clarified that the diplomatic office serves the sole purpose of allowing Israeli diplomats to have a permanent office for IRENA and reside there as well. This diplomatic relationship is comparable to the relationship between Iran and the United States, wherein Iran has a UN Mission in New York despite the lack of U.S.-Iranian diplomatic relations.
During the first week of November 2016, Israel's ambassador to the United Nations, Danny Danon, paid a secretive visit to the UAE to attend a conference under the auspices of his position as chairman of the UN legal committee. Danon's visit was conducted under stringent security measures, to avoid public opposition.
Some Israeli businesses conduct business in the UAE, and there is a small population of Israeli ex-patriot professionals working in the UAE. There are also citizens of Israel who hold dual citizenship and work in the UAE as citizens of other countries.
Israeli Officials Visit
In October 2018, Miri Regev, Israel's culture and sports minister, paid the first state visit by an Israeli official to Abu Dhabi's Sheikh Zayed Grand Mosque, the Muslim world's third largest house of worship, after mosques in Mecca and Medina. During her trip to the UAE, Regev also witnessed a milestone when Israel's national anthem was played after Sagi Muki won a gold medal in the international judo tournament held in the capital. Coincidentally, an Israeli gymnastics delegation was in Qatar for the beginning of the world championships being held in Doha (Times of Israel, October 29, 2018). Shortly after Regev's visit, Israel's communications minister, Ayoub Kara, visited Dubai for a telecommunications conference (AAJ News, October 31, 2018).
Prime Minister Benjamin Netanyahu reportedly met with Crown Prince Mohammed bin Zayed in 2018 during a secret visit where he was accompanied by the director of the Mossad, Yossi Cohen.
Trilateral Meeting
The White House hosted a secret trilateral meeting on December 17, 2019, between Israel and the UAE on coordination against Iran as part of the Trump administration's effort to encourage the normalization of relations between Israel and the Arab states. Prime Minister Benjamin Netanyahu's national security adviser Meir Ben-Shabbat and UAE ambassador to the U.S., Yousef Al Otaiba, also discussed a nonaggression pact as an interim step toward full diplomatic relations.
A few days later, UAE Foreign Minister Abdullah bin Zayed tweeted an article headlined: "Islam's reformation, an Arab-Israeli alliance is taking shape in the Middle East." Netanyahu told his cabinet the following day: "The UAE Foreign Minister, Abdullah bin Zayed, spoke about a new alliance in the Middle East: An Israeli-Arab alliance. … I can only say that this remark is the result of the ripening of many contacts and efforts, which at the moment, and I emphasize at the moment, would be best served by silence."
According to Axios, the seeds of the relationship were planted during a U.S.-led anti-Iran conference in February 2019 in Warsaw. Afterward, a trilateral forum — the U.S., Israel, and the UAE – was created to strengthen cooperation against Iran. At least three meetings took place in 2019.
Israel announced it will take part in the 2020 World Expo in Dubai. The Israeli Foreign Ministry said it welcomed "the opportunity to share our spirit of innovation and entrepreneurship and to present Israeli innovations and trailblazing technology in various fields such as water, medicine and information technology."
On February 23, 2020, an Israeli cycling team raced through Dubai, taking part in the UAE Tour for the first time in the latest sign of warming ties between the two countries.
Pandemic Research and Cooperation
In its first flight to Israel, Etihad Airways arrived in Israel on May 19, 2020, carrying 14 tons of medical supplies to help the Palestinians cope with the COVID-19 pandemic. The Palestinian Authority said it would refuse the aid, however, because it had come through Israel. On June 9, 2020, a second Etihad Airlines plane brought another shipment of medical supplies. Unlike the first flight, the Etihad logo and United Arab Emirates flag were visible on the plane. While the PA again complained, the supplies were to be transferred to the UN for distribution in the Gaza Strip.
Israeli officials hoped the unprecedented flights were a further step toward normalizing relations; however, the possibility was clouded by Israeli plans to apply sovereignty over parts of the West Bank. Emirati Minister of State for Foreign Affairs Anwar Gargash had warned Israel earlier that it would face "dangerous repercussions" if it went through with what he referred to as annexation. Ambassador to the United States Yousef Al Otaiba subsequently took the unprecedented step of writing in Israel's most popular newspaper an article headlined, "It's Either Annexation or Normalization," expressing his country's opposition to Israel's plan. "Annexation will certainly and immediately upend Israeli aspirations for improved security, economic and cultural ties with the Arab world and with U.A.E.," he said.
Nevertheless, a few days later Netanyahu announced that Israel and the UAE agreed the Israeli and Emirati health ministries would cooperate in research and development in medical projects related to the coronavirus. Sensitive to the timing of the agreement, the UAE publicly admitted only that two private companies in the UAE had reached a deal with two Israeli companies to develop research and technology to combat COVID-19. Israel Aerospace Industries signed a cooperation agreement with the company Group 42 from Abu Dhabi on July 2, 2020, to join forces to research and development technology in the fight against the coronavirus pandemic.
UAE Agrees to Establish Diplomatic Relations
In a dramatic and unexpected joint announcement by the United States, Israel, and the UAE on August 13, 2020, Israel and the UAE "agreed to the full normalization of relations." The agreement was sealed in a phone call on August 13, 2020, between President Donald Trump, Israeli Prime Minister Benjamin Netanyahu and Sheikh Mohammed Bin Zayed, crown prince of Abu Dhabi.
White House officials said the deal, to be known as the Abraham Accords, was brokered by senior adviser Jared Kushner, U.S. Ambassador to Israel David Friedman, Middle East envoy Avi Berkowitz, Secretary of State Mike Pompeo and White House national security adviser Robert O'Brien.
Delegations from Israel and the UAE will meet to sign bilateral agreements regarding investment, tourism, direct flights, security, telecommunications, and other issues. They will also open embassies and exchange ambassadors. Flights from Abu Dhabi to Tel Aviv are also planned to bring pilgrims to visit the Al-Aqsa Mosque in Jerusalem. A few days later, the UAE cancelled its law to boycott Israel, which had been enacted in 1972 but was not enforced in recent years.
The statement also said that as "a result of this diplomatic breakthrough, and at the request of President Trump with the support of the United Arab Emirates, Israel will suspend declaring sovereignty" over areas of the West Bank.
UAE Ambassador to the United States Yousef Al Otaiba released a statement calling the agreement "a win for diplomacy and for the region" and "a significant advance in Arab-Israeli relations that lowers tensions and creates new energy for positive change."
He added that the move "immediately stops annexation and the potential for violent escalation. It maintains the viability of a two-state solution as endorsed by the Arab League and international community. It creates new dynamics and possibilities in the peace process." 
The UAE also reportedly secured a commitment from the administration that the United States will not recognize Israeli annexation of parts of the West Bank until at least 2024. Nevertheless, Otaiba anticipated Palestinian anger when he tweeted, "The UAE will remain a strong supporter of the Palestinian people – for their dignity, their rights and their own sovereign state. They must benefit from normalization. We will forcefully advocate for these ends, now directly and bolstered with stronger incentives, policy options and diplomatic tools."
One matter of controversy emerged after the announcement of the Abraham Accords regarding the possible sale of F-35 stealth fighters to the UAE. It was initially reported that Netanyahu acquiesced to the sale, seeing it as the price of the agreement, but he later denied such a quid pro quo.
There is a precedent for such a deal. Following the signing of the peace treaty with Egypt, Israel dropped objections to the sale of fighter planes to Egypt. This case is different, however, because the F-35 is the most advanced fighter plane in the world, and, though Israel already has them, Israeli officials, members of Congress, and some analysts argued the sale would erode Israel's qualitative military edge (QME) in the region.
One of the striking aspects of this development is the lack of protests in the Arab world. The Palestinians denounced the agreement, but public demonstrations were muted in the West Bank and virtually nonexistent elsewhere. The Arab League denied the Palestinian Authority's request to hold an emergency meeting to discuss the UAE-Israel agreement. Only Iran and Turkey took a stand against the Israel-UAE peace deal, and even they didn't do so for the sake of the Palestinians," noted Prof. Eyal Zisser, "but because they see the deal as hurting their own status in the region."
Prof. Hillel Frisch noted the significance: "Rest assured that if the lack of demonstrations went largely unnoticed by the general public, it was most assuredly noticed by state leaders in the Middle East and their violent proxy organizations. For those leaders who wisely seek to establish relations with Israel, the lack of demonstrations was reassuring, as it lowered the sense of danger emanating from the Arab street regarding the Israeli-Palestinian conflict."

Front page of Khaleej Times of Dubai hailing UAE-Israel peace agreement
 
A U.S.-Israeli delegation flew on El Al to Abu Dhabi on September 1, 2020, the first-ever direct flight from Ben Gurion Airport to an Arab Gulf country. This was also the first Israeli plane allowed to fly through Saudi airspace. During the visit, U.S., Israeli, and UAE officials discussed cooperation in the fields of investment, finance, health, space exploration, civil aviation, foreign policy, and tourism and culture. "The result will be broad cooperation between two of the region's most innovative and dynamic economies," the trio said in a statement.
Hend Al Otaiba, director of strategic communications at the UAE Ministry of Foreign Affairs and International Cooperation, outlined the vision of the Abraham Accords:
We seek a warm peace with Israel, punctuated by meaningful interactions, frequent engagements, and mutually beneficial opportunities…. Israeli students curious to learn about the UAE and the Gulf region deserve to study in our universities. Emirati students should sit in an Israeli classroom and learn with their Middle Eastern counterparts. Long-held biases and misinformed taboos must be broken down across societies and by all age groups. Our youth, who intrinsically understand the power of peace and the economic opportunities this opening provides, will lead the way…. The new normal will have our athletes competing against each other without political distractions. Our entrepreneurs and technologists need to collaborate and design solutions for a better future, beginning with cures to the COVID-19 pandemic. An Emirates or Etihad airplane landing in Tel Aviv or an El Al aircraft taking off from Dubai or Abu Dhabi should be routine.
Just a few weeks after the announcement about the establishment of relations, the UAE already had integrated a lesson about the agreement in one of the textbooks for grades 1-12. The chapter regarding the UAE-Israel agreement states that the "historic" agreement" stems from the values of our true Islamic religion," which pushes towards creating and "building bridges of cooperation."
On September 15, 2020, the Abraham Accords Peace Agreement was signed in a ceremony in Washington, D.C., by President Trump, Prime Minister Netanyahu, and UAE Minister of Foreign Affairs Abdullah bin Zayed Al Nahyan. As part of the Abraham Accords, the three leaders, along with the Foreign Minister of Bahrain, also signed a declaration expressing their common interests. On October 15, 2020, the Knesset approved establishing formal relations with the UAE by a vote of 80-13.
Peace Dividends
In September 2020, shortly after the signing of the Abraham Accords, the Dubai Diamond Exchange and Israel Diamond Exchange agreed to share expertise, open reciprocal offices, and promote regional trade in precious stones. Israel is one of the leading exporters of polished diamonds, and Dubai is one of the most important diamond centers in the world.
Diplomats from the United Arab Emirates made their first official trip to Israel on October 20, 2020, and signed an agreement allowing their citizens to travel from one country to the other without visas — Israel's first such waiver with an Arab state. Other agreements included approving direct flights between Tel Aviv and the Emirates, providing protections for investors, and fostering scientific and technological cooperation.
The United States, UAE, and Israel also agreed to create a $3 billion investment fund, to be called the Abraham Fund, to encourage private investment in Israel, the West Bank, and elsewhere in the Middle East and North Africa. One of its first planned projects is the construction of the long-discussed "Med-Red" oil pipeline from Eilat to Ashkelon, which would carry Emirati oil that now goes to Europe via the Suez Canal. The new route would lower energy prices and speed up shipments.
The fund will also be used to improve checkpoints in the West Bank, but the Palestinians were still angered by the plan, which they see as "a stamp of approval for the Israeli occupation's continuation."
In December 2020, Emirati authorities confirmed that the Educational Hebrew Institute, the first Hebrew language and Israeli culture institute in the UAE, will open in January.
On December 7, 2020, a member of the UAE's ruling family and Abu Dhabi businessman, Sheikh Hamad Bin Khalifa Al-Nahyan, purchased a 50% stake in Israeli Beitar Jerusalem, one of Israel's leading soccer clubs.
In January 2021, the UAE approved the opening of an embassy in Tel Aviv, and Israel opened its embassy in Abu Dhabi.
In March 2021, the national rugby teams of Israel and the UAE held the first-ever match in Dubai.
On April 6, 2021, the first commercial passenger flight from Abu Dhabi to Israel arrived in Tel Aviv. Aboard the Etihad Airways plane was Mohamed Al Khaja, the UAE's first ambassador to Israel, Eitan Na'eh, head of mission at the Embassy of Israel in Abu Dhabi, and Tony Douglas, chief executive of Etihad Airways. 
"Since the signing of the Abraham Accord between Israel and the UAE last summer, the two countries have worked together to embark upon a new and dynamic era of co-operation. From exploring trade and investment opportunities to engaging in culture and people-to-people exchanges, Israel and the UAE have moved swiftly to make the bold vision that first underpinned the accords a reality," said Al Khaja.
One of those areas of exchange is education. In May 2021, the two countries agreed to establish a team to focus on supporting initiatives and programs between educational institutions. They also agreed to initiate opportunities for exchanges of students and teachers.
In June 2021, Israel and the UAE signed an agreement to develop a water research institute in a partnership between Watergen, an Israeli water from air technology company; the UAE-based company Baynunah, which specializes in food security; and the Moshe Mirilashvili Institute for Applied Water Studies at Tel Aviv University.
The UAE ended its participation in the Arab League Boycott on August 16, 2020, prompting the U.S. Department of Commerce's Bureau of Industry and Security to determine in June 2021 that certain requests for information, action, or agreement from the UAE will no longer be presumed to be boycott related.
Prof. Milette Shamir, Vice President of Tel Aviv University, said, "Research at the joint water institute will build on our special academic strengths, and will open a path for collaboration with the UAE in other mutual areas of research, as well as to student and faculty exchange programs."
On June 29, 2021, Alternate Prime Minister and Foreign Minister, Yair Lapid, attended the opening of the Israeli Embassy in Abu Dhabi in a ceremony hosted by UAE Minister of Foreign Affairs and International Cooperation Sheikh Abdullah bin Zayed Al Nahyan. Foreign Minister Lapid's trip, the first to the UAE by an Israeli Foreign Minister, and the opening of the first Israeli Embassy in a Gulf state are significant for Israel, the UAE, and the broader region.
During his visit, Lapid and his counterpart signed a bilateral Agreement on Economic and Trade Cooperation. Under the agreement, the governments are committed to developing economic relations and free flow of goods and services, as well as cooperation regarding trade fairs, exchanges of experts and knowledge, exchanges of delegations, cooperation in standardization and regulation, encouraging cooperation of the private sector, encouraging research and development, agro-technologies and more.
UAE Ambassador to Israel Mohamed Al Khaja, right, and Israeli President Isaac Herzog, left,
at the ribbon cutting for the UAE embassy in Tel Aviv
On July 14, 2021, the UAE opened its embassy in Tel Aviv, the first Gulf Arab state to do so. The day before, Israel's Agriculture Minister, Oded Forer, signed an agreement with the UAE's Minister of Food and Water Security, Mariam Al-Muhairi, to cooperate on research and innovation relating to agriculture in desert conditions, water management, and irrigation.
In August 2021, Israel Aerospace Industries announced an agreement with Etihad Engineering to establish a facility in Abu Dhabi to convert Boeing 777-300ER passenger planes into cargo aircraft.
August marked the one-year anniversary of the normalization of relations. In that first year, trade reached a total of $570 million. The UAE-Israel Business Council grew to 4,000 members, evenly split between Israelis and Emiratis. In addition, roughly 230,000 Israelis visited the UAE during that time despite the COVID pandemic.
Despite being a major oil producer and member of OPEC, the UAE completed a deal in September 2021 to buy 22% of the Tamar offshore natural gas field for $1.025 billion. The majority of the field is still owned by other Israeli companies, with Chevron holding a 25% stake as well.
On October 7, 2021, Israel opened its pavilion at the Expo 2020 world's fair in Dubai.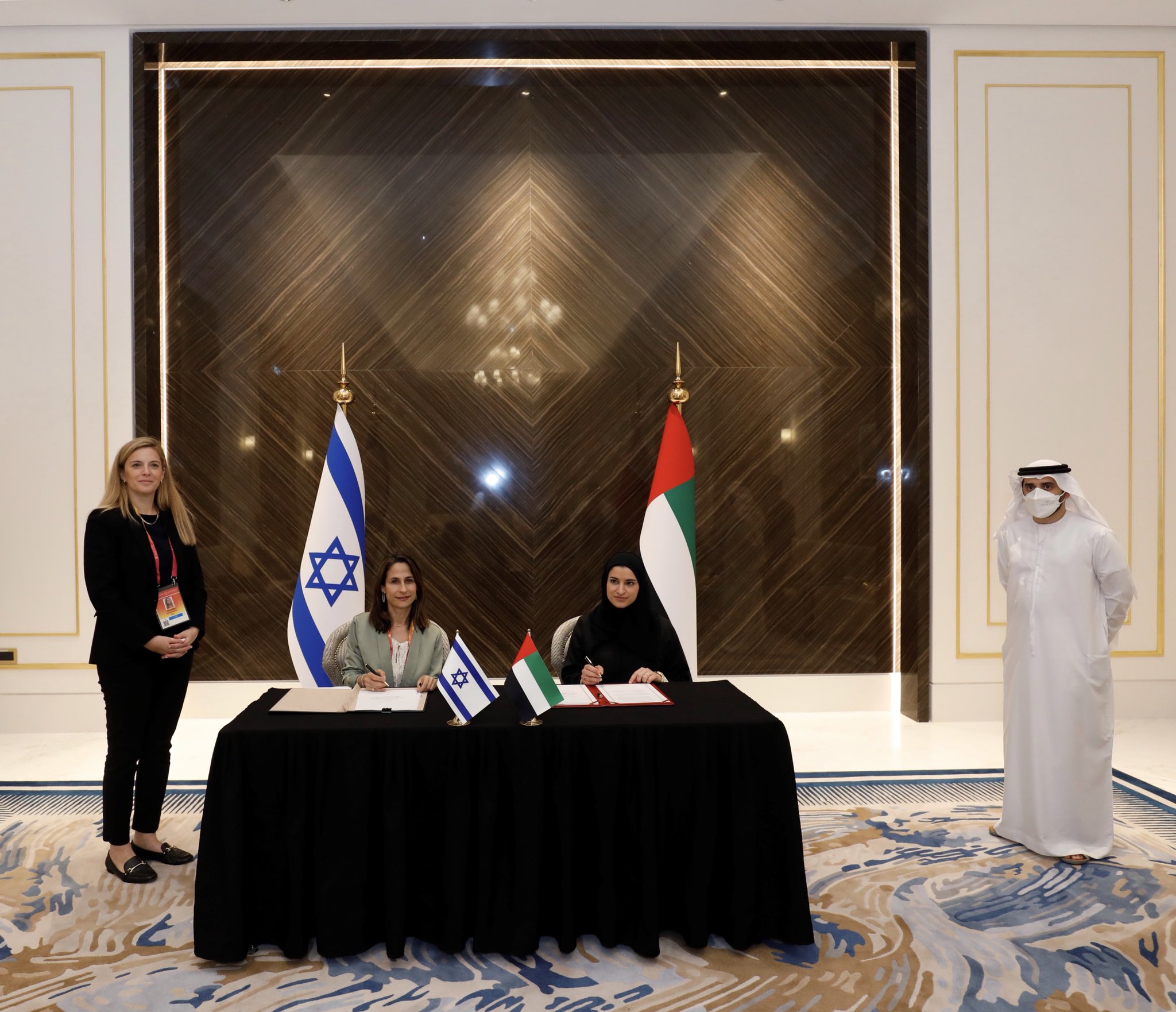 Signing of MOU by Emirati Minister of State for Advanced Technology Sarah bint Yousef Al Amiri
and Israeli Minister of Science and Technology Orit Farkash-Hacohen
On October 20, 2021, the UAE signed an MOU with the Israeli Space Agency to enhance cooperation in scientific research, space exploration and knowledge transfer to accelerate economic growth and human progress. The two countries also agreed to a joint launch of the "Beresheet 2" mission to the moon scheduled for 2024. 
A month later, UAE defense conglomerate EDGE and Israel Aerospace Industries signed an agreement in Dubai to jointly design unmanned vessels capable of carrying out anti-submarine warfare.
On November 15, 2021, Israeli Ambassador Hayek Amir presents his credentials, becoming the first Israeli Ambassador to the UAE.
On November 22, 2021, Israel and Jordan signed their largest-ever cooperation agreement that was brokered by the UAE. The agreement will involve the construction of a solar power plant in Jordan by a UAE company. Israel will purchase 600 megawatts of electricity from the plant for a new Israeli desalination plant that will send 200 million cubic meters of Mediterranean water to Jordan. Israeli Water Resources Minister Karine Elharrar, UAE Climate Change Minister Mariam Almheiri, and Jordan Water and Irrigation Minister Mohammed Al-Najjar signed the agreement.
Naftali Bennett became the first Israeli prime minister to visit the UAE for a meeting with the Crown Prince of Abu Dhabi, Sheikh Mohammed bin Zayed Al Nahyan on December 13, 2021. "We held deep, honest and significant conversations," Bennett said after the meeting. "We spoke about the relative strengths of the two countries, and our goal is to broaden the connection so that there will not only be peace between leaders but peace between peoples."
A joint statement from the two leaders' offices called Bennett's visit "another milestone in the development of warm relations and a tremendous partnership forged between the two countries."
According to the Jerusalem Post, "The countries plan to establish a joint R&D fund to commercialize solutions to challenges like climate change, clean energy and agriculture, and to advance a comprehensive economic partnership agreement." Toward that end, Bennett also met with the UAE's Minister of Industry and Advanced Technology, Dr. Sultan Al Jaber, to discuss renewable energy projects. He also discussed joint film and television projects with Culture Minister Noura Al Kaabi.
Israel and the UAE established a joint Israel-UAE R&D fund in January 2022 to support tech projects involving Israeli and Emirati companies. The fund is designed to encourage collaboration on technological innovation and to help Israeli companies access resources that are not available in Israel. It will also help Israeli businesses find Emirati partners, navigate local regulations, and develop marketing strategies. The Israeli government will allocate nearly $5 million a year for the next 10 years, and the UAE will provide matching funds.
On January 30, 2022, Israeli President Isaac Herzog made a historic first visit to the UAE to meet with Crown Prince Sheikh Mohammed bin Zayed. "This visit is an expression, of the vision and dream of peace and the spirit of peace, which we bring to the entire region," said Herzog. "We are two successful nations who started with very little in our hands, developed our lands into a successful paradise and in many ways set an example to the world of how to lead and develop a nation with a vision of the future. And this sends a message to the entire region that there is an alternative of peace and living together, and that the sons and daughters of Abraham can reside and dwell together in peaceful coexistence for the benefit of humanity."
Referring to attacks on the UAE launched by Iranian-backed Houthi forces in Yemen, the Crown Prince said, "Firstly, I would like to thank you for your stance regarding the recent terrorist attacks on civilian facilities in the UAE. It is a stance that demonstrates our common view of the threats to regional stability and peace, particularly those posed by militias and terrorist forces, as well as our shared understanding of the importance of taking a firm stance against them." He added: "Through peace, we in the UAE, Israel and the wider region can direct resources and capabilities towards serving our nations and paving the way for a better tomorrow."
During the visit of President Joe Biden to Israel in July 2022, the first leaders' summit among Israel, India, the United States, and the UAE was held virtually. This I2U2 group agreed to deepen the economic ties between the Middle East and the Indo-Pacific, to create new partnerships to tackle global challenges like food insecurity and clean energy technology.
Mohamed Al Kuwaiti, the head of cyber security in the UAE, appeared at an international cybersecurity event hosted by Tel Aviv University in June 2023 and said, "Israel and the national cyber system helped us repel a denial-of-service (DDOS) cyber-attack."
Promoting Religious Coexistence
Israel, the United States, and the UAE began a new program to promote interfaith and intercultural dialogue, as well as counter religious intolerance and hatred at the inaugural meeting of the Trilateral Religious Coexistence Working Group in Dubai on March 28. The meeting was attended by Israeli Minister of Intelligence Elazar Stern, Emirati Minister of Health Abdul Rahman Al Owais, and Uzra Zeya, U.S. Under Secretary for Civilian Security, Democracy and Human Rights.
The working group was created in October 2021 during a trilateral meeting between Israeli Foreign Minister Yair Lapid, U.S. Secretary of State Antony Blinken, and United Arab Emirates Foreign Minister Sheikh Abdullah Bin Zayed Al Nahyan.
"This is a moment of rising anti-Semitism, rising Islamophobia, and we want Israel, the United Arab Emirates and the United States to work together to build tolerance and ensure that all religious groups can worship in their traditional ways without violence, without intimidation, without discrimination," said Blinken.
"It is our duty to build on them and widen the circle of peace—regionally and globally—through these meetings of the Abrahamic faiths to send a clear message of reconciliation, acceptance and inclusion," said Stern.
In December 2022, Dubai's first kosher supermarket opened.
In February 2023, the Moses Ben Maimon Synagogue was inaugurated in Abu Dhabi. 
Free Trade Agreement
On April 1, 2022, Israel and the United Arab Emirates agreed on a free trade agreement covering 95% of traded products, which would be customs-free, immediately or gradually, including food, agriculture, and cosmetic products, as well as medical equipment and medicine. The agreement also included regulation, customs, services, government procurement, and electronic trade.
The agreement will substantially reduce or remove tariffs on a wide range of goods, enhance market access for services, promote investment flows and create mechanisms for small-and-medium enterprises' expansion.
"This milestone deal will build on the historic Abraham Accords and cement one of the world's most important and promising emerging trading relationships," tweeted UAE Minister of State for Foreign Trade Thani Al Zeyoudi.
In May 2022, a free trade was signed that will cover 96% of bilateral trade worth about $1 billion. Officials said the agreement would help trade grow to more than $10 billion within five years. "A free-trade agreement, especially of this nature, is really important, Jon Medved, CEO of Ourcrowd, Israel's most-active venture capital fund, told the Wall Street Journal. "I would call it a scaffolding for this incredible building of cooperation we're putting together with our partners in the UAE."
Israel's Channel 12 reported in June 2022 that Israel had deployed radar systems in the UAE to counter the threat of ballistic missiles from Iran.
On September 14, 2022, Sheikh Abdullah bin Zayed Al Nahyan, Minister of Foreign Affairs and International Cooperation, arrived in Tel Aviv with a high-level UAE delegation marking two years since the signing of the Abraham Accords. During his visit, the minister met with high-ranking Israeli officials to discuss a number of issues of mutual concern and matters related to UAE-Israel relations and the prospects for their cooperation and partnership.
In December 2022, the Dubai International Chamber offered an office in Tel Aviv to promote business. "Now following the signing of the Comprehensive Economic Partnership Agreement (CEPA) between the two countries in May 2022 and the removal of tariffs on 96 percent of goods, we expect bilateral growth to accelerate to more than $10 billion within five years," said Hassan Al Hashemi, VP-International Relations for Dubai Chambers.
Roughly 1,000 Israeli businesses are operating in the UAE and Hashemi said, "There are limitless exciting trade opportunities between the UAE and Israel particularly in the areas of electronics, water security, clean energy, space, retail, culture, machinery, vehicles, chemicals and food."
---
Sources: Simon Henderson, "Israel's gulf breakthrough," The Washington Institute, (November 30, 2015).
Daniel Roth, "Report: Israel's UN ambassador made secret visit to Dubai," Jerusalem Post, (November 3, 2016).
Jonathan Ferziger and Alisa Odenheimer, "As the Gulf Warms Up to Israel, a Synagogue Grows in Dubai," Bloomberg Businessweek, (December 5, 2018).
Wikipedia.
Ami Rojkes Dombe, "Israel to Participate in World Expo 2020 in Dubai," IsraelDefense, (April 28, 2019).
Dave Lawler and Barak Ravid, "Scoop: Israel and UAE discuss anti-Iran cooperation at secret White House meeting," Axios, (February 4, 2020).
"Israel team races in UAE cycling tour in sporting overture," AFP, (February 23, 2020).
Dion Nissenbaum, U.A.E. Flies Coronavirus Aid for Palestinians in First Known Commercial Flight to Israel," Wall Street Journal, (May 19, 2020).
Felicia Schwartz, "U.A.E. Makes Rare Public Appeal to Israel: Don't Annex the West Bank," Wall Street Journal, (June 12, 2020).
Jacob Magid, "Second UAE plane carrying virus aid for Palestinians lands in Israel," Times of Israel, (June 9 2020).
"UAE and Israeli companies sign deal to tackle COVID-19," Arab News, (June 25, 2020).
Ronen Bergman and Ben Hubbard, "Israel Announces Partnership With U.A.E., Which Throws Cold Water On It," New York Times, (June 25, 2020).
"Israeli and Emirati firms sign 'historic agreement' to jointly combat COVID-19," Times of Israel, (July 3, 2020).
The White House, (August 13, 2020).
Noa Landau, "Israel Suspends West Bank Annexation in Deal to Normalize Relations With the UAE," Haaretz, (August 13, 2020).
Steve Hendrix and Kareem Fahim, "Israel-UAE deal condemned by Palestinians, cheered by Egypt and Bahrain," Washington Post, (August 13, 2020).
Marcy Oster, "UAE cancels Israel boycott law as El Al prepares first direct flight and Kushner promises more deals," JTA, (August 30, 2020).
"El Al plane, ending landmark UAE trip, again flies over Saudi, lands in Tel Aviv," Times of Israel, (September 1, 2020).
Yossi Yehoshua, "Netanyahu secretly visited UAE in 2018 to kick start peace deal," Ynet, (September 1, 2020).
Hillel Frisch, "The Israel-UAE Agreement's Greatest Achievement: Little Arab Protest," BESA Center Perspectives Paper No. 1,729, (September 3, 2020).
Eyal Zisser, "The Palestinians have been left on their own," Israel Hayom, (September 3, 2020).
"Despite Public Denial, Netanyahu Privately Let U.S. Sell F-35 to UAE, Report Says," Haaretz, (September 4, 2020).
Jacob Magid, "US assured UAE it won't back Israel annexation before 2024 at earliest, ToI told," Times of Israel, (September 13, 2020).
Hend Al Otaiba, "UAE: We Seek a Warm Peace With Israel," Haaretz, (September 14, 2020).
Zachary Keyser, "UAE begins teaching about normalization with Israel to grades 1-12," Jerusalem Post, (September 15, 2020).
"Israel, Dubai diamond exchanges begin strategic collaboration," Reuters, (September 17, 2020).
David M. Halbfinger and Adam Rasgon, "Emiratis Land in Israel, Firming New Ties and Angering Palestinians," New York Times, (October 20, 2020).
Abigail Klein Leichman, "Hebrew language and Israeli culture institute opens in UAE," Israel21c, (November 29, 2020).
"Emirati royal buys 50 percent stake in Israel' Beitar Jerusalem Football Club," The New Arab, (December 7, 2020).
Lahav Harkov, "Israel reopens mission to Morocco after 20 years," Jerusalem Post, (January 26, 2021).
"Israel and UAE face off in rugby in what's likely the first-ever friendly sports matchup between the 2 countries," JTA, (March 19, 2021).
Nilanjana Gupta and Hayley Skirka, Etihad takes off for Israel: UAE airline launches inaugural flight to Tel Aviv," The National, (April 6, 2021).
Tobias Siegal, "Israel, UAE agree to collaborate on education, exchange programs," Jerusalem Post, (May 30, 2021).
"Israel-UAE water research institute to open in Abu Dhabi," Jerusalem Post, (June 1, 2021).
Gina M. Raimondo, "Department of Commerce Recognizes the United Arab Emirates' Termination of Participation in the Arab League Boycott of Israel," U.S. Department of Commerce, (June 7, 2021).
"The Opening of the Israeli Embassy in the United Arab Emirates," Press Release, U.S. Department of State, (June 29, 2021).
"Foreign Ministers of Israel and UAE sign Agreement on Economic and Trade Cooperation," Israeli Foreign Ministry, (June 29, 2021).
Zev Stub, "One year into Abraham Accords, Israel's trade with UAE tops $570m." Jerusalem Post, (August 8, 2021).
Steven Scheer, "Israel Aerospace, Etihad to open aircraft conversion site in Abu Dhabi," Reuters, (August 25, 2021).
Simon Henderson, "UAE-Israel Gas Deal (Finally) Finalized," The Washington Institute, (September 3, 2021).
Isabel Debre, "Israel opens its pavilion with big bash at Dubai's Expo 2020," AP, (October 7, 2021).
Dmitriy Shapiro, "At trilateral summit, Lapid focuses on finding alternative plan on Iran, hints at using force," JNS, (October 13, 2021).
Ricky Ben-David, "Israel, UAE to launch joint space projects, including Beresheet 2 Moon mission," Times of Israel, (October 20, 2021).
"UAE, Israel to develop unmanned military, commercial vessels," Reuters, (November 18, 2021).
Ghaith al-Omari and Simon Henderson, "UAE To Fund Israel and Jordan's Solar/Water Deal," Washington Institute For Near East Policy, (November 18, 2021).
"Israel and Jordan Pen Historic Water-for-energy Deal," Reuters, (November 22, 2021).
"Israel, Jordan sign huge UAE-brokered deal to swap solar energy and water," Times of Israel, (November 22, 2021).
Lahav Harkov, "Historic first meeting: Israeli prime minister meets Emirati crown prince," Jerusalem Post, (December 13, 2021).
Lazar Berman, "Israel approves multimillion-dollar joint R&D fund with UAE," Times of Israel, (January 23, 2022).
"President Herzog in historic visit to the UAE," BICOM, (January 31, 2022).
"UAE, US, Israel inaugurate working group on religious coexistence," JNS, (March 29, 2022).
"Israel, UAE finalise 'milestone' free trade deal," Reuters, (April 1, 2022).
Dov Lieber, "Israel, U.A.E. Sign Free-Trade Agreement," Wall Street Journal, (May 31, 2022).
Debbie Mohnblatt, "Israel Reportedly Deployed Radars to the UAE and Bahrain, Angering Iran," Media Line, (June 13, 2022).
"Remarks By President Biden and Prime Minister Yair Lapid Of The State Of Israel In Press Conference," The White House, (July 14, 2022).
"H.H. Sheikh Abdullah bin Zayed arrives in Tel Aviv on official visit," United Arab Emirates Ministry of Foreign Affairs and International Cooperation, (September 14, 2022).
Abigail Klein Leichman, "Dubai opens office in Tel Aviv to drive $10b trade goal," Israel21c, (December 22, 2022).
Tamara Zieve, "UAE Jewish community opens the Moses Ben Maimon Synagogue," JewishInsider, (February 20, 2023).
David Israel, "Head of UAE's Cyber Defense: Israel Helps Us Thwart Attacks Against our Systems," Jewish Press, (June 29, 2023).
Photos: Twitter feed of Yiftah Curiel in Frisch. Peace agreement photo: Chris Kleponis / CNP
Embassy - Twitter via Jewish Insider.
MOU - From @SarahAmiri1.
Bennett in UAE - GPO.