Mahmoud Ahmadinejad
(1956 - )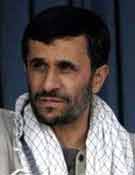 Mahmoud Ahmadinejad is an Iranian politician and diplomat who served as the sixth President of Iran from August 2005 to August 2013.
Ahmadinejad (born October 28, 1956) was born in Garmsar, near Tehran in central Iran. His father, Ahmad, was a grocer, barber and religious Shi'a Muslim who taught the Quran, while his mother, Khanom, held an honorific title given to those believed to be direct bloodline descendants of Muhammad.
In 1976, Ahmadinejad enrolled in the Iran University of Science and Technology (IUST) as an undergraduate student of civil engineering. He earned his Ph.D. in 1997 in transportation engineering and planning from IUST when he was the Mayor of Ardabil Province.
Confusion surrounds Ahmadinejad's role in the 1979 Islamic Revolution. Several of the American hostages from the U.S. embassy said they are certain Ahmadinejad was among those who captured them. Ahmadinejad, however, always maintained his distance from this incident and several known hostage-takers also denied he was with them.
After the Islamic Revolution, Ahmadinejad joined the Revolutionary Guards voluntarily and he is also reported to have served in covert operations during the Iran-Iraq War in the 1980's.
In 2003, the City Council of Tehran appointed Ahmadinejad as mayor of Iran's capital city. He stayed in that post until is election to the presidency in June 2005. That year, Ahmadinejad was one of the top ten finalists for the "World Mayor 2005" award, however his resignation to take the post of president made him ineligible for the award.
In June 2005, Ahmadinejad, a mostly unknown candidate who had never before run for political office, won 62% of the votes in a run-off against former President Ali Akbar Hashemi Rafsanjani and he was inaugurated into the post by Ayatollah Khamenei in August 2005. In 2009, with the explicit support of Khamenei, Ahmadinejad won reelection as president, beating his main competitor Mir-Hossein Moussavi with 62% of the vote.
Ahmadinejad is widely considered to be a religious, ultra-conservative Islamist, with a commitment to an agenda of economic populism and sociopolitical conservatism, bearing ample resemblance to the Taliban's. However, unlike his predecesors Khatami and Rafsanjani, Ahmadinejad has no formal religious education and has always stressed his modest origins. Moreover, Ahmadinejad has praised the acts of suicide terrorists and staunchly defends his country's nuclear program. He has been condemned by Human Rights Watch and other NGO's for the worsening human rights conditions in Iran and has successfully cracked down on pro-democracy dissidents as well as a budding femanist movement.
In June 2013, Iranian academic and politican Hassan Rouhani won election as president to replace Ahmadinejad who was not allowed to run due to legislative term limits.
Ahmadinejad is married, and has one daughter and two sons. Following his term as president, he said that he will return to academia and retire from politics.
---
Sources: BICOM; BBC Online; The New Republic; Wikipedia; Biography Channel; Official Website of the President of the Islamic Republic