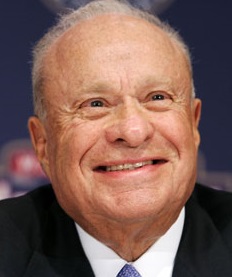 Theodore N. "Ted" Lerner is a Jewish American real estate developer and the managing principal owner of the Washington Nationals baseball team.

Lerner was born to a Jewish family in Washington, D.C. on October 15, 1925 and served in the U.S. Army after graduating from high school – from 1943 until the end of World War II. He earned his bachelor's degree from the George Washington University (GWU) and subsequently a bachelor's degree in law from GWU Law School.

In 1951 Lerner married, and the following year established his real estate business in Rockville, Maryland, called Lerner Enterprises. The company still operates out of the District of Columbia metropolis. From its beginnings with a $212 loan, Lerner's business is the largest private landowner in the Washington, D.C. area. The Lerner Enterprises main offices in Rockville was the first Leadership in Energy and Environmental Design (LEED) platinum certified commercial building in the region and has received numerous awards for its pioneering environment-friendly qualities.

Among the projects that Lerner Enterprises owns and manages are: Chelsea Piers, a large sports and entertainment complex on the Hudson River in New York City; the Tysons II commercial development in Northern Virginia; thousands of houses and apartment and office buildings.

Since July 2006, Lerner and his family have owned over 90% of the shares of the Washington Nationals franchise. The Lerner Family is also partner in the company that owns the National Hockey League Washington Capitals team, the Women's National Basketball Association Washington Mystics, the National Basketball Association Washington Wizards, and the Verizon Center in downtown D.C., the home turf of those teams.

Lerner and his wife Annette established an eponymous Lerner Family Foundation that supports many organizations in the Washington, D.C. region including many Jewish causes. Some of the Jewish organizations that have benefited from their support include Hebrew University of Jerusalem, the Charles E. Smith Jewish Day School, and the Jewish Community Center of Greater Washington.

The Lerners' charitable work includes but is not limited to medical research causes such as the Scleroderma Foundation of Greater Washington, the Junior Achievement of the Greater Washington Area, and the health and wellness center at GWU, Lerner's alma mater.

The Lerners have three children and nine grandchildren and the couple resides in the Washington, D.C. metropolitan area.
---