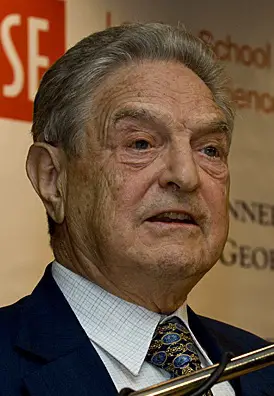 George Soros was born in Budapest, Hungary and is currently a financial speculator, stock investor, philanthropist, and political activist. He has also dedicated himself to promoting democracy in Eastern Europe. His funding and organization of Georgia's Rose Revolution was considered by Russian and Western observers to have been crucial to its success. He is the chairman of Soros Fund Management and the Open Society Institute. His estimated worth is over $8.5 billion and he is ranked as the 80th richest person in the world.
As a Jew in Hungary in 1944, Soros was in serious danger of deportation. To avoid Soros' apprehension by the Nazis, his father had him spend the summer of 1944 living with a non-Jewish Ministry of Agriculture employee, posing as his godson. George Soros later said that he "grew up in a Jewish, anti-Semitic home," and that his parents were "uncomfortable with their religious roots." They even changed their name from Shwartz to Soros in 1936 to disassociate themselves from the Jewish community.
In 1956 Soros moved to the United States and took a job as an analyst. In 1973 he established a private investment company that eventually evolved into the Quantum Fund. He has stated that his intent was to earn enough money on Wall Street to support himself as an author and philosopher—he calculated that $500,000 after five years would be possible and adequate. After those 5 years, his net worth reached an estimated $11 billion.
On Black Wednesday (September 16, 1992), Soros became immediately famous when he sold short more than $10 billion worth of pounds, profiting from the Bank of England's reluctance to either raise its interest rates to levels comparable to those of other European Exchange Rate Mechanism countries or to float its currency. The Bank of England was forced to withdraw the currency out of the European Exchange Rate Mechanism and to devalue the pound sterling, and Soros earned an estimated $1.1 billion in the process. He was dubbed "the man who broke the Bank of England."
In 2004 he dedicated himself, and almost $25 million to making sure Bush was not re-elected. After Bush was indeed re-elected, Soros decided to support various groups committed to pushing the Democratic Party agenda.
---
Sources: Wikipedia, George Soros.com