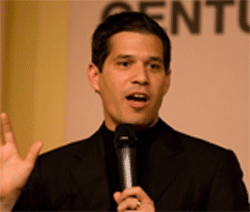 Shai Agassi is an Israeli entrepreneur best known as the founder and CEO of Better Place, an Israeli-based company which developed a model and infrastructure for employing electric cars as an alternative to fossil fuel technology.
Agassi (born April 19, 1968) was born in Ramat Gan, Israel, and attended one of Israel's premier universities, the Technion Institute of Technology, where he received a BA in 1990. Upon graduation, Agassi founded TopTier Software (originally called Quicksoft Development) in Israel in 1992 and later moved the company's headquarters to California. Agassi served the company in various capacities including chairman, chief technology officer, and then CEO. TopTier was a leading enterprise portal vendor when SAP acquired the company in April 2001 at a price of $400 million USD.
Inspired by a question at the 2005 World Economic Forum - "How do you make the world a better place by 2020?" - Agassi sought to answer this question with a pragmatic solution to free cars from oil, reduce harmful tailpipe emissions, and usher in an era of sustainable transportation. Two years later, he officially launched Better Place.
In 2008, the Israeli government announced its support for a broad effort to promote the use of electric cars, embracing a joint venture between Better Place and the Renault car company. Israel became the first country in the world to embrace the model of building open network infrastructure to enable mass adoption of electric vehicles and delivering transportation as a sustainable service. Denmark, Australia, California, Hawaii, and Ontario have followed suit.
Agassi's visionary leadership with the Better Place model was recognized widely - TIME Magazine named him to the 2009 TIME 100, the world's 100 most influential people, and one of TIME's "Heroes of the Environment 2008." Fast Company placed him third on its "100 Most Creative People in Business" list. Most recently, Scientific American Magazine named him to the 2009 Scientific American 10 and, most recently, Foreign Policy Magazine named him to its annual "Top 100 Global Thinkers" list.
Unfortunately, differences of opinion between Agassi and Israel Corp, Better Place's largest shareholder, led the founder Agassi to resign his position in October 2012. Six months later, in May 2013, Better Place filed for bankruptcy in Israel.
Agassi is married with two children.
---
Sources: Better Place, TED, Wikipedia; Photo Credit: Eirik Solheim - "Flickr: Shai Agassi"