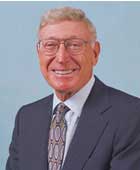 One of the great success stories of modern times begins in 1929, during the Depression, in Newark, New Jersey. A son was born to the Marcus family, recent Jewish immigrants from Russia. The Marcuses had little money and few possessions, but they were confident that the "golden land" that they had come to would provide the opportunities for themselves and their son, Bernard, to build a life for the family.
Growing up poor in the tenements, Bernie Marcus had every excuse not to achieve. Nevertheless, he was determined to push himself to work hard until he reached his goals. His real desire was to become a medical doctor, but his family's economic situation and the medical college's quota system afforded him little hope of achieving this. Pharmacy became his second choice and he put all of his energy into becoming the best pharmacist he could be.
Marcus graduated from pharmacy school and practiced for a short while. He parlayed this job into ownership of a drugstore. Ever the adventurer, he partnered with two gentlemen and ventured into discounting, learning on the way to operate a business and how to merchandise.
Marcus's hard work and motivation to succeed eventually began to pay off. He transitioned into a job at Vornado, which owned a company called Two Guys, where he became Executive Vice President. He then went to Handy Dan, a small chain of home improvement stores. The chain was planning to go public but it had lost its CEO. Marcus was chosen for the position and he took Handy Dan to new heights. Under his leadership the chain grew to 80 stores and, along the way, Marcus gained much knowledge about home improvement.
The quirky bit of misfortune arrived when the board of directors chose to fire Marcus from his job at Handy Dan. That same day, also fired was a then-unknown company employee named Arthur Blank. Marcus and Blank decided to join forces and in a short while a new concept appeared on the horizon: Orange aprons were the fashion and tools were the gear. Marcus had given birth to what was to become one of the great stories in retail history: The Home Depot.
The Home Depot phenomenon personifies the true Cinderella story. It is the story of the indisputable enigmatic man who led a string of retail home improvement stores into a $50 billion giant in a mere 22 years. In the history of the world, no other retailer has ever even come close to this level of success and accomplishment in such a short period of time.
The time was ripe for The Home Depot to enter into the market and Marcus seized the day. He not only built a business, he created a culture. One of his innovations was to train his staff to work hard to please the customer. All employees were trained to be courteous, helpful and knowledgeable, and customers came to love the attitude at this new type of home improvement store. They found value in the product and repaid The Home Depot by returning to buy again and again.
To repay his employees for their dedication, associates were rewarded with stock options. Former secretaries and sales personnel who never even reached the management level are millionaires today because of purchase plans and stock options they received when they started working for the company. To Marcus, his employees are never just staff. To him, the employees of The Home Depot were family. This became a commitment for Marcus, a commitment to family, to employees, and with the increase in business, a commitment to philanthropy.
The Home Depot employees responded to Marcus's goodwill with gusto. A destitute woman walked into a Home Depot store asking for a product costing under $5 that would repair her roof. She ended up spending well under $5, because 20 employees of that Home Depot store joined forces the next weekend and repaired the woman's roof for free. These dedicated store employees displayed the same level of commitment to the public that Marcus had shown to them.
This ethic of commitment stands true today throughout the world at every Home Depot: the same values, the same respect, and the same generosity of spirit. The Home Depot was there in Oklahoma during the Oklahoma City bombing-Home Depot trucks arrived before the fire trucks with relief equipment to help the victims.
Home Depot was on the scene again in New York and at the Pentagon on 9/11. In fact, the only trucks running were Home Depot trucks, which were filled with lights, drills, tarpaulins and anything that might provide aid to the needy.
Marcus's unbridled philanthropy is legendary. He not only donates his wealth, he also donates his time to worthwhile causes. He leads by example. Following his lead, most of The Home Depot employees who have enjoyed great wealth from their tenure at the company have also been very charitable. Marcus takes pride in having created a generation of special people who have embraced his efforts and concerns as their own.
It is a magical moment when someone finds a lifelong partner who shares his hopes and dreams. In Billi, Marcus found the lifelong partner he had always been seeking. When the two met, Billi was also a retailer, working long hours to support her beloved only son. She understood Bernie's 12-14 hour days. She stood by his side and helped promote the growth of The Home Depot. She is a wonderful partner, a natural at public relations and the most supportive person in Marcus's life.
Generous in her own right, Billi Marcus has championed many charitable causes. Among the many she has embraced is the Shepard Spinal Center, whose charitable golf tournament she has anchored in name and deed for many years.
Marcus has a philosophy for directing his philanthropy. He believes in looking first toward family needs, which means he believes passionately in Jewish causes. Bernie sees the survival of the Jewish people and the survival of his beloved Israel as paramount. His involvement in Israel led him 11 years ago to found the IDI, the Israel Democracy Institute. The IDI accumulates information on legislation passed in other countries and advises the Israeli government whether or not to implement it. Israeli leaders now have access to data about laws and programs that have succeeded and failed in every democracy in the world. Armed with this knowledge, the government is able to intelligently enact legislation and which actions to take to best meet the needs of the Israeli people.
Marcus's passion motivated the involvement of George Shultz, the former Secretary of State of the United States, to become involved. Together they have created the sole consulting think tank for the Israeli army. Marcus hopes they will be able to find a path to solve Israel's most important and relevant question, "How does a democracy conquer terrorism and remain a free state?"
The IDI represents all Israelis, including the ultra-Orthodox, the non-religious, Arab Israelis and even new refugees. Though Marcus continues to be one of the organization's chief benefactors, many new people throughout the United States have joined and donated to this worthy cause. The door is open for others to join as well.
Notwithstanding all of his contributions, Marcus does not delve into the politics of the IDI. The Israel Democracy Institute has an Israeli board and is run by Israelis. Marcus founded the IDI to help Israelis, and he believes it should be run by Israelis who best understand the needs of their people.
Marcus also directs a great amount of his philanthropy into helping those suffering from catastrophic diseases. Many years ago, when he was directing the day-to-day operations of The Home Depot, an employee came to seek his advice. She had a child with a brain disorder; her child couldn't communicate and she had no one to turn to for help. Marcus made her cause his cause and suffered with her when they could find no answers. Today the Marcus Institute stands as a testament to those earlier days. Marcus founded this great institution not for publicity, "but because it was the right thing to do." Parents of children with catastrophic diseases now have somewhere to turn. The Marcus Institute treats neurological disorders, autism, cerebral palsy, developmental delay, behavioral disorders and fetal alcohol syndrome. It is the only institute of its kind in the world that enjoys a 100% success rate of curing children with eating disorders.
The Marcus Institute works hand in hand with Emory University Medical School in fighting the traumatic diseases of its many patients. Children and parents alike have somewhere to turn to when disaster strikes. To illustrate the vital role the Institute plays in helping the public, there is currently a waiting list for those who need treatment, and the Institute is training doctors daily to help meet the demand.
Marcus's other passions for his philanthropy include medical/healthcare issues. He has supported research at the City of Hope Hospital and served on their board since the late 1970s. He also provided grant support for research that includes bone marrow and stem cell transplants.
In the area of free enterprise, Marcus has also made this a philanthropic priority. It is motivated by his own ability to succeed with The Home Depot. He wants to promote a system for all Americans who want to help themselves.
What's Marcus doing now? The answer is the soon-to-be Georgia Aquarium. What was the impetus for this great philanthropic endeavor? Marcus says this is "his payback for his success in Georgia."
Twenty-four years ago The Home Depot was founded as something unique and unusual in Atlanta, Marcus's adopted city. The people of Atlanta supported his first stores, his ideals and his values. Atlanta was the first stop on The Home Depot's great rise to success. How better to reward his fellow Georgians who helped him build his dream, then to build something that all of them can enjoy.
"An aquarium will be something important for the citizens of Georgia. Most major cities boast an aquarium of some type and now Atlanta will be able to do the same, and on a grand scale. Aquariums lend a hand to tourism and enhance the selling ability of the state. I planned the aquarium to be so impressive that it will attract millions of visitors."
Marcus is happy to help the state. More than this, he is thrilled for his fellow Georgians. An aquarium knows no prejudice, no boundaries and no color. It welcomes everyone eager for a look at the treasures of the sea. It will be educational; part hands-on, full of programming and fun. Hopefully it will revitalize downtown Atlanta as it holds a prime location in a premier city.
What has such great success done for Bernie Marcus? It has given him the ability to do so many good things in this world. The blessing of being born in the United States of America gave him a foundation upon which to base his ideals. He remembers his mother saying that the happiest day in her life was the day she received her citizenship papers. He values and loves this great country. He's proud to be an American. His life is the embodiment of the American Dream, demonstrating that if you work hard, you will succeed.
The Marcus name has become synonymous with philanthropy. Marcus' work ethic has become the gold standard and his accomplishments will stand the test of time. There is a glow about Bernie Marcus and a twinkle in his eye. I want to thank you, Bernie, for listening and sharing. Thanks for doing your part and leading the charge to make our world a better place.
---
Sources: Lifestyles