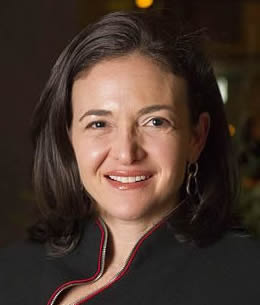 Sheryl Sandberg is an American business icon most famous as a former Vice President of Google and the current COO of Facebook.
Sandberg (born August 28, 1969) was born in Washington DC to a Jewish family who moved to Florida when Sheryl was two years old. She graduated summa cum laude from Harvard University in 1991 and four years later earned her MBA at Harvard Business School with highest disctinction.
After graduation, Sheryl worked for the World Bank, as a consultant for the management organization McKinsey & Company and, from 1996 to 2001, as Chief-of-Staff for then-Secretary of the Treasury Larry Summers.
Sandberg then served as Vice President of Global Online Sales and Operations at Google.
Her most notable work, however, has come from her current position with social media icon Facebook. In 2007, Sandberg first met Facebook founder Mark Zuckerberg in December 2007 and after a short courting she was announced as Facebook's chief operating officer (COO) in March 2008. After joining Facebook, Sandberg changed its business model to rely on advertising and by 2010 the site became profitable. She now oversees all business operations. In 2012, she became the eighth member - and first female - to sit on Facebook's board of directors.
Sandberg has also served, or currently serves, on the boards of the Walt Disney Company, Starbucks, Women for Women International, the Center for Global Development, the Brookings Institution and the Ad Council.
Sandberg has been honored for her work many times and was ranked on Forbes Magazine's "50 Most Powerful Women in Business" four years in a row. In 2012, she was named the fifth most influential Jew by the Jerusalem Post and also appeared in the "Time 100." In January 2014, Sandberg was named as one of the Top 5 Most Influential Jews in America by Forward magazine.
She is married to David Goldberg and has two children.
---
Sources: CNN; Jerusalem Post; TechCrunch.com; The New Yorker; Facebook; Wikipedia; Photo: Wikimedia Commons