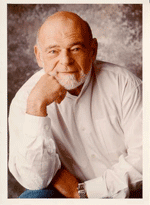 Sam Zell is a Jewish American businessman best known as chairman and founder of Equity Group Investments, LLC and a former owner of the Chicago Cubs baseball team.
Zell was born in September of 1941 in Chicago, Illinois to Jewish immigrants escaping Poland. His father Bernard changed their last name from Zielonka to Zell shortly after moving to Chicago. Sam attended the University of Michigan as an undergraduate student where he was a member of the Alpha Epsilon Pi Jewish fraternity and went to the University of Michigan Law School where he earned his J.D. in 1966.
In the late 1960's, Zell formed Equity Group Investments together with partner Robert Lurie. In 2007, the Blackstone Group completed its purchase of Zell's Equity Office Properties Trust for $39 billion. In 2007, Zell purchased the Chicago Tribune and the Los Angeles Times, among other media assets, from the Tribune Company which, among other things, led him to become the owner of the Chicago Cubs baseball team.
Zell maintains substantial interests in, and is the chairman of, five other public companies listed on the New York Stock Exchange: Equity Residential (EQR), the largest apartment REIT; Equity LifeStyle Properties (ELS), a REIT that owns and operates manufactured home communities; Capital Trust (CT), a specialized real estate finance company; Covanta Holding Corp. (CVA), an international leader in converting waste to energy; and Anixter (AXE), a value-add provider of integrated networking and cabling solutions that support business information and network infrastructure requirements.
In 2011, Forbes Magazine listed Zell has having a net-worth of over $5 billion and placed him as #40 on their list of the top 400 richest people in the United States. He is currently married with three children.
Zell is a major contributor to the Interdisciplinary Center (IDC) in Herziliya, Israel where his donations include a $3.1 million grant to jumpstart new programs on campus. In the United States Zell is also a generous philanthropist having given to such Jewish causes as the American Jewish Committee and the Anshe Emet Day School in Chicago.
---
Sources: Wikipedia, IDC Herziliya, Forbes; Photo Credit: IDC Herziliya